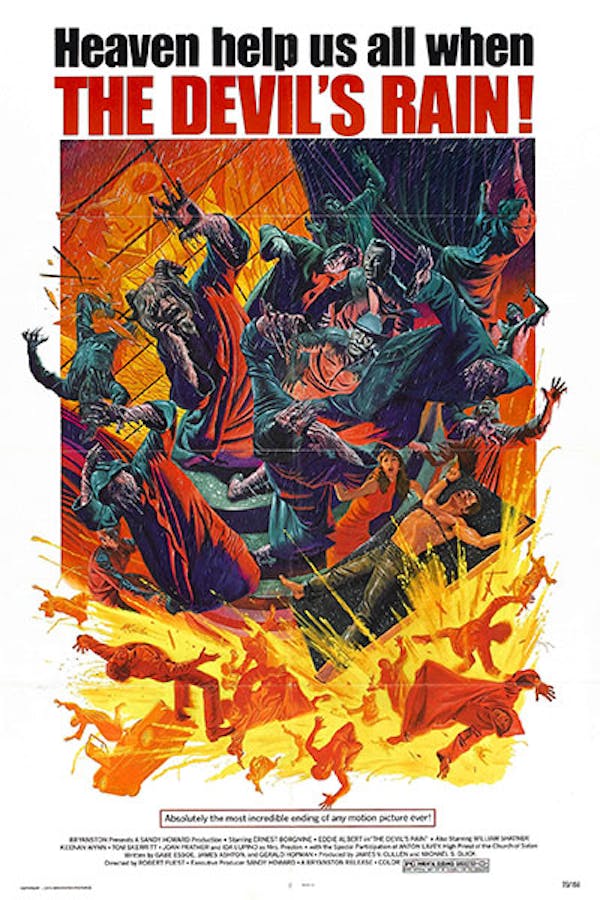 The Devil's Rain
Directed by Robert Fuest
A man tries to save his family from a Satanic cult ruled by an powerful preacher in the only film with Church of Satan founder Anton LaVey as an adviser and co-star! Back in the days of the pilgrims, Tom's (Tom Skerritt) ancestor stole an evil book from the preacher Corbis (Ernest Borgnine). But when Corbis posesses Tom's father, mother (Ida Lupino) and brother's (William Shatner) souls, it's time to head to the desert for a showdown. Though not without its camp value, THE DEVIL'S RAIN still serves up serious scares - including Borgnine's final transformation.
A man tries to save his family from a Satanic cult ruled by an powerful preacher.
Cast: Ernest Borgnine, Eddie Albert, Ida Lupino, William Shatner, Tom Skerritt, John Travolta
Member Reviews
Holy Hairpiece Kirk! QUICK! What movie has Ernest Borgnine, Tom Skerritt, William Shatner, John Travolta AND Anton LaVey? And COULD the screen HANDLE such a cast in ONE PICTURE? Answer: The Devil's Rain. This starts out on the best of notes with a truly haunting score of dissonance and agony backed with the paintings of Bosch. This tale about a Satanic Cult leader named Corbis and his centuries long grudge against a former member of his cult starts out strong and really just keeps getting better and better. You want a weird cult? CHECK. Headed by Ernest Borgnine none-the-less. You want a disturbing threat? CHECK. How about eyeless humans melting in the very first scene. You want scene chewing action? CHECK. William Shatner is there to provide. Totally surprised at both how effective and fun this film is. First time watch #25 for Halloween 2022
Went in expecting boring low-budget 70's shlock, and was pleasantly surprised by relatively engaging low-budget 70's shlock. Gets around this genre's usual problem of endless boring expository scenes by just not explaining anything, and is much better for it. Skerritt's performance is quality, and Borgnine is having a blast in every scene. Special effects are hit-and-miss, with the highlight being Borgnine's excellent facial prosthetics, in contrast to the much-derided climactic melting scene that goes on for 10 minutes too long. Not a forgotten masterpiece by any account, but is at least a few steps above the admittedly low bar that is 70's satanist films.
Weird movie but entertaining throughout.
Entertaining and campy in certain parts for sure, mostly because of Shatner. Borgnine's pretty good, and his transformation was kinda scary to me, but horns give me the creeps. Also, this film has the longest face melting scene in cinematic history.
4 skulls just for the cast alone. Can't believe I never heard about this until I saw it playing on The Folk Channel. Cheesy camp stuff but fun as all hell.