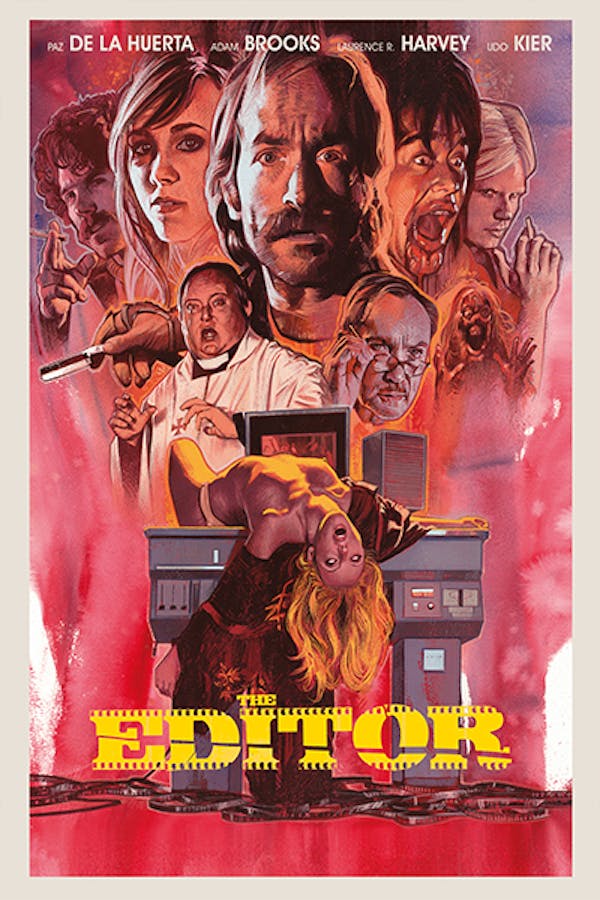 The Editor
Directed by Adam Brooks, Matthew Kennedy
A homage and parody of the Italian giallo from Canadian production company Astron-6, THE EDITOR tells the story of a talented film editor whose career is ruined after a tragic accident disfigures his hand. Unable to find work at respectable studios, Rey, resigns himself to a quiet life working on low grade B movies, but when actors at the studio turn up dead, he finds himself the number one suspect. Packed full of homages, astute references and cameos, THE EDITOR is a humorous and loving look at the Italian subgenre.
A once-prolific film editor finds himself the prime suspect in a series of murders haunting a seedy 1970s film studio in this absurdist throwback to the Italian Giallo.
Cast: Paz de la Huerta, Adam Brooks, Laurence R. Harvey, Udo Kier
Member Reviews
The one joke wears thin quickly. I feel like it was written by people who think they're clever.
Trust the description! It is definitely a fun flick to watch if you've seen a great amount of Giallo. You'll find yourself pointing at the screen like that Leonardo DiCaprio meme when you recognize all the homages that you'll want to start a drinking game out of it. It is basically the "Scary Movie" of Giallo. Very goofy and silly, but definitely worth a watch if you enjoy that lovable genre!
Oh, man, that was fantastic. A perfect send-up of every conceivable giallo trope and cliche (gratuitous boob shots, buckets of blood, awkward jump cuts and hammed-up zooms), but also a very funny slasher horror-comedy in its own right. Don't expect a normal, straightforward horror — what makes THE EDITOR a lot of fun is that it's totally absurd and nonsensical.
Fantastic giallo spoof. Well done.