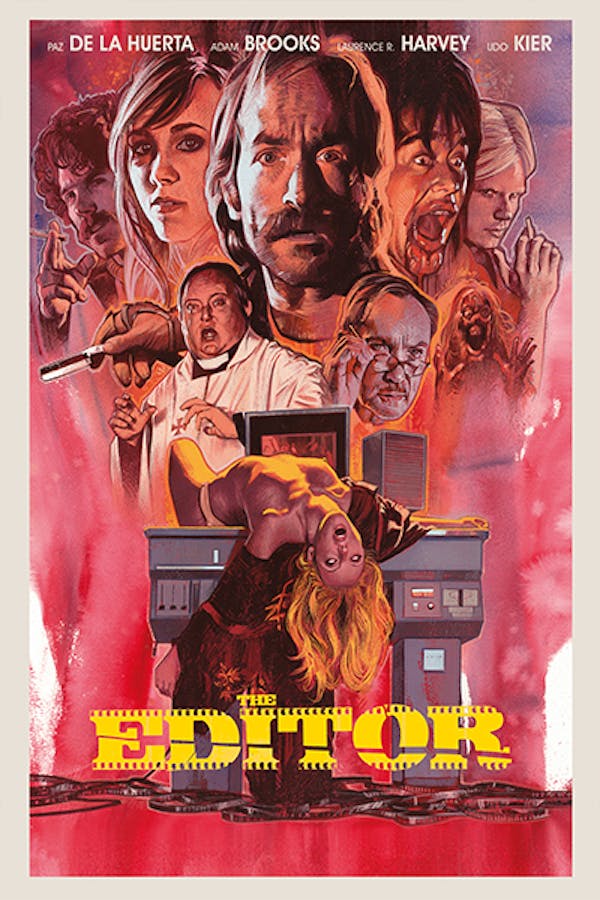 The Editor
Directed by Adam Brooks, Matthew Kennedy
A homage and parody of the Italian giallo from Canadian production company Astron-6, THE EDITOR tells the story of a talented film editor whose career is ruined after a tragic accident disfigures his hand. Unable to find work at respectable studios, Rey, resigns himself to a quiet life working on low grade B movies, but when actors at the studio turn up dead, he finds himself the number one suspect. Packed full of homages, astute references and cameos, THE EDITOR is a humorous and loving look at the Italian subgenre.
A once-prolific film editor finds himself the prime suspect in a series of murders haunting a seedy 1970s film studio in this absurdist throwback to the Italian Giallo.
Cast: Paz de la Huerta, Adam Brooks, Laurence R. Harvey, Udo Kier
Member Reviews
I'm watching it just because someone had to bring up slapping a woman isn't funny. This is shudder a horror site, if you can deal w cannibals and serial killers you should be able to watch a woman get slapped. Clown
Lots of fun. Bonkers stuff with the action/dubs that are meant to be bad, the music, plenty of nudity.
Perfect balance of spoof and homage. It lands on all the visuals and tropes of Italian horror classics, but is self aware enough to have fun with them. Worth a watch if that's your thing.
Not as good as other reviews are saying. The repeatedly slapping women and talking about putting them in their place is not funny or entertaining in the least bit. One just walks up and slaps another guys wife because the husband won't do it t o keep her in her place (this is said several times) and the woman then agrees with the man that did it. I just to ask the writer who hurt him. It had to be a man because he has obviously never talked to (or possibly even seen up close or from a distance) a real live woman.
No idea what was happening in the 3rd act of this movie but I didn't care.