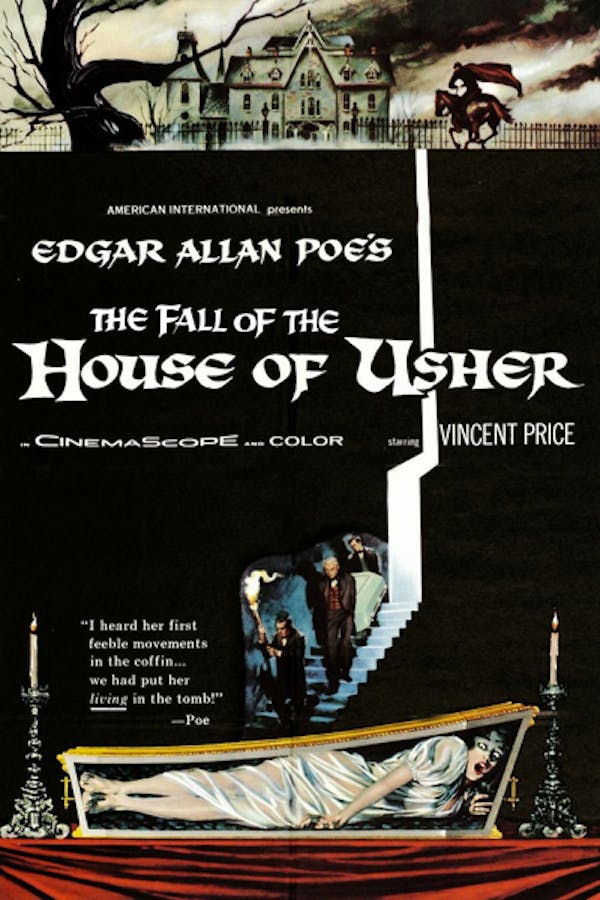 The Fall of the House of Usher
Directed by Roger Corman
When a beautiful young woman's suitor arrives to ask her hand in marriage, the doors of the mysterious house of Usher fling open...and terror begins. It seems the young woman's brother is violently opposed to her planned marriage and resorts to macabre ends to prevent the tainted Usher blood from spreading to future generations.
Vincent Price stars in Roger Corman's stunning adaptation of the classic Poe story.
Cast: Mark Damon, Myrna Fahey, Vincent Price
Member Reviews
A reminder of what brilliant artists can do with a small budget. If you've got the time, read the original short story before you delve into this phantasmagoric classic!
Surprisingly lush chiller given the *ahem* budgetary constraints Roger Corman productions generally work under. While there are many strong points to laud - including Richard Matheson's script and Les Baxter's score - the true star
Shudder must truly love me! This is the movie that turned me onto both Price and Poe. We had to watch it in highschool. Great classic movie!
Poe was a genius, and this adaption, despite taking many creative liberties, still upholds that genius.
tame by today's standards, but the colour is gorgeous and has a really spooky build up. The dream sequence is a real chiller. Love the Poe adaptations by AIP.