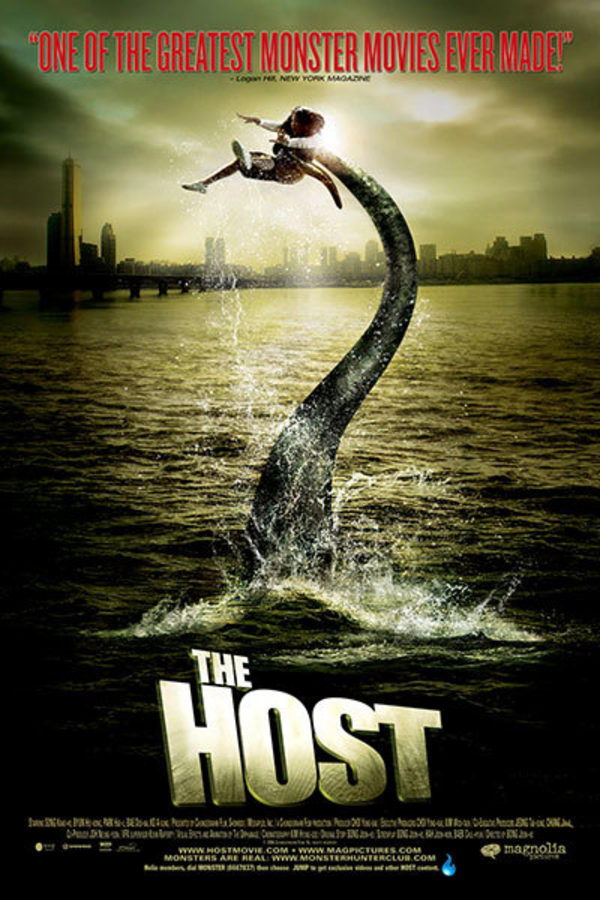 The Host
Directed by Joon Ho Bong
In this crossover Korean horror hit, a giant mutant sea monster terrorizes Seoul. But the ferocious creature known as "The Host" is no lumbering beast like Godzilla. It selects what it wants carefully, and what it wants is the Hyun-seo, who it drags back to it's deep, dark hideout. Now it's up to Hyun-seo's father Gang-du, a food-stand worker who's anything but a traditional hero, to infiltrate the forbidden zone and rescue his daughter from the clutches of the horrifying creature. Cahiers du Cinema named THE HOST the fourth best film of the entire 2000s.
In this crossover Korean horror hit, a giant mutant sea monster terrorizes Seoul.
Cast: Song Kang-ho, Byeon Hie-bong, Park Hae-il
Member Reviews
it was never about monster itself, it was about evilness of human.
Awesome movie, original story with lots of twists, and a good humor to suspense ratio.
Spoiler Alert Don't read Until you've watched this great film! Loved it Did no one catch the way Americans were shown as the evil behind it all. From the beginning the US Army Doctor who shows no concern for the Korean environment by ordering his Korean not American assistant to dump hundreds of toxic chemicals down the sink drain. The Korean assistant can't understand but the American depicted as a nut case who tells the assistant it doesn/t matter the river is wide. His ASSISTANT CAN'T UNDERSTAND The DR insists that the bottles be dumped because all that's wrong is dust on them. They are dirty. The assistant protest's that it will kill fish and pollute where people get their food. Again being a thoughtless American the Doctor he says "that's to bad dump them all down the drain and That's an order" Later as the Americans, without concern for human life or the environment spray a Yellow Agent that kills everything. Later another Crazy looking crosseyed American Army Doctor admits to a colleague "We know its not a virus". To shut up the dad he does a brain operation looks like a lobotomy that's really meant to shut the dad up. does it work? You'll have to watch to find out in this classic that will have its cult following. I see Americans being portrayed as thoughtless brutes, the yellow spray reminds me of Agent Orange from the days of Vietnam. Being a disabled Vietnam Vet a Hospital Corpsman made me think of the agent orange connection right away.
Good creature. Good graphics.
I was on the fence about this for a long time. Amazing visual effects for its budget - the creature animations are superb in this. Its a really nice blend of everything.