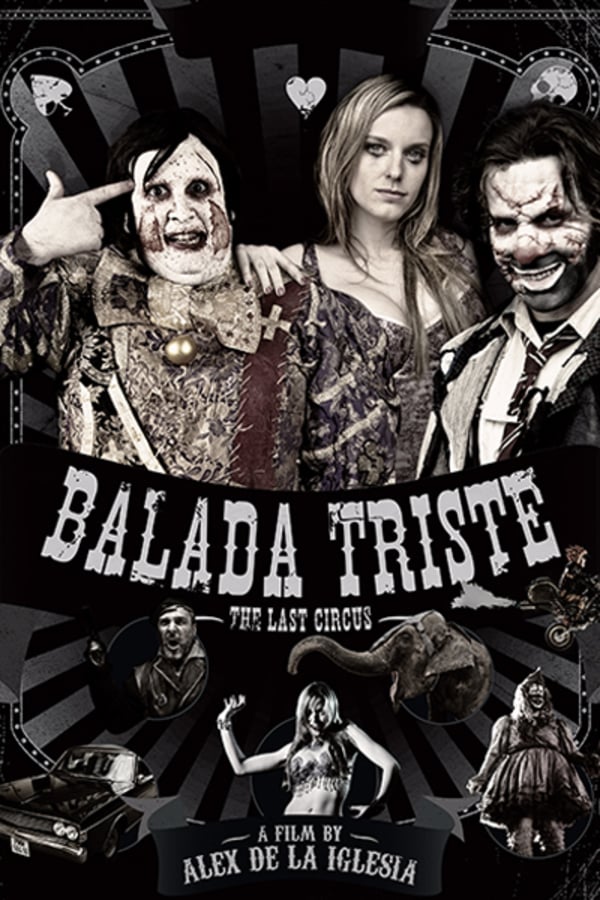 The Last Circus
Directed by Alex de la Iglesia
In 1970s Spain, a twisted love triangle turns into a brutal battle between happy clown Sergio, who rules his circus with a bloody fist, and sad clown Javier, whose life has been filled with suffering. Both clowns love Natalia, an aerialist who has endured abuse as Sergio's girlfriend. As the rivalry to win her heart grows increasingly more violent, pies in the face get replaced with acid and even worse. Spanish cult icon Alex de la Iglesia had his biggest crossover success with this gruesome must-see black comedy. Fans of SANTA SANGRE and director Sion Sono should appreciate the over-the-top finale.
In 1970s Spain, a twisted love triangle turns into a bloody battle between two circus clowns.
Cast: Antonio de la Torre, Carlos Areces, Carolina Bang
Member Reviews
what a gem of a film! I never heard of it but now I love it. twisted, obsessive love triangles plus a circus....what could go wrong?!
To me this was more drama than horror. However, the main character's transformation into his final appearance is one of the most emotionally horrific pieces of cinema I've ever seen However, this film was amazing! Give it a watch!
Sexy, original, fresh! Was intrigued the whole time
Really enjoyed this movie. But I don't know why Shudder has this movie. It's not in the horror genre in my opinion.
this is an interesting movie but now i like that song balada triste . sharing this for sure