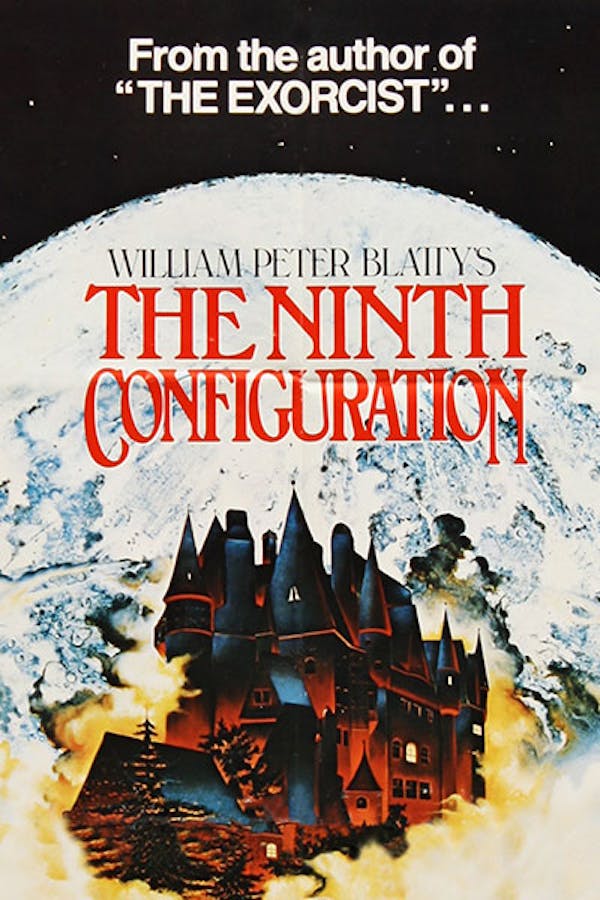 The Ninth Configuration
Directed by William Peter Blatty
A troubled psychiatrist takes command of a military asylum filled with insane soldiers in this creepy only-in-the-'70s oddity written and directed by William Peter Blatty (THE EXORCIST). When Kane arrives at an army castle to cure the inhabitants, he bonds with an astronaut who snapped before a mission. But as the two men examine their demons, it becomes clear Kane may be more in need of help than his patients. Blatty's unsettling mix of psychological horror and Altman-meets-Joseph Heller-esque comedy has fascinated die-hard cult cinema fans since its release in 1980.
A troubled psychiatrist takes command of a military asylum filled with insane soldiers.
Cast: Stacey Keach, Scott Wilson, Jason Miller, Ed Flanders
Member Reviews
This movie has many layers. Much more than I could explore in one sitting. I probably will return to it in a while and watch "The Ninth Configuration" again. It's worth it. One of those many layers is getting an intimate glimpse into the mind and sould of William Peter Blatty. Every horror fan knows "The Exorcist", but not that many know anything about the man who wrote it. Blatty is a really fascinating artist. This movie is perhaps one of his most personal projects. Gladly he had much creative freedom making it. Although it seems that the movie was edited down to tighten the runtime. Some scenes seem to be missing. It is still an impressive piece of film making. From an era where you could make uncompromising movies that wouldn't be possible nowadays. At least not in Hollywood. Which is just one more reason to cherish this gem. --- Greetings from Europe :)
It's really not horror. It's a GOOD movie mind, but its not horror. It's mostly depressing to be honest, but in its time and place it had a powerful message. Acting is fantastic. But dang is it depressing.
A high quality film with integrity.
It's interesting that this film seems to have found its audience. Yes, this is not horror and is basically a Christian parable. It has 2 scenes that are vaguely horror adjacent; the rest is a Christian parable about violence and forgiveness, mostly stemming from PTSD in a time when they did not know what PTSD was (in WW1/2 they called it "shell shock"). So the characters act insane, because Blatty did not actually know what the symptoms of PTSD are. There's a suggestion that some of them are faking it to avoid combat (which we know isn't true, PTSD is real), but the film is mostly empathetic to them, and it does lead to some "One Flew Over the Cuckoo's Nest" kinds of performances. So you can watch it for that and the bar scene and then don't worry if the ending doesn't make any sense to you (it's a parable about a guy sacrificing himself like Jesus to save someone else and providing a miracle so he believes ;)
Starts off like a bad depiction of what hollywood thinks an asylum is, but slowly gets better. By the end, is dealing with philosophical issues intelligently though perhaps not satisfactorily. If you like Blatty's Exorcist III, you'll like this. Don't know why Christians don't hold this up as the epitome of religious filmmaking, it's about christian philosophy in all the right ways.