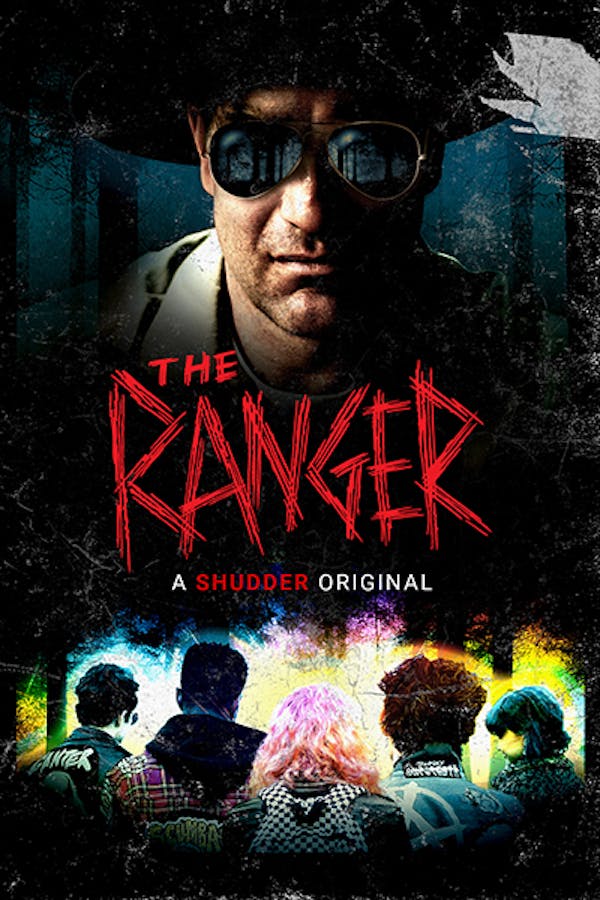 The Ranger
Directed by Jenn Wexler
After a run-in with the cops at a punk show goes sideways, Chelsea and her pals flee the city in search of a place to lay low. Running to the security of Chelsea's old, abandoned family cabin in the woods, they fall under the watchful eye of an overzealous park ranger who holds a secret from Chelsea's past. Set to the beat of a killer punk soundtrack (Fang, The Avengers, The Grim, Rotten UK and more) and presented in eye-popping neon colors, Jenn Wexler's debut offers a modern take on survivalist horror that both celebrates and subverts the genre's tropes with equal parts humor, glitter and gore. A SHUDDER ORIGINAL. Contains strong language, violence and gore.
Teen punks on the run face off against an unhinged park ranger with an axe to grind.
Cast: Chloë Levine, Granit Lahu, Bubba Weiler, Jeremy Pope, Amanda Grace Benitez
Member Reviews
Worth a watch once, I like the actor who plays the ranger. Super cheesy "punk" scenes. With some moodier lighting and aesthetic, and maybe at least one or two likable characters, this could have been really good. A good, light, once and done type flick.
It was entertaining but I wish there's more story.
It had a strong start, but the closer we got to the ending, the more you realized the lack of a point to the movie. The Ranger never really has a purpose for doing what he does despite the "twist" that wasn't really a twist and not really a reason for him to be murderous. The final twist in the movie doesn't even give us any satisfaction for why we watched the movie in the first place. Great acting. But in my opinion, if you are a gore fan (I am not. It doesn't bother me just not why I watch horror) there are a lot gorier movies out there that will satisfy you more and if you are more interested in the story (like me) there isn't much of one here to find.
it wasn't as bad as most of the reviews I've read but it does feel like it was suppose to be a short film rather than a full length. definitely an interesting plot twist... i just wished the color artist and the cinematographer gave it a more classic horror movie feel. like it was there but it was missing that grit on the post postion side or maybe the day of filming it (or a little bit of both). pros they got the job done and its really feels like a film. I guess there's still some wholes tjat are missing and alsp there was three girls... what happened to the 3rd girl? 👀unless you're telling me im watching a different film then my mistake but i was wondering why she wasn't in the film anymore when she was presented as a character in the film. like she was apart of the crew/band/family 🤷🏾‍♂️. i actually like the fact the ranger was overdoing his job. felt like an 80s film. what i didn't like was how he was introduced as the antagonist. it wasn't a clear picture to why he was obsessed with the protagonist. weird af which i like... felt like hills have eyes when he had the wolf skin but i wish he pushed that part a little further because it kinda felt dry. but the idea was there. like i said it wasn't as bad as ppl are saying it is... its actually way more watchable than most netflix films especially in the beginning of netflix services when you can literally get anything on their platform 🤦🏾‍♂️. but for a film without a big budget i would say it falls under the umbrella of the movie green room. I'm sure if the budget was bigger tge shots and etc wouldve been much better. if there's ever a part 2 i would like to see a more in depth on the ranger. i mean it can explain why he's basically the only ranger in the mountains and all the people he caught and put in the cages before them punk rockers arrived...? maybe that eould explain why him and the main character are just a like... idl