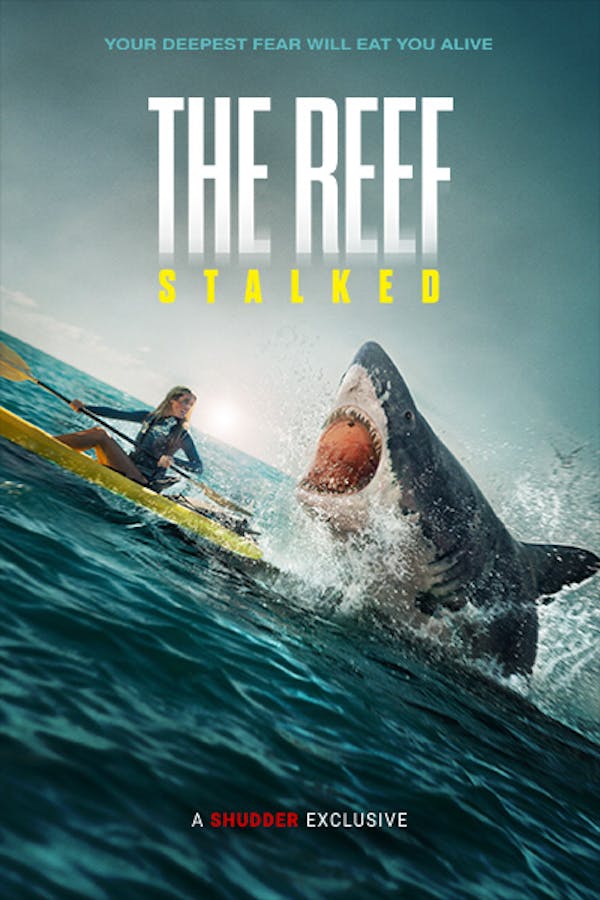 The Reef: Stalked
Directed by Andrew Tracki
In an effort to heal after witnessing her sister's horrific murder, Nic, her younger sister Annie and two close friends travel to a remote Pacific Island for a kayaking and diving adventure. Only hours into their expedition, the women are stalked and then attacked by a Great White shark. To survive the women will need to band together, and Nic will have to overcome her post-traumatic stress, face her fears, and slay a monster. A SHUDDER EXCLUSIVE
They just wanted to heal, now they are fighting to survive.
Cast: Teressa Liane, Ann Truong, Saskia Archer, Kate Lister, Bridget Burt
Member Reviews
I liked this and thought it was well done. The shark-attack scenes were intense and the movie kept me engaged throughout. There was some depth to it in terms of family relationships and the need for reconciliation between two of the characters. Yes, it's no Jaws, but there never will be a shark movie that ever compares to that classic, just as there won't be a slasher that compares to Halloween 1978. But, it was still a good movie, I feel.
Side note to an earlier review: *SPOILERS* Nic could have been a much stronger protagonist than what she is in the film. Nic's fear of the water/PTSD comes from witnessing her dead sister lying (still) drowned in a bathtub after Nic's sister's abusive boyfriend strangled her. The film's internal conflict is Nic overcoming her fear of the water and her grief of her sister's death, along with the PTSD that came with finding the sister in the tub. While witnessing your dead sister in a bathtub would definitely be traumatic for anyone, using it as a set up for a fear of the ocean is absurd; which is highlighted when Nic's PTSD flashbacks are of her sister's POV drowning in the bathtub when there's no way Nic ever saw that or could remember it. Not only does Nic's fear of the ocean feel misplaced (seeing someone lying still in a bathtub does not equal the ocean that she enjoyed swimming in before), but Nic especially for the first act comes across as weak and feeble with no voice or personality. It would have been much better for the film if *NIC* was the one who had an abusive boyfriend who ATTEMPTED to drown her (but she survives!). Suddenly, everything clicks into place much more organically, as Nic has a direct negative connection to the water that's not contrived from someone else's death. Nic is afraid of drowning because she experienced it first hand and remembers the terrifying sensation herself (at the hand of a predator, ex boyfriend = shark), so obviously the ocean would be petrifying for her PTSD and the first person flashbacks of the drowning are her own and not imagined from another person. Overcoming her fear of her OWN abusive ex boyfriend through defeating the present predator of the shark would have made her the bigger hero of her own storyline. Having her conquer her own fear of drowning instead of her sister's drowning in a tub would have made Nic a much more empowered woman and clear protagonist. This is a shark movie, I know, but it is awesome when well-conceived internal character stories are woven within larger-than-life plot. Allen Grant in Jurassic Park is a great example.
An absolute fatigue of a film experience. The camera quality is very high, so it's a beautiful looking film - much better than most shark movies. But the film does not understand what makes a good shark movie. It has a terrible time establishing tone or interest; the first third yo-yos between domestic drama and chik-flick, because the first appearance/mention of the shark is 30 minutes into the film, and the first death is 40 minutes into the film. It's such a frustrating endeavor to get to that first death, because not only are the characters making the dumbest decisions possible at every chance, but the film seems to take pleasure in teasing fake jump scares and building "suspense" that agonizingly goes nowhere and peters out. If you enjoy being gaslight or emotionally held hostage by a movie, this is your show. We were frustrated and exhausted by watching this film. How do Australians make a bad shark movie???
Meh. They sure did pick on UGLY shark, though!
Actually starts off pretty decent, but loses momentum and steam around the middle. Actresses were nice, practical effects were great. Not really enough story or suspense but hey if you could do far worse for a shark movie. Maybe have a video game available for the boring parts.