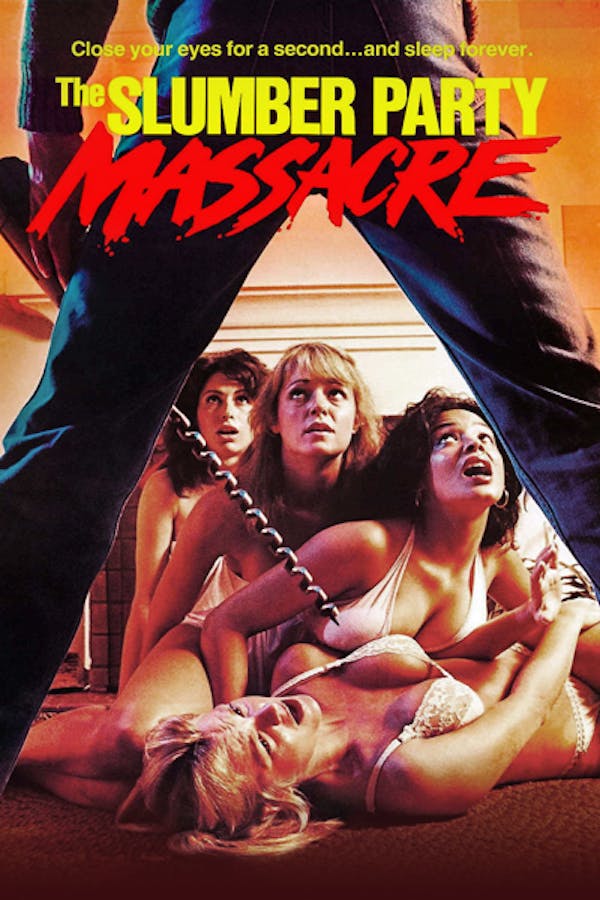 The Slumber Party Massacre
Directed by Amy Holden Jones
When Trish (Michele Michaels) decides to invite her high school girls' basketball teammates over for a slumber party, she has no idea the night is going to end with an unexpected guest– an escaped mental patient and his portable power drill – crashing the party in the cult classic.
A slumber party turns terrifying when an escaped mental patient with a drill decides to crash.
Cast: Michelle Michaels, Robin Stille, Michael Villella, Debra Deliso, Andree Honore
Member Reviews
not bad. its boring for awhile and then it gets fun. i wouldnt go out of my way to watch this again.
Funny, entertaining, and fun, and even fairly creepy in a couple of scenes, believe it or not. The killer's crazy eyes are worth the price of admission alone.
It was the cheese I was looking for!!
It comes as no surprise to me that The Slumber Party Massacre works well as a predictable and conventional slasher with the typical flaws one may expect, especially in regards to the slasher himself who is very one-dimensional and his characterization could have been executed far better. Yet it's equally as morbid, campy, tense, compelling and fun all at the same time and for the most part, that really makes up for any of the minor hindrances that could have possibly decreased my overall enjoyment of the film. It no doubt lives up to the iconic cult classic status and feels exactly like a product of its time, but it also truly is such a badass staple of an 80s horror film, directed and written by a woman in a decade full of masculine creators at the forefront. Films like The Slumber Party Massacre deserve the praise for this alone but this definitely succeeded in being a thrilling and amusing standalone slasher flick at the same time and it's worth a watch if you already like horror films of this era or calibre.
Can an 80s slasher movie with so many slow and panning nude shots be feminist? Yes. Yes it can. Yay for a female director making the most of the genre, and actors and a script that actually work.