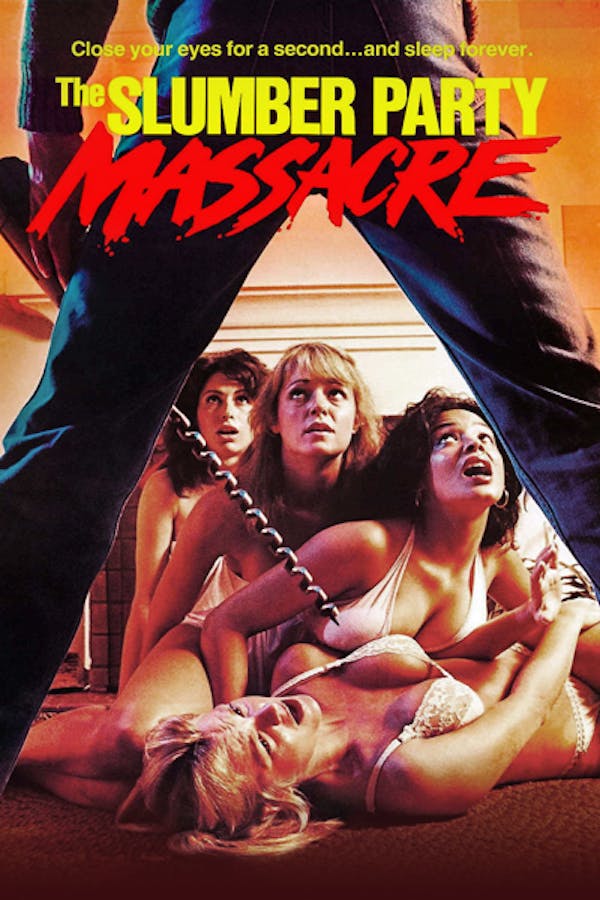 The Slumber Party Massacre
Directed by Amy Holden Jones
When Trish (Michele Michaels) decides to invite her high school girls' basketball teammates over for a slumber party, she has no idea the night is going to end with an unexpected guest– an escaped mental patient and his portable power drill – crashing the party in the cult classic.
A slumber party turns terrifying when an escaped mental patient with a drill decides to crash.
Cast: Michelle Michaels, Robin Stille, Michael Villella, Debra Deliso, Andree Honore
Member Reviews
This might have been made as a satire of the genre, but it hits all the high notes! This is an awesome 80's Slasher flick. The T&A starts early and so do the kills. There are plenty of jump scares, gorgeous cast of actresses, some great screams and lots of blood. Nice dialogue and I love the sisters from next door. Campy plot of course, but great pacing! No wonder it's in the horror hall of fame
Slumber Party Massacre is a classic slasher movie with a fascinating place in the horror hall of fame: it was written as a satire of the genre and filmed in seriousness. Despite its reliance on tired tropes and total lack of suspense in the final act, the dialogue is surprisingly believable and well-paced plot will please genre fans looking for a fun, slightly silly '80s slasher.
Now I love my cheesy 80's slasher movies and it's been a long time since I've seen this one but I have forgotten how the ending kind of frustrated me. In real life people, don't drop the weapon because it's kill or be killed. This movie is still a gem for me along with many from this era, so I won't go hard on this one.
Yeah, its a pretty tight slasher overall.
Always a great classic!!!