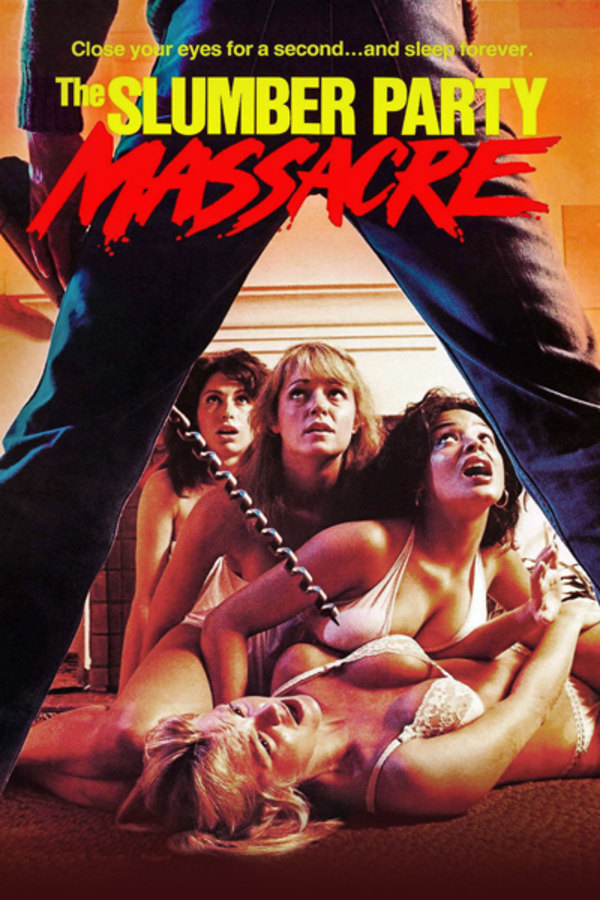 The Slumber Party Massacre
Directed by Amy Holden Jones
When Trish (Michele Michaels) decides to invite her high school girls' basketball teammates over for a slumber party, she has no idea the night is going to end with an unexpected guest– an escaped mental patient and his portable power drill – crashing the party in the cult classic.
A slumber party turns terrifying when an escaped mental patient with a drill decides to crash.
Cast: Michelle Michaels, Robin Stille, Michael Villella, Debra Deliso, Andree Honore
Member Reviews
@ANON_SVOD_USER_1580919597897 You should submit this post to the website KinderTrauma under their "Name That Trauma" section. The community there helps people track down forgotten and unknown movies that people saw as kids. Anyway, figured I should leave a review if I'm posting: Slumber Party Massacre II is not as great as the first film, but it's a really fun, campy sequel if you don't mind a plot that really doesn't make much sense whatsoever and enjoy spontaneous song and dance numbers in the middle of your slasher flicks. Worth watching alone for the fantastically gross and hilarious pimple scene and the drill guitar is, of course, excellent.
Hey everyone! I'm brand new to this amazing website. I have a question ( i hope its ok to write here . i apologize if not) I am 40 years old and as a kid i used to watch a show on USA network called UP ALL NIGHT < aired 1989 to 1998>(https://en.wikipedia.org/wiki/USA_Up_All_Night). I was too young to remember all the details now unfortunately but there was a horror movie ( I used to this was it but I have a feeling it isn't) It involved a scene where the killer/bad guy (not sure if he was alone or had other maniacs with him) was making all the girls at some sort of slumber party, or house party do things to each other for points or to stay alive longer (details are very hazy it was so long ago) One of the girls immediately grabbed her friends shirt/pajamas something like that and ripped it so it revealed more flesh and the intruder replied "YEAH SEE THATS IT" (more of less he said that) I think my parents soon after yelled at me for having the TV on after i was supposed to be sleeping and I never knew what it was or what else happened. I'd pay to know what this movie was. I don't know if the WIKIPEDIA or IMDB etc will help narrow it down. Any suggestions would be amazing. I'm even willing to send someone a free PIECE OF ARTWORK if they find the exact film for me. I have an instagram if you'd like to contact me there. ( i'll list it soon) I don't know if there is any etiquette here that frowns on that sort of thing. I love it here to much to upset anyone or jeopardize me watching movies here. I will have to check back here often . THANKS for any help
over 30 yrs since i last seen this movie and for me it doesnt hold up as it did when i was a kid watching this, still ok for the nostalgia aspect , would give 3 1/2 skulls if 1/2 skulls were possible
A Feminist classic take on the slasher, lots of fun and is definitely worth your time
A Feminist classic take on the slasher, lots of fun.