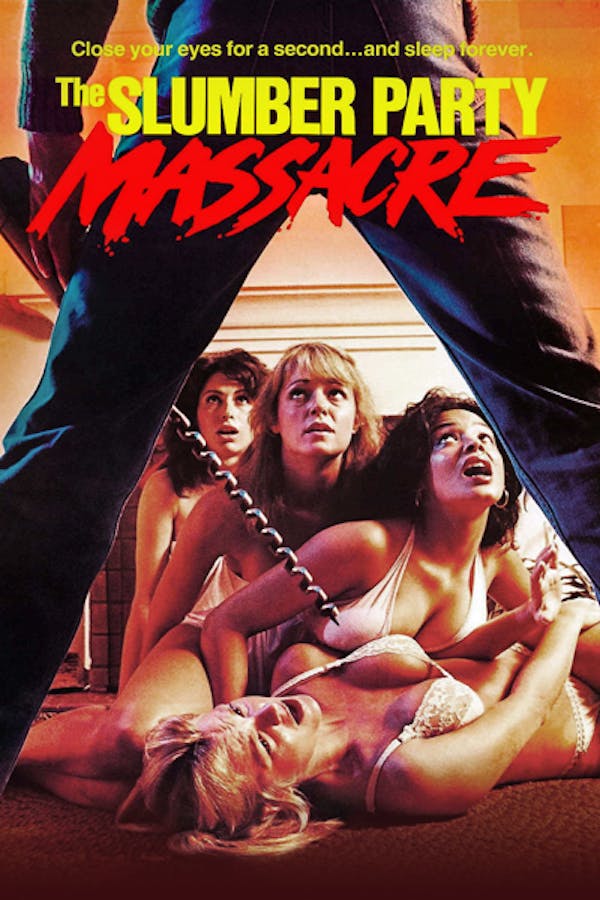 The Slumber Party Massacre
Directed by Amy Holden Jones
When Trish (Michele Michaels) decides to invite her high school girls' basketball teammates over for a slumber party, she has no idea the night is going to end with an unexpected guest– an escaped mental patient and his portable power drill – crashing the party in the cult classic.
A slumber party turns terrifying when an escaped mental patient with a drill decides to crash.
Cast: Michelle Michaels, Robin Stille, Michael Villella, Debra Deliso, Andree Honore
Member Reviews
Rita Mae Brown wrote the screenplay as a parody, and everything online says they played it straight (pun intended), but, like, clearly this is a parody, and they aren't holding your hand through it. i love everything about this. it was funny, and it was also so gory that i had to take a couple of breaks to reset. Also, rejoice: all of the cats survive the movie!
good 80s slasher movie I really enjoyed it.
Three skulls is perhaps too strong but I feel like two skulls is a bit mean. It is what it is. Written and directed by women too so you don't have to feel guilty for admiring the view. It's all been done a lot better of course, but TSPM still has its moments. The fridge scene sums up the tone beautifully. One of the reasons Scream exists. I'll be right back...
It was ok. Definitely kept me entertained.