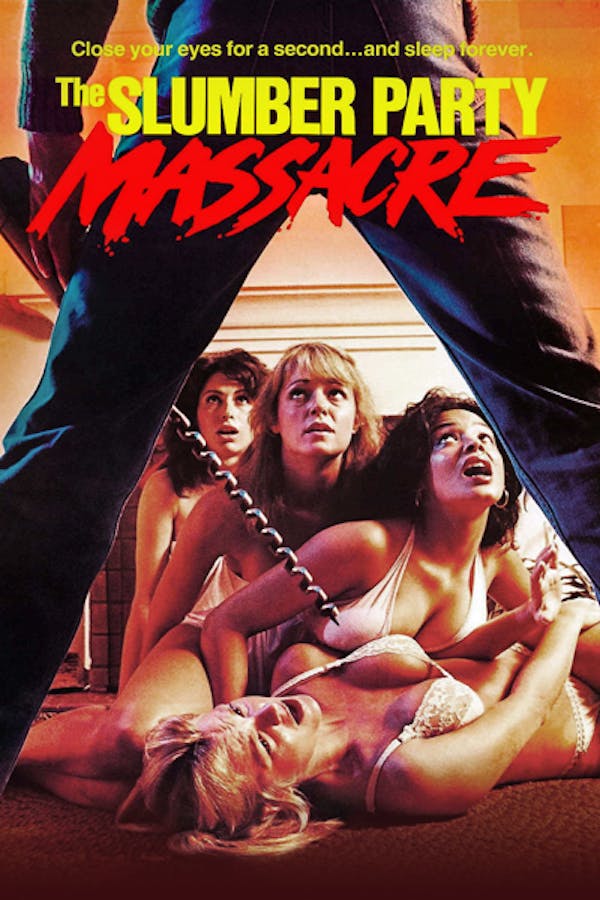 The Slumber Party Massacre
Directed by Amy Holden Jones
When Trish (Michele Michaels) decides to invite her high school girls' basketball teammates over for a slumber party, she has no idea the night is going to end with an unexpected guest– an escaped mental patient and his portable power drill – crashing the party in the cult classic.
A slumber party turns terrifying when an escaped mental patient with a drill decides to crash.
Cast: Michelle Michaels, Robin Stille, Michael Villella, Debra Deliso, Andree Honore
Member Reviews
Incredibly misunderstood imo. It leans heavy on Halloween's mechanics but bubbles into a quasy misandrist, homoerotic, female enpowerment film. The men are feeble and childish, or maniacs who want to drill the hell out of women. All authority comes through the women, which is a brilliant idea its just not executed with precision through a clunky script.Highly recommended to students of the slasher genre though, movies like this build the foundation of tropes which are important to analyze in cinema.
This film had a lot of what I expected: gratuitous nudity, lots of gore, some mediocre acting, and a satisfyingly vengeful ending that provided decent resolution. While I am not a big fan of this genre, it was just the right balance of camp and blood to make it entertaining while I cooked meals. Speaking of that, the plot is so simple that you can watch it in chunks across multiple days without needing any sort of a refresher.
There's nothing not to love. So much fun
If you're looking for somethung to pass the time, this is worth it. Not great, but well-entertaining.