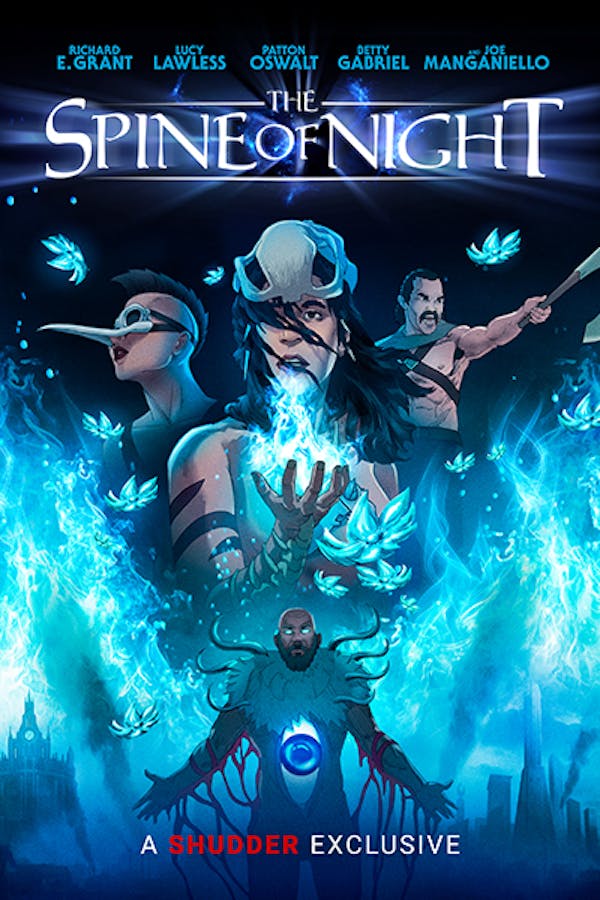 The Spine of Night
Directed by Philip Gelatt, Morgan Galen King
This violent fantasy-horror epic, about the history of a land that never was, begins when an ambitious young man steals forbidden knowledge from a sacred plant. He falls to its darker temptations and in so doing, unleashes ages of suffering onto mankind. As his power grows over the years, it falls to people of different ilk and culture to attempt to stop him. Among those who stand against him are a daring tomb-robber, star-crossed lovers, a maniacal necromancer, winged assassins, and an undying guardian. A SHUDDER EXCLUSIVE.
Witness a violent, animated fantasy-horror epic about an ambitious young man and the forbideen knowledge of a sacred plant.
Cast: Betty Gabriel, Richard E. Grant, Lucy Lawless, Joe Manganiello, Patton Oswalt
Member Reviews
Really great story telling!
The more this movie played, the gory it became. A blood fest.
While the animations are a bit hard to watch at times and the intro scenes to the movie are a bit confusing initially, it all comes together as the movie progresses into one of the better cosmic horror movies that takes just enough from the fantasy genre to drawn in lovers of either genre. What initially felt like I was watching a slow burn really took off into the second act and really immerses you in this world, giving context to the groundwork laid by the first act. Truly one of the best films of the genre and a worthy watch for D&D players and Lovecraft fans alike.
This is fantastic! Keep making these animated films.
I can't stand the animation. Not a fan of rotoscoping.