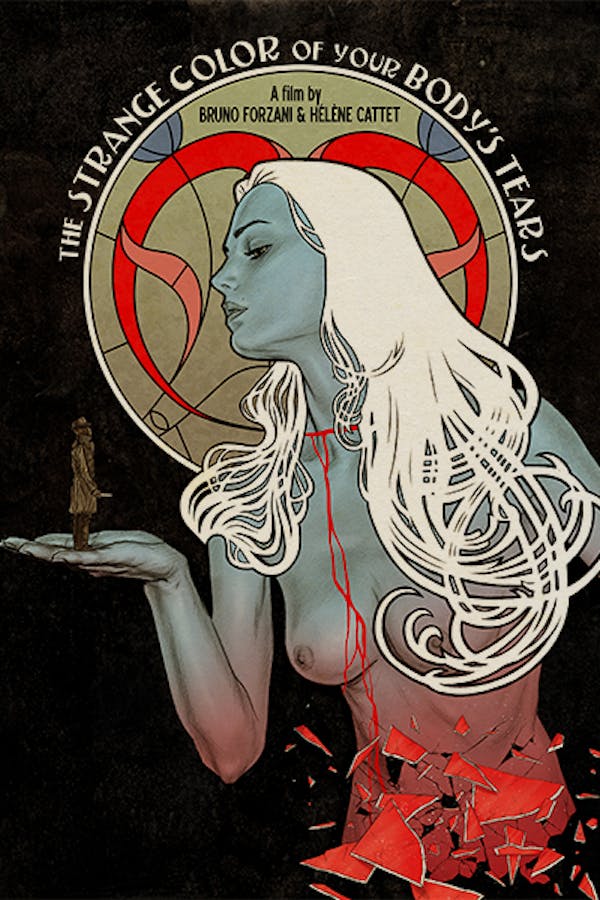 The Strange Color of Your Body's Tears
Directed by Hélène Cattet, Bruno Forzani
This visually stunning Belgian giallo homage follows a man who returns home from a trip, only to find his wife missing. Seeking answers, Dan visits his nasty neighbors, who draw him into a surreal mystery that keeps getting stranger and stranger. Is there a conspiracy at work? How many secret passages does the building have? And where is Dan's wife? Hélène Cattet and Bruno Forzani's second film is, like 2009's AMER, a trippy fantasia on the stylish and scary imagery found in the films of Dario Argento and other giallo greats, and a must watch for fans of the subgenre. (In French with English subtitles.) Contains violence and gore.
This visually stunning giallo homage follows a man searching for his missing wife.
Cast: Klaus Tange, Ursula Bedena, Joe Koener
Member Reviews
Giving 3 to round up, it's actually a 2.5 for me. I LOVE the giallo genre. But while there are a lot of giallo without the best plot, I found this one lacking in cohesion. The first 45 minutes consists of seemingly endless flashbacks. Then the super repetitive scene an hour in. It was visually stunning, though a lot of that stop motion did give me a bit of a headache.
It's a fancy, artsy, giallo hommage with suggestions of the supernatural. It is not a low-buget '80s slasher. While I enjoy Slumber Party Massacre (a lot), I appreciate this one. If you aren't sure a movie is for you--IMDB it first! As for me, I The Strange Colour of Your Body's Tears was absolutely beautiful, with just enough of a storyline (even if it is dream-like) to carry the images. Films like this (and like Pieces, SPM, Night of the Demon, and why not--even Cannibal Holocaust) are why I subscribe to Shudder... always something different, always interesting, and often even beautiful. (Minus one star for the nerve-wracking repetition in the middle of the film, though...)
i refuse to believe anyone could like this movie
I'm literally pissed at myself for sitting through that and thinking at some point this POS movie would make sense. It's awful. Intentionally pointless waste of time. Might be the worst movie I've ever seen. DON'T DO IT. Can i give zero skulls?
I'll just say my rating is based on the assumption that cannabis is legal in your state and leave it at that.