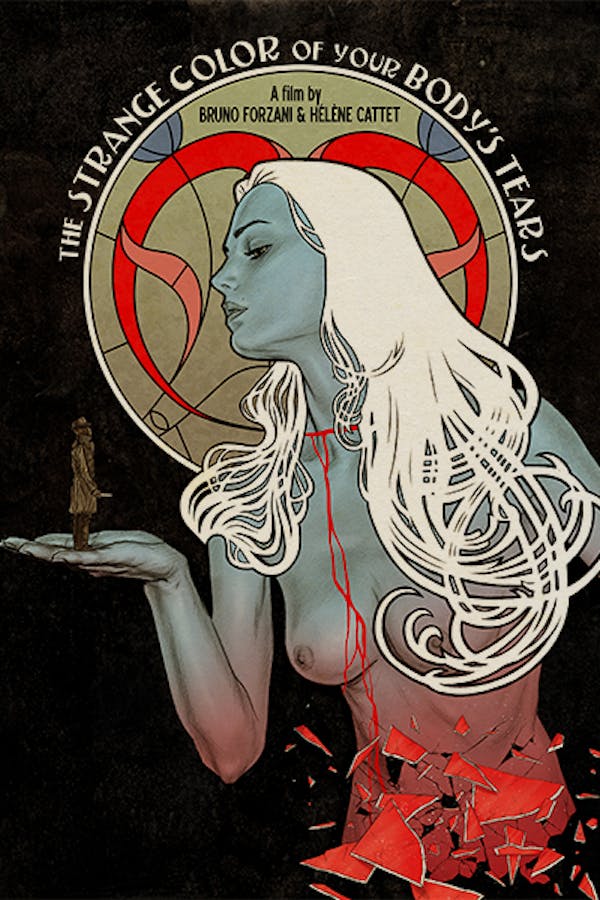 The Strange Color of Your Body's Tears
Directed by Hélène Cattet, Bruno Forzani
This visually stunning Belgian giallo homage follows a man who returns home from a trip, only to find his wife missing. Seeking answers, Dan visits his nasty neighbors, who draw him into a surreal mystery that keeps getting stranger and stranger. Is there a conspiracy at work? How many secret passages does the building have? And where is Dan's wife? Hélène Cattet and Bruno Forzani's second film is, like 2009's AMER, a trippy fantasia on the stylish and scary imagery found in the films of Dario Argento and other giallo greats, and a must watch for fans of the subgenre. (In French with English subtitles.) Contains violence and gore.
This visually stunning giallo homage follows a man searching for his missing wife.
Cast: Klaus Tange, Ursula Bedena, Joe Koener
Member Reviews
French murder mystery on a tab of acid, Beautiful scenery and buildings, great acting, a lot inner meanings and symbolism, an impressively confusing story that's well written yet purposefully hard to catch onto, great death scenes, interesting noir like films that play a lot throughout the film, not gore-y but bloody, not scary but freaks you out, clever use of basic movie effects and once again great scenery, this is a really good movie I'd recommend
WTF! Trippy to the max!! My take on this flick is... Straight = WTF! Stoned = Awesome! If you like psychedelic movies, this one is for you. I was glued to the screen for about 20 minutes until I realized I would never grasp WTF was going on...but then I figured out that the plot really does not matter if you are stoned. Just lay back and enjoy the ride of color and magical imagery...like, wow man, way cool! Amazing directing and editing to create a masterful cinema experience of close-up shots and 1960s nostalgic psychedelic imagery. About 1.5 hours into the movie, you'll hear a soundtrack that is reminiscent of Iron Butterfly – and if you understand what I just wrote, yeah man, mellow and get into this flick.
Was hoping for a good mystery, but it was mostly boring and somewhat nonsensical.
I like the creativity of film! But honestly, it was kinda boring.😕
Wow! This is an incredibly artful film that takes Giallo to the limit, and then says let's do something different to make it better. I found it much easier to watch if you watch at 5-minute intervals, with at least 10 minutes in between each interval to let the film set into the imaginative side of your brain. This is how I watch a lot of films, especially those that have been negatively reviewed. The positive reviews are usually the right ones.