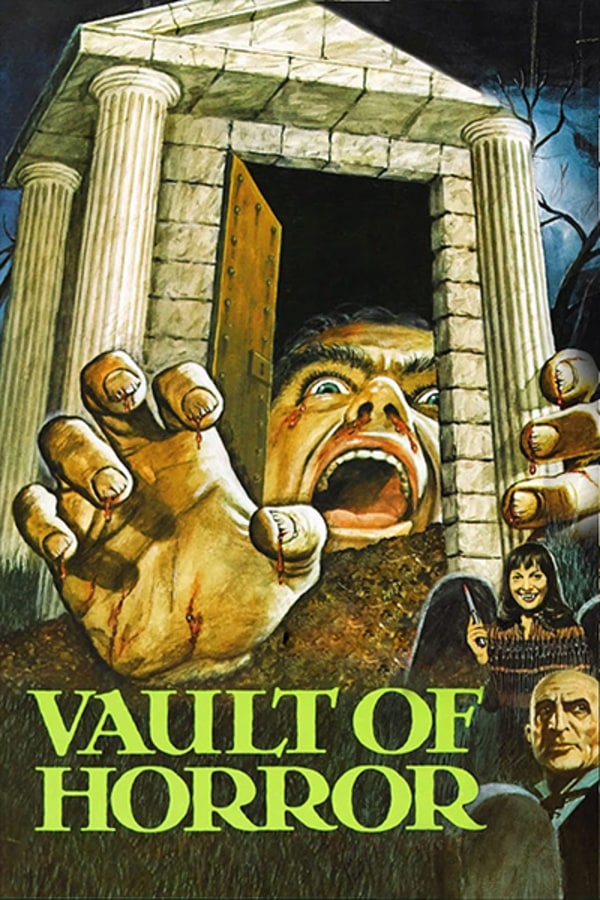 The Vault of Horror
Directed by Roy Ward Baker
Trapped in the basement vault of an office building, five men recount their visions of their own death. In Midnight Mess we get a strange look into the everyday lives of vampires – who run their own fancy restaurant. In The Neat Job, hilarious character actor Terry-Thomas plays an obsessive neat freak who meets a fitting end. "This Trick'll Kill You pits a nasty colonialist up against an Indian woman whose magic trick secrets she'll do anything to keep. Bargain in Death weaves together a tale of premature burial, double-crossing insurance scams, and peculiar coincidence. The final tale, "Drawn and Quartered" tells the story of a voodoo-practicing artist (Tom Baker) who is able to kill his victims by depicting their death on canvas.
Five people trapped in an underground vault share stories of terror while awaiting their fate.
Cast: Curd Jürgens, Terry-Thomas, Tom Baker
Member Reviews
Didn't recognize any of the names. I did see a lot of familiar faces however. Considering it was 1973, pretty damn good. Would have been a great Twilight Zone episode.
i dug the graveyard tale and thought the voodoo painter was a real splash too!
A British horror anthology from the 1970s with a perfect sense of dread and doom.
Very good horror anthology. Tom Baker's story is my favorite.