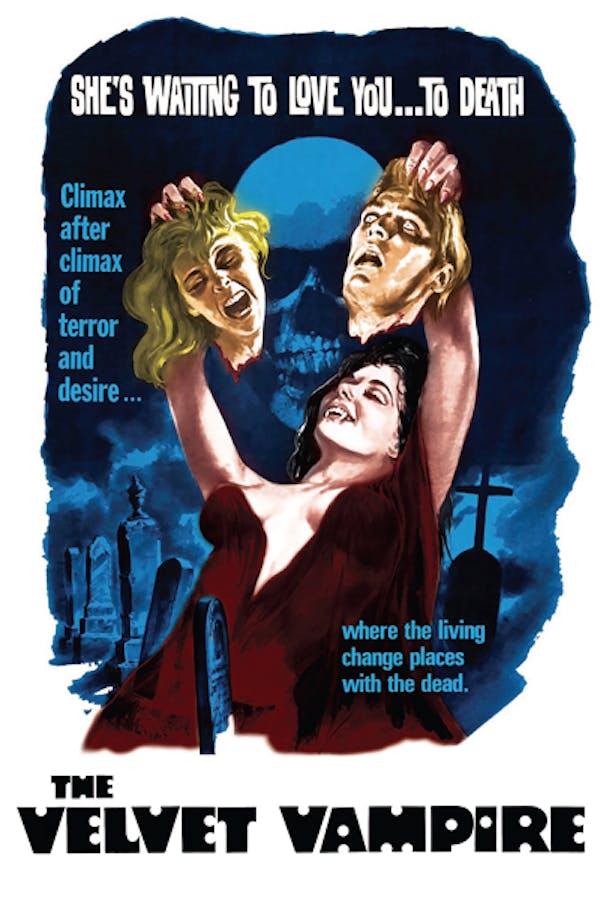 The Velvet Vampire
Directed by Stephanie Rothman
A married couple are invited to the desert home of bisexual female vampire Diane LeFanu, not realizing she's a centuries-old bloodsucker keen on adding them both to her stable of lovers. Female vampires who swing both ways have been a staple of the genre since Sheridan LeFanu's "Carmilla" and 1936's DRACULA'S DAUGHTER. But THE VELVET VAMPIRE stands out for being one of the few such tales directed by a woman, in this instance cult director Stephanie Rothman (TERMINAL ISLAND) who mixes gauzy erotic dream sequences, comedy and nightmarish neck-biting in very fun fashion.
A married couple are invited to the desert home of a bisexual female vampire.
Cast: Michael Blodgett, Sherry E. DeBoer, Celeste Yarnall
Member Reviews
The end still shows up in my head randomly giving me the chills.
pretty fun psychosexual 70s film. lots of beautiful shots, awkward dialogue, boobs, and memorable characters.
The style naturally fits the early seventies, for better or worse, but accepting that allows enjoyments of the score, dialogue, and overall film structure. The focus wandered towards the end and I never felt any attachment towards the characters or interest in their fate.
if you like DAUGHTERS OF DARKNESS, you'll probably like this one, too, but it's not as good. as long as you know that going in, you wont be disappointed.
I wanted to like this movie. I have fairly low standards and can muscle through most movies even if I'm not into them, but this is one of the most agonizingly boring movies I've ever seen. Save yourself an hour of your life and watch any other vampire movie.