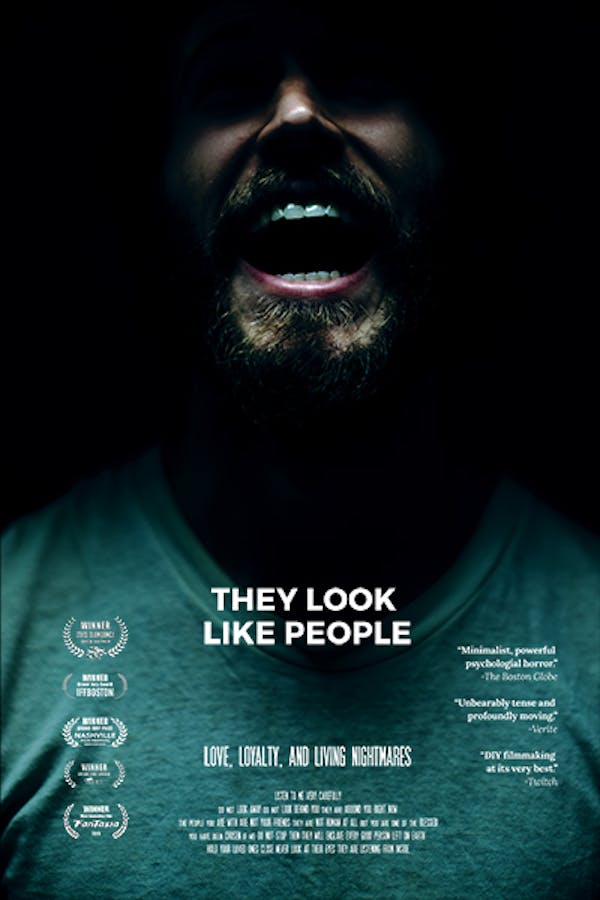 They Look Like People
Directed by Perry Blackshear
While staying at his friend Chris' apartment, Wyatt starts receiving eerie phone calls about monstrous beings taking over human bodies in preparation for world domination. Though Wyatt doesn't know what to believe, he starts amassing weapons while Chris is at work. Is he schizophrenic? Or are the monsters real? Director Perry Blackshear makes brilliant use of three gifted lead actors and time tested Val Lewton less-is-more scare tactics to craft a chilling study of psychological breakdown worthy of standing alongside fright flicks like REPULSION, THE TENANT and BUG.
A man starts receiving phone calls warning him that monstrous beings are coming.
Cast: MacLeod Andrews, Evan Dumouchel, Margaret Ying Drake, Mick Casale, Elena Greenlee
Member Reviews
Excellent wee gem, strong believable performances throughout with a tragic tone bubbling underneath. Highly recommend.
An interesting psychological thriller. Simple, but effective. It's a slow mover but it's good at being subtly unsettling and building tension. Good for those who want something different and not for those who just want a good old-fashioned horror.
This is the first movie that i've found that captures the atmosphere and themes soo masterfully on such a minimal budget. Hollywood take notes.
Absolutely brilliant! Loved it! so different and unusual... intense and scary. All actors were outstanding. loved the whole atmosphere and tension. Great stuff! Someone give these guys a big budget and let them at it!