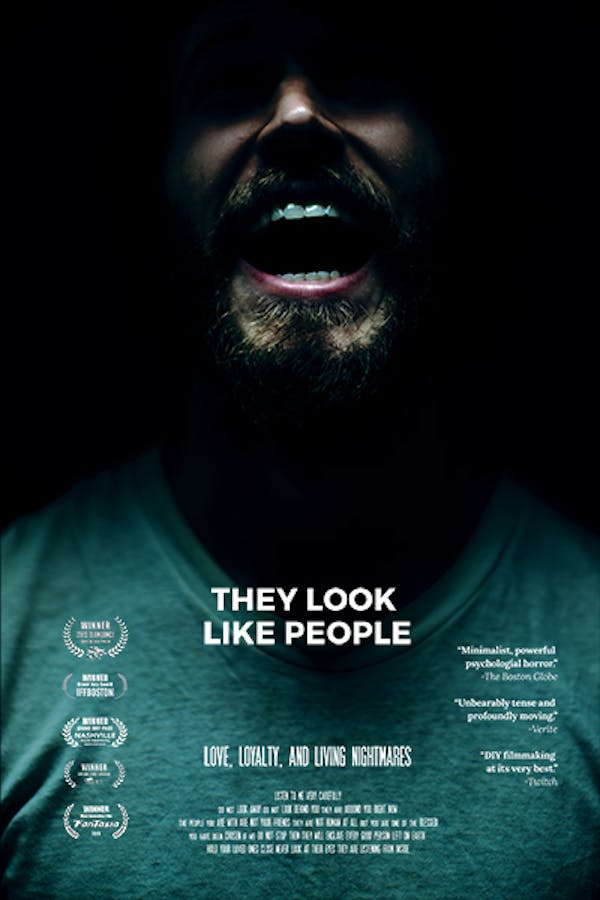 They Look Like People
Directed by Perry Blackshear
While staying at his friend Chris' apartment, Wyatt starts receiving eerie phone calls about monstrous beings taking over human bodies in preparation for world domination. Though Wyatt doesn't know what to believe, he starts amassing weapons while Chris is at work. Is he schizophrenic? Or are the monsters real? Director Perry Blackshear makes brilliant use of three gifted lead actors and time tested Val Lewton less-is-more scare tactics to craft a chilling study of psychological breakdown worthy of standing alongside fright flicks like REPULSION, THE TENANT and BUG.
A man starts receiving phone calls warning him that monstrous beings are coming.
Cast: MacLeod Andrews, Evan Dumouchel, Margaret Ying Drake, Mick Casale, Elena Greenlee
Member Reviews
Definitely a good movie but don't go in expecting a typical horror film.
There are 2 pieces that share a name (and many themes) with this movie, one a YouTube short and a full length movie inspired by the short. Both are better than this. Well acted but seriously dull and lacking any depth.
Really strong ending and for a low budget film it looked pretty good. Not really horror but did have a few creepy moments.
I liked it, and the fact that it didn't go for the classic horror movie depiction of mental illness. Definitely a slow burn, and I think Chris's decisions towards the end felt a little contrived, but it's a decent minimalist film, and certain sections definitely freaked me out a little.