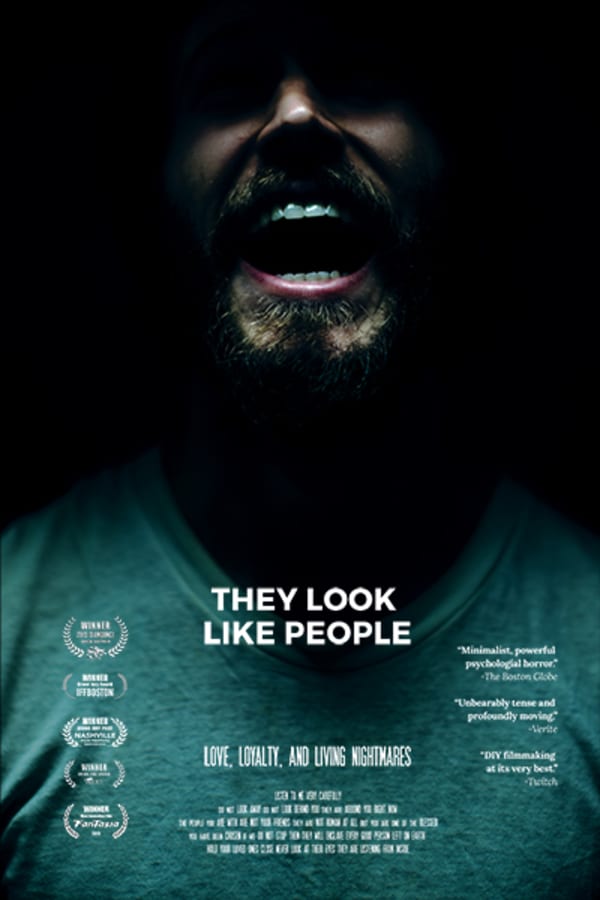 They Look Like People
Directed by Perry Blackshear
While staying at his friend Chris' apartment, Wyatt starts receiving eerie phone calls about monstrous beings taking over human bodies in preparation for world domination. Though Wyatt doesn't know what to believe, he starts amassing weapons while Chris is at work. Is he schizophrenic? Or are the monsters real? Director Perry Blackshear makes brilliant use of three gifted lead actors and time tested Val Lewton less-is-more scare tactics to craft a chilling study of psychological breakdown worthy of standing alongside fright flicks like REPULSION, THE TENANT and BUG.
A man starts receiving phone calls warning him that monstrous beings are coming.
Cast: MacLeod Andrews, Evan Dumouchel, Margaret Ying Drake, Mick Casale, Elena Greenlee
Member Reviews
Great indie horror / psychological thriller. It does a great job of crafting characters you can care for. While it also has some moments of real dread. It won't convert those who don't do low budget, but if you're into independent horror then this is well worth watching.
i really, really enjoyed this movie. mental illness is a subject that countless horror movies try to grapple but very few do as delicately and realistically as 'they look like people'. as someone who suffers with mental illness, there are so many little things i appreciate about it, but i won't go into detail and just recommend you give this slow burner a try.
Awesome film. Well shot and acted. *Very Slight Spoliers* this isnt so much a horror film as a film about mental illness which it handing exceptionally. Highly recommend you watch this i loved it.
Incredibly well shot and acted psychological horror, kept me entranced throughout, really tense and uncomfortable in all the right ways.
Really interesting approach. Loved it