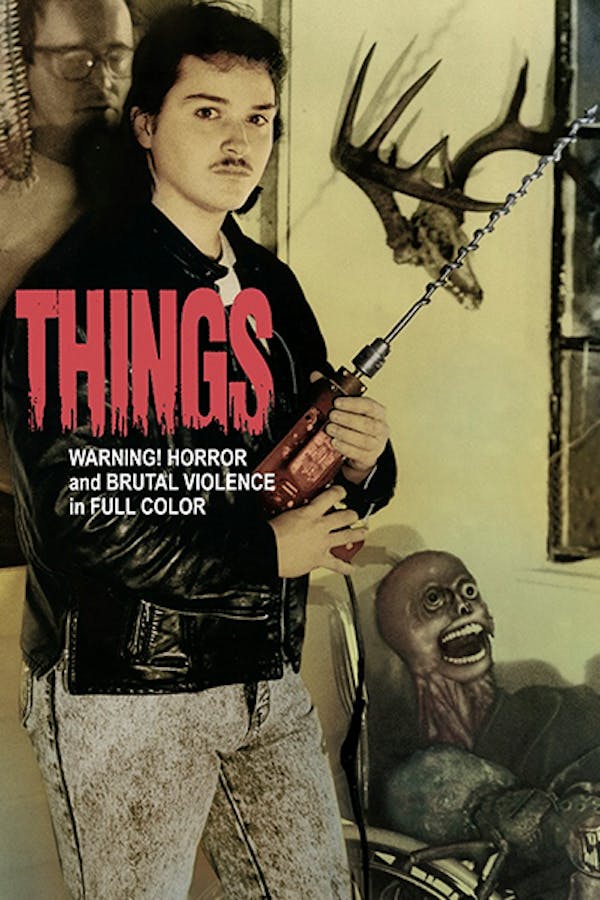 Things
Directed by Andrew Jordan
Don Drake and his best friend Fred have disappeared after travelling to a remote California cabin to visit Don's deranged brother Doug and his wife, Susan. The visit turns into a hideous life and death struggle. Don's fanatical desire but inability to father children has driven him to horrifying action. He's forced his wife to undergo a twisted and dangerous experiment which results in hatching a non-human life form in her womb. And now the THINGS want out.
When Don Drake and his best friend Fred disappear after travelling to a remote California cabin, dangerous experiments occur which results in a non-human life form.
Cast: Barry J. Gillis, Amber Lynn, Bruce Roach, Doug Bunston, Jan W. Pachul
Member Reviews
BARRY J GILLIS...you Animal!!! Congrats on getting on Shudder. You've won the internet, sir King! -Then again we did meet while working on an Ulli Lommel Horror movie! hahahaha. Props.
this movie is so shitty and incoherent, i LOVE IT! pretty much the whole movie is quotable, no idea what was going on most of the movie, just pure vibes. make a go fund me for the remake barry i'll pitch in 😷
T.R.A.S.H. Not "so bad, it's good". Just an affront to anyone who has any respect for film making. It crawled out of some long-forgotten 1989 garbage can, but it should have stayed there. ZERO skulls.
I feel like I've been tripping heavily for the last hour and a half.
Generally speaking, I truly have no words. Except to note the inexplicable appearance of Amber Lynn in this film.