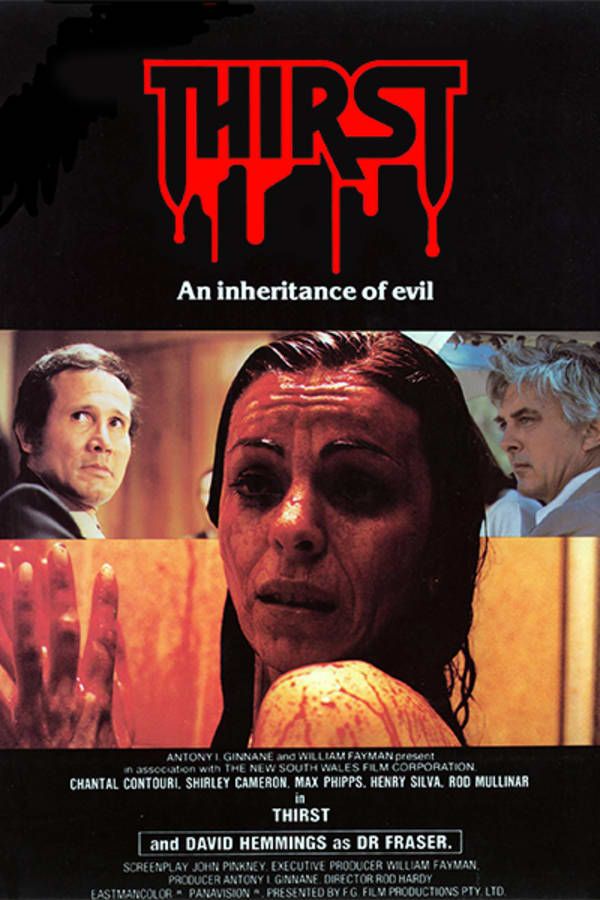 Thirst
Directed by Rod Hardy
A vampire cult kidnaps a descendant of the evil, blood-crazed Countess Bathory, hoping to reboot her depraved legacy and create a vampire master race. Now Kate must try to escape from the Brotherhood's human blood farm, but the group's leaders, David Hemmings (DEEP RED) and Henry Silva (ALLIGATOR) and their ultra-evil female henchmen, won't be so easily outsmarted. This Ozploitation classic starring Chantal Contouri (THE DAY AFTER HALLOWEEN) is one of the most unique vampire movies ever made, and a direct precursor to 2009's Australian cult vampire flick DAYBREAKERS.
A vampire cult kidnaps a descendant of the evil blood-crazed Countess Bathory.
Cast: Chantal Contouri, Shirley Cameron, Max Phipps, David Hemmings, Henry Silva
Member Reviews
Enjoyed this film and didnt think the film particularly dragged on. Its 90 minutes, you must have a short attention span if you think it did so. Theres some great scenes in this for me, and perhaps a film with more style than substance as she was always going to become a Vamp, so a film to take in rather than have some crazy ending. Quite psychological when you read into its main themes. The first Thirst withdrawal scene is trippy and worth the watch. The Blood cow plant scene, quite amusing yet odd and any shot with Kate, Dr. Fraser, Lori and the terrifying Mrs. Barker I found brilliant. There was a mention on a review below this that said it has elements of giallo which was also another pulling point (so thanks for that tip!). 3/5 as Im not sure the film really sticks into my subconscious as much as it should given everything mentioned but that might change in my mind with time. Definitely worth a watch if any of the above piques your interest.
#thirst After a quick meeting & a bloodshake the cult, in pursuit of the ultimate aristocratic act, kidnap the unsuspecting heiress & take her to their recruitment spa. Echoes Mcgoohan's The Prisoner but w/ more bite!Fangtastic. -C 🥛🥛🥛🥛
Solid old school horror with a little style thanks to David Hemmings and the Fulci lite gore. Recommended for fans of 80s giallo etc
Engaging even with it's slow pace. Feels like The Hunger meets One Flew Over The Cuckoo's Nest or The Prisoner. Dug it more than I thought I would based on the user score/reviews.
A little confusing. Didn't love it, didn't hate it.