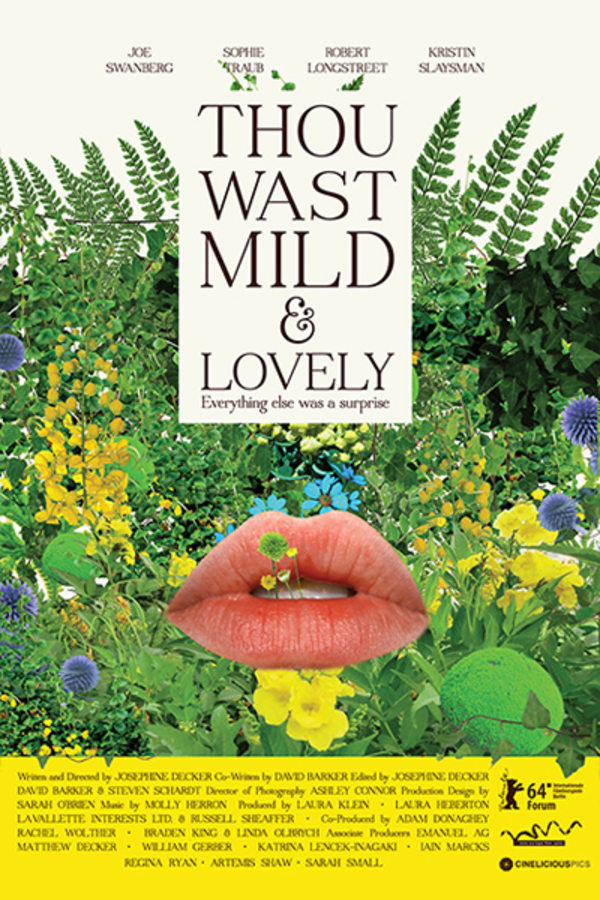 Thou Wast Mild and Lovely
Directed by Josephine Decker
The arrival of a handsome new farmhand named Akin (Joe Swanberg, V/H/S) threatens the balance between a farmer (Robert Longstreet) and his daughter Sarah (Sophie Taub). Sarah sets her sights on Akin, and he too begins picturing her while pleasuring himself. As the three characters circle each other, the tension simmers until exploding in a very scary way. To say more would give away the offbeat pleasures of Josephine Decker's acclaimed film, which critics described as "existential horror" similar to the work of arthouse directors David Lynch, Terence Malick and Ingmar Bergman.
Scary tensions build when a farmhand comes between a farmer and his daughter.
Cast: Joe Swanberg, Sophie Traub, Robert Longstreet
Member Reviews
Art-house mumblecore. It's just awful. Boring and incredibly pretentious, light on content/script to the point of nonexistence (mostly improvised conversations/reactions) with lazy direction/camera work. The climax is NOT surprising (as some seem to think?) but is utterly insipid with characters acting flat-out stupid.
I'm not 100% sure what I just watched, or really how it qualifies as "horror", or what the hell happened at the end, but I do sure know I don't wanna watch it again. The tension I was promised never really made itself apparent, certainly not to the degree of it going wild like it did at the end, and most of the unsettling moments came in the form of jerky editing, odd camera angles, bizarre convulsions in dreams, and distorted music. The whole movie felt far, far more bizarre than scary to me, and the payoff just misses the mark wildly. The actors themselves often seem bored and uninterested, half mumbling their lines without a trace of emotion. The few times they show some life are good, it's a shame the director didn't seem to want that for some reason, but it's her movie I guess... Some lovely cinematography at times, but that's about the nicest thing I can say about it.
Pacing was fine, but in attempting to be cinematically compelling it just became confusing. Did not enjoy this movie.
I'm a sucker for artsy fartsy indie horror and this did not disappoint!