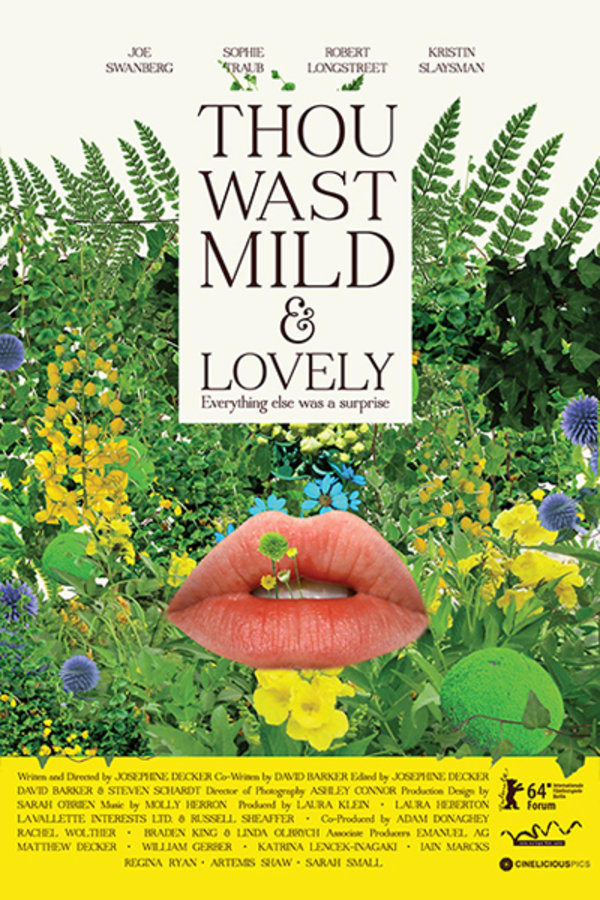 Thou Wast Mild and Lovely
Directed by Josephine Decker
The arrival of a handsome new farmhand named Akin (Joe Swanberg, V/H/S) threatens the balance between a farmer (Robert Longstreet) and his daughter Sarah (Sophie Taub). Sarah sets her sights on Akin, and he too begins picturing her while pleasuring himself. As the three characters circle each other, the tension simmers until exploding in a very scary way. To say more would give away the offbeat pleasures of Josephine Decker's acclaimed film, which critics described as "existential horror" similar to the work of arthouse directors David Lynch, Terence Malick and Ingmar Bergman.
Scary tensions build when a farmhand comes between a farmer and his daughter.
Cast: Joe Swanberg, Sophie Traub, Robert Longstreet
Member Reviews
Quite the love triangle to say the least. I enjoyed this movie.
Was meh, predictable, and boring.
This is the first film that I've watched here (just signed up for the trial), and I think that I'll be subscribing! I am definitely a horror movie genre fan, but I also love many different kinds of dark films, including slowburn, dread-soaked dramas and arthouse psychological films. This may not qualify as a "horror film" in the eyes of many, but from the very first momonts, it has quite a bit of tension, foreboding, and suspense. It's an experimental, artsy movie, to be sure, but the narrative is fairly easy to follow if one pays close attention. I love movies which creep me out and make me think. This one does both in different ways. I'll be watching it again and looking for other films from this director. It's not a perfect movie, but it is memorable. Four out of five skulls!
really hard to get thru. reminds me of a film students first film assignment.
Not very surprising ending. Maybe I watch way too many horror/suspense movies, but I pretty much expected what I got. Probably should have not read the reviews first, because I was hoping for something much more, so the ending was disappointing to me. Okay movie, a bit overly "artsy" for my taste sometimes, and not very going on most of the time to keep your attention.