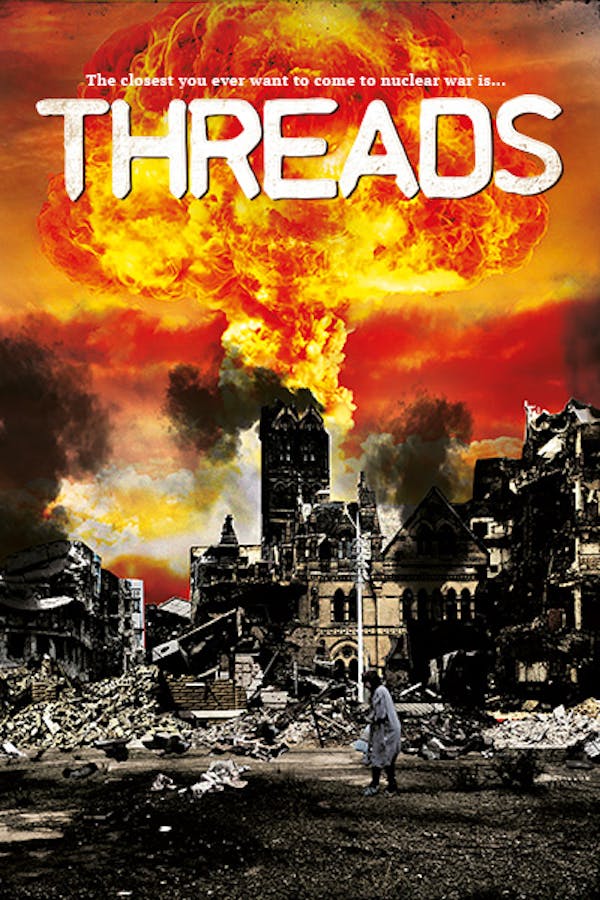 Threads
Directed by Mick Jackson
In September 1984, it was aired on the BBC and shocked tens of millions of UK viewers. Four months later, it was broadcast in America on TBS and became the most watched basic cable program in history. After more than three decades, it remains one of the most acclaimed and shattering made-for- television movies of all time. Reece Dinsdale (Coronation Street), David Brierly (Doctor Who) and Karen Meagher (in a stunning debut performance) star in this "graphic and haunting" (People Magazine) docudrama about the effects of a nuclear attack on the working-class city of Sheffield, England as the fabric of society unravels.
This legendarily haunting docudrama depicts the effects of a nuclear attack on the working-class city of Sheffield, England.
Cast: Karen Meagher, Reece Dinsdale, David Brierly
Member Reviews
Why is this such a highly rated/respected movie? It is PAINFULLY BORING!!! This should be under the mockumentary genre and not the horror genre because it is not scary at all. Sure, the thought of this actually happening in real life is scary, mostly because it is probably actually going to happen at some point in human history, but this movie does a terrible job of capturing that fear and displaying it in a shocking/exciting manor. Dark and realistic, yes. But scary and entertaining? Absolutely not. Total snooze fest.
This is excellence, even by today's standards. Chilling, relatable, understated. The "Christmas Day" nativity imagery was an especially nice touch. Incredibly dark, painfully realistic. I can't believe this was made for 1980s TV.
Depressing but Realistic!!
Absolutely brutal. Watch in case you need a reminder that a nuclear war cannot be won and must not be fought. Hard to believe this was aired on TV in the '80's--I'm not sure broadcast TV in the US would air this even today. It's kind of like a realistic prequel to The Road (2009) except that The Road has a happier ending. Again, The Road has a happier ending.
"At this scale of attack, the effects of radiation sickness and panic are one and the same." WOOF. This thing is a tough sit but absolutely worth it.