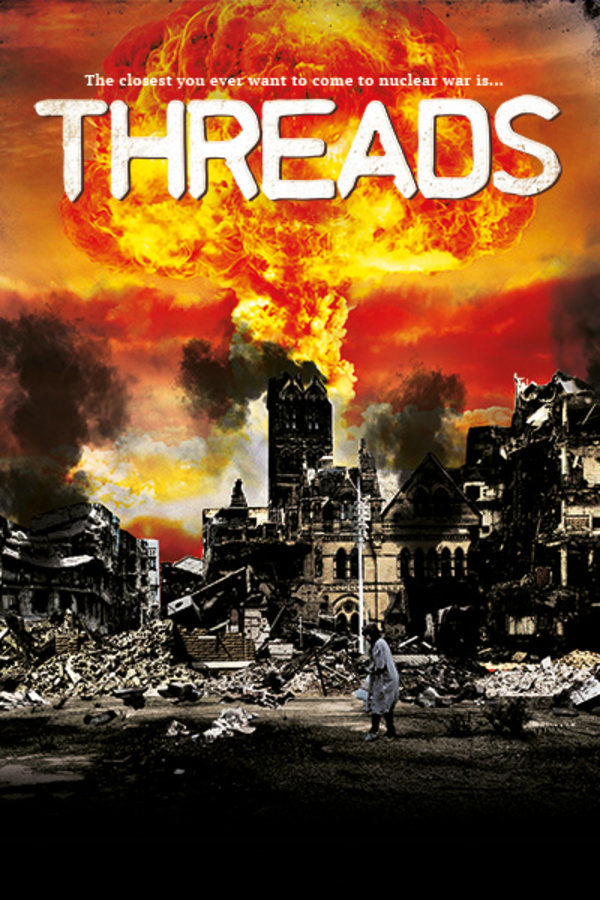 Threads
Directed by Mick Jackson
In September 1984, it was aired on the BBC and shocked tens of millions of UK viewers. Four months later, it was broadcast in America on TBS and became the most watched basic cable program in history. After more than three decades, it remains one of the most acclaimed and shattering made-for- television movies of all time. Reece Dinsdale (Coronation Street), David Brierly (Doctor Who) and Karen Meagher (in a stunning debut performance) star in this "graphic and haunting" (People Magazine) docudrama about the effects of a nuclear attack on the working-class city of Sheffield, England as the fabric of society unravels.
This legendarily haunting docudrama depicts the effects of a nuclear attack on the working-class city of Sheffield, England.
Cast: Karen Meagher, Reece Dinsdale, David Brierly
Member Reviews
Utterly unique and terrifying. Brace yourself for an emotional gut punch the likes of which few films have ever delivered. It actually transcends the horror genre, IMO; the 2nd half is a nightmare trip, a descent into Hell that would make Dante piss his trousers.
So much work went into this, and it was so well put together. That final frame was perfectly cut. I'm surprised I never heard of it, but I can imagine after seeing it, it's not one you go out and blab about to everyone. I'm left sick and shaky from it. If you ever needed an example of a story arc, there's Threads for ya.
Personally if it happens in my lifetime ?? I want to stand on ground zero and allow the Nuclear missile to hit me right on the head I would not want to live through that mess !! This movie / documentary will give me and all of us watching it ; horrific nightmares !! Kinda wish I had watched something a little light hearted !! Maybe a chick flick ??
160 years or longer to reach the Middle Ages and how it was then !! Nuclear war ? Then most selfish horrible thing that people can do to each other over greed and politics and the entire population suffering over a few stupid greedy people in places of high power !!
So sad and utterly disturbing !! I don't remember this from the 80s ? I remember watching the Day After in 1983. Here in America . And I don't remember this nuclear war movie at all ? This was way more intense and horrifying than The Day After. More gruesome. And would not have made it on USA Prime Time ABC TV in 1983 . It's unthinkable about a Nuclear War !! Back to the Middle Ages !! Or really the cave man days only after nuclear winter !! It would take 160