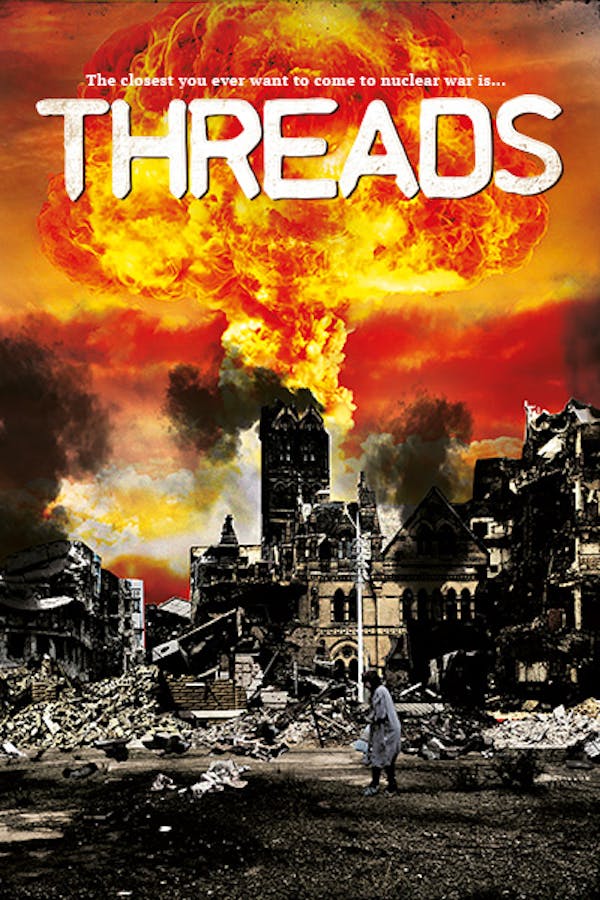 Threads
Directed by Mick Jackson
In September 1984, it was aired on the BBC and shocked tens of millions of UK viewers. Four months later, it was broadcast in America on TBS and became the most watched basic cable program in history. After more than three decades, it remains one of the most acclaimed and shattering made-for- television movies of all time. Reece Dinsdale (Coronation Street), David Brierly (Doctor Who) and Karen Meagher (in a stunning debut performance) star in this "graphic and haunting" (People Magazine) docudrama about the effects of a nuclear attack on the working-class city of Sheffield, England as the fabric of society unravels.
This legendarily haunting docudrama depicts the effects of a nuclear attack on the working-class city of Sheffield, England.
Cast: Karen Meagher, Reece Dinsdale, David Brierly
Member Reviews
I can see why it's here on Shudder, given it's post-apocalyptic setting following nuclear war. It is definitely horrifying. The way it's shot makes it appear to be reality. I suppose I only gave it 3 skulls because it's obviously nuclear disarmament, which is fine in theory. I simply think it's an impossible situation: What's better-allowing only the bad guys have nuclear weapons or both sides having weapons? The most dangerous countries are the ones who would keep nuclear weapons and use them tp obtain control of other countries. The end result of that is the same as what you saw here. Just my two cents.
So real it was terrifying. Don't watch right before bed. Definitely worth a watch.
I don't care who considers it horror and who doesn't, this is a very compelling film that definitely got to me once it for going.
I Don't Know? I Have Mixed Emotions About This One.. 🕷
Holy crap. This is haunting af. It'll stick with you for a while.