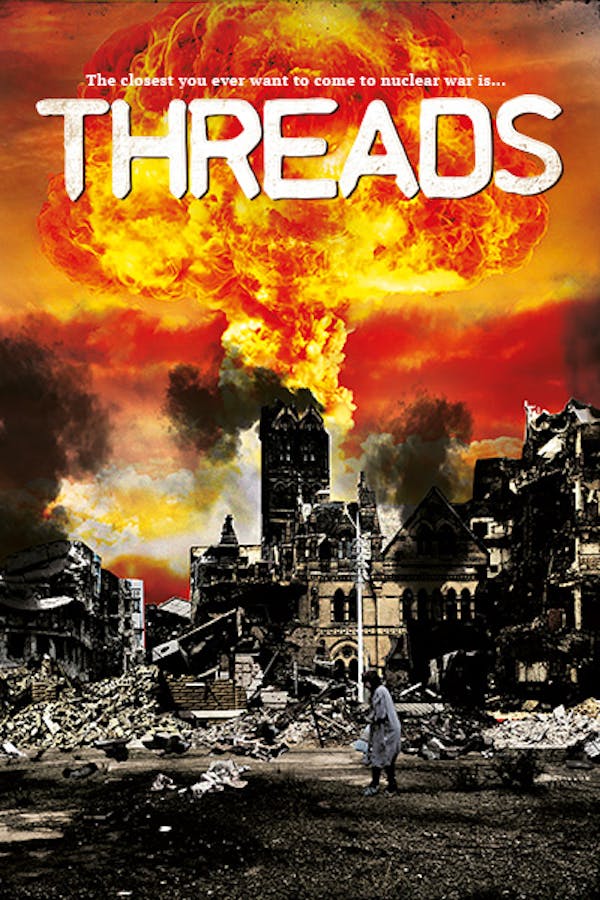 Threads
Directed by Mick Jackson
In September 1984, it was aired on the BBC and shocked tens of millions of UK viewers. Four months later, it was broadcast in America on TBS and became the most watched basic cable program in history. After more than three decades, it remains one of the most acclaimed and shattering made-for- television movies of all time. Reece Dinsdale (Coronation Street), David Brierly (Doctor Who) and Karen Meagher (in a stunning debut performance) star in this "graphic and haunting" (People Magazine) docudrama about the effects of a nuclear attack on the working-class city of Sheffield, England as the fabric of society unravels.
This legendarily haunting docudrama depicts the effects of a nuclear attack on the working-class city of Sheffield, England.
Cast: Karen Meagher, Reece Dinsdale, David Brierly
Member Reviews
brutal and unique. definitely worth a watch if not two. some of the still shots are horrifying.
Brutal reality. We are still walking this tightrope.
Scary as hell. You should probably see this one. Very real. A definite possible end. Let's hope it never comes to this. I fear it will.
Brilliant, riveting film, which successfully carries the viewer into a dark and depressing world following a nuclear attack. The film gives you a true feeling of the widespread physical impact of such an event, and the viewer realizes that irreversible damage has been done. In real life we see the long term impact of nuclear accidents, for example. But the most bitter experience of all is the understanding that an actual attack has occurred in this movie, not a mishap
High school teacher showed this during World Issues class back in the 90's. Scared the living S#!t out of me and has stuck with me for more than twenty years. Easily one of the most depressing films I've ever seen. Phenomenal!