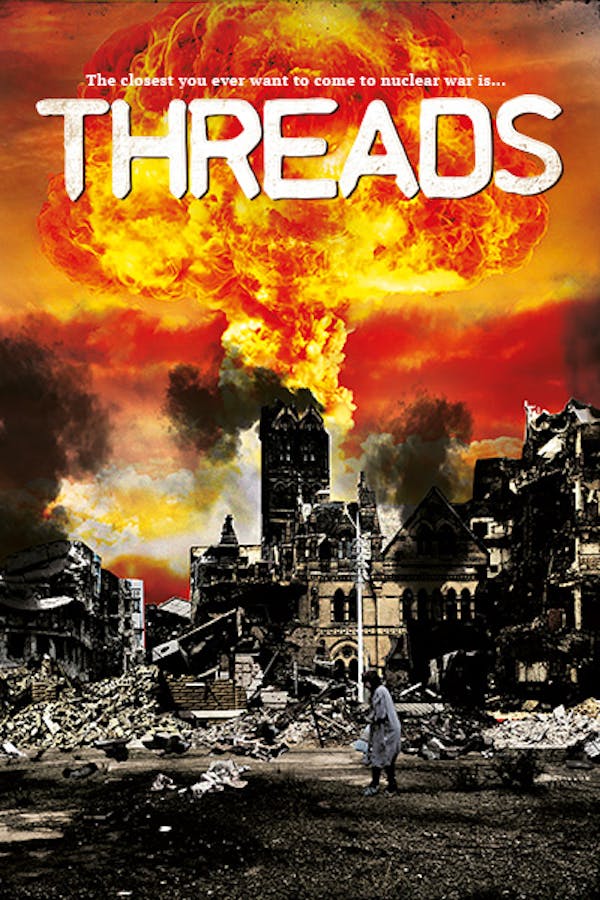 Threads
Directed by Mick Jackson
In September 1984, it was aired on the BBC and shocked tens of millions of UK viewers. Four months later, it was broadcast in America on TBS and became the most watched basic cable program in history. After more than three decades, it remains one of the most acclaimed and shattering made-for- television movies of all time. Reece Dinsdale (Coronation Street), David Brierly (Doctor Who) and Karen Meagher (in a stunning debut performance) star in this "graphic and haunting" (People Magazine) docudrama about the effects of a nuclear attack on the working-class city of Sheffield, England as the fabric of society unravels.
This legendarily haunting docudrama depicts the effects of a nuclear attack on the working-class city of Sheffield, England.
Cast: Karen Meagher, Reece Dinsdale, David Brierly
Member Reviews
Very interesting the only thing NOT true is the name of the organization wanting a new world order but this in fact going on for at least 30 years I have been aware of it. They are slowly changing the constitution of the USA bec we are the only free country in the world. I should say we're the only free country. Taking bits off the constitution here and there under the guise of protecting the people from ourselves. Watch it folks all these being let out a bit by bit allowed them to in the future be all out with their agenda and by then its too late . There is no place to hide. Europe is already gone. Sadly I have seen it as our lands are taken over by a couple of conglomerates. Our land was purchased by an unknown entity that kept its name secret even during negotiations in Greece. There is no freedome in Greece anymore it is fully owned by entities they speak of here.
Really dark and twisted and knowing this could easily happen in real life any given time is unsettling.
. . . rough movie to watch . . but very informative . . two thumbs up! . . . hmp1963ae.
That was friggin brutal. . .kinda wish i hadn't watched it when i was in such a good mood 🥺
Bleak, drawn out, and painful to watch. An excellent cinematic representation of its message