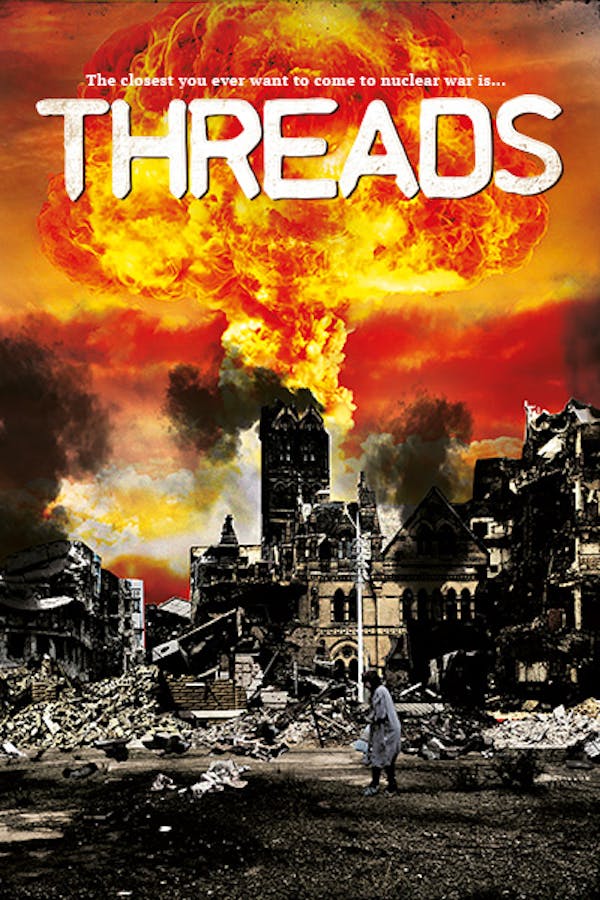 Threads
Directed by Mick Jackson
In September 1984, it was aired on the BBC and shocked tens of millions of UK viewers. Four months later, it was broadcast in America on TBS and became the most watched basic cable program in history. After more than three decades, it remains one of the most acclaimed and shattering made-for- television movies of all time. Reece Dinsdale (Coronation Street), David Brierly (Doctor Who) and Karen Meagher (in a stunning debut performance) star in this "graphic and haunting" (People Magazine) docudrama about the effects of a nuclear attack on the working-class city of Sheffield, England as the fabric of society unravels.
This legendarily haunting docudrama depicts the effects of a nuclear attack on the working-class city of Sheffield, England.
Cast: Karen Meagher, Reece Dinsdale, David Brierly
Member Reviews
I'm surprised I've never heard of this movie but it is literally one of the most terrifying ones ever that does an absolutely amazing job and depicting the horrors of nuclear war and I truly hope that we never have to endure that and that our children's children to children never have to endure that because it is one of the most heart-wrenching things that I believe I have witnessed on film.
I'm 57 y/o and I've never heard of Threads??? This movie is definitely a terrifying depiction of how a large nuclear weapons strike would cause massive death, and for those unlucky enough to survive, massive pain and suffering!!! Sadly, it's the civilians who are most at the mercy of selfish elitist world powers, and that's every country and government with nuclear weapons! As long as any one country still has nuclear weapons, a nuclear strike and retaliation is a possibility
Very disturbing film. True horror. This 2020 pandemic is a walk in the park compared to a nuclear war. 😥
A harrowing film about the potential horrors of nuclear war. It may seem dated but the way in which it is presented which is as a news documentary makes it even more effective. A hard watch that is not light entertainment.