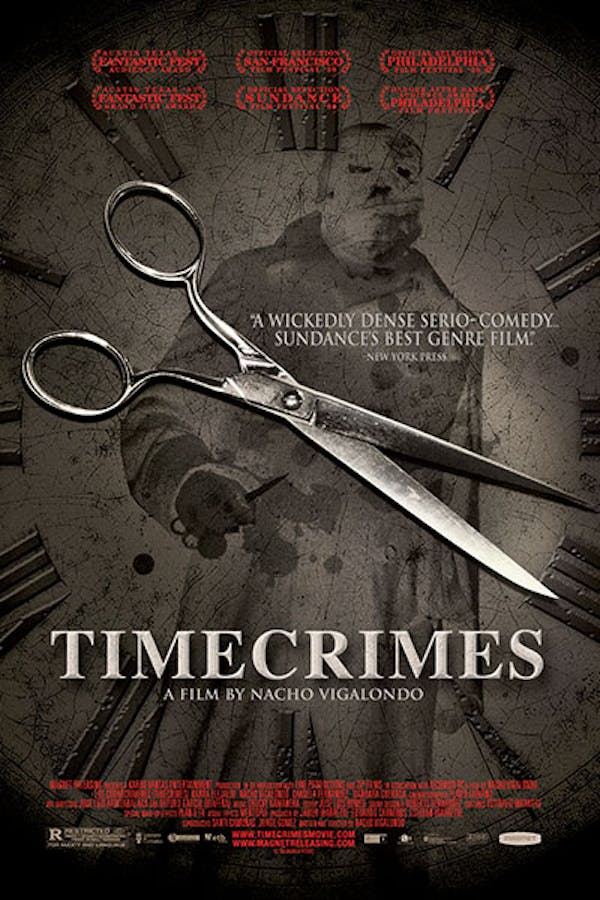 Timecrimes
Directed by Nacho Vigalondo
A man finds himself stuck in a terrifying time loop after witnessing a murder in director Nacho Vigalondo's (V/H/S VIRAL) critically-acclaimed trip to the Twilight Zone. Hiking up to investigate a nude woman in the woods, Hector is attacked by a sinister figure. Terrified, he takes refuge in a nearby laboratory, where a lone attendant puts him in a peculiar contraption. He emerges what seems to be moments later, only to find that he has traveled back hours in time, setting in motion a brain-twisting, horrifying chain of events when he runs into himself. (In Spanish with English Subtitles)
A man finds himself stuck in a terrifying time loop after witnessing a murder.
Cast: Karra Elejalde, Candela Fernandez, Nacho Vigalondo
Member Reviews
I really wish I could watch a time loop movie where the main character is actually smart and doesn't make infuriating decisions.
One of the best time travel type movies. You think you know where its going but you don't. Especially the latter part of the movie.
No skull for this waste of my time nonsense. I got sucked in from the copious rave reviews. Tragic for me because I had a good book just come off hold. Then again, don't let me bore you silly with my dribble.
One of the best time travel movies I've ever seen. I love how everything fits together.
Catch it before it's gone. Very enjoyable if a bit perplexing at the finish. Definitely required a little sit and think after it finished to piece it all together. Very little build up, starts out quickly and keeps your attention the entire run time. 4.5 skulls, could end up at 5 after a rewatch or two to really get it.