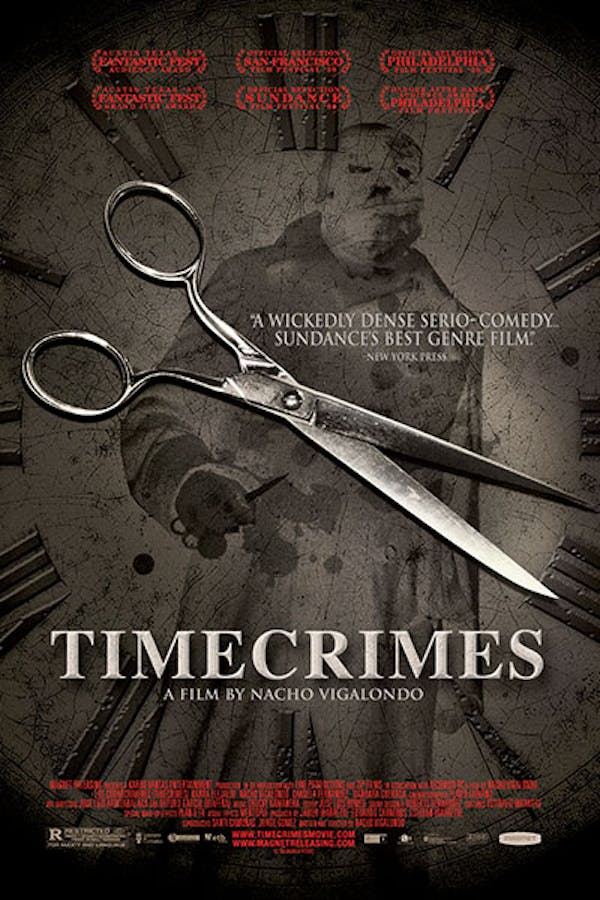 Timecrimes
Directed by Nacho Vigalondo
A man finds himself stuck in a terrifying time loop after witnessing a murder in director Nacho Vigalondo's (V/H/S VIRAL) critically-acclaimed trip to the Twilight Zone. Hiking up to investigate a nude woman in the woods, Hector is attacked by a sinister figure. Terrified, he takes refuge in a nearby laboratory, where a lone attendant puts him in a peculiar contraption. He emerges what seems to be moments later, only to find that he has traveled back hours in time, setting in motion a brain-twisting, horrifying chain of events when he runs into himself. (In Spanish with English Subtitles)
A man finds himself stuck in a terrifying time loop after witnessing a murder.
Cast: Karra Elejalde, Candela Fernandez, Nacho Vigalondo
Member Reviews
Better than your mum's front bum
An absolute treasure. The theme of time travel is often very tricky, and very often bores me. This film deals with the various complications in such a robust - and humourous - way. Having to deal with yourself at various stages of a batshit crazy afternoon... I don't know what genre it really fits into, and it doesn't matter. Extemely clever and entertaining, and pretty dark really. I'm going back in for a second go, dragging my girlfriend with me.
Impressive debut from writer/director Nacho Vigalondo. I wouldn't call this a horror film, although the main character gets knocked around so much that he looks a bit like Karloff as Frankenstein's Monster by the end
A great story and experience that is not just another cookie-cutter horror movie. One of my favourite films of any genre, with one of my favourite movie endings (if only for being so effective for its simplicity).
I got sound but no vision. I gave up.