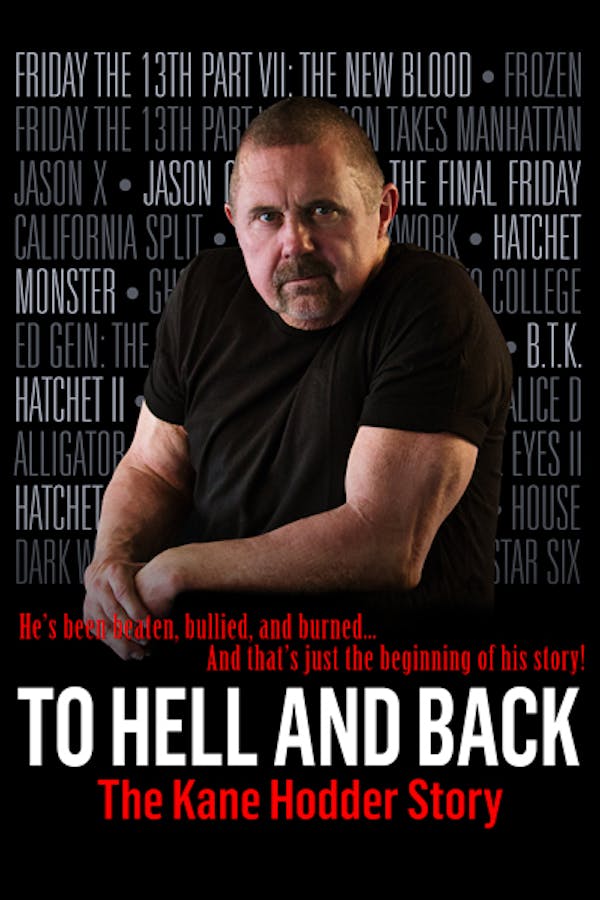 To Hell and Back: The Kane Hodder Story
Directed by Derek Dennis Herbert
The harrowing story of stuntman Kane Hodder who survived a near-death burn accident to eventually become the FRIDAY THE 13th series most celebrated Jason. An on-screen legend, Hodder has killed more people on screen than any other actor.
The gripping story of stuntman Kane Hodder who survived a near-death accident to eventually become FRIDAY THE 13th's Jason.
Cast: Kane Hodder, Cassandra Peterson (Elvira), Bruce Campbell, Robert Englund, Adam Green, Sid Haig
Member Reviews
Very honest and sympathetic documentary about a true horror legend! Also very motivating and inspiring to make the best out of life's struggles. And now they should make one about Felissa Rose. Because she's very funny and clever. And very sexy. ;) Greetings from Europe.
Excellent, emotionally resonating documentary. The man had the sheer force of will to put himself back together after numerous setbacks and establish a life and career for himself. How could you not root for this guy even when he's brutally murdering you?
this documentary was very powerful. it actually helped me in a major way to overcome a really down low point of my life. i was even at the point of contemplating suicide again after a previous failed attempt. hearing how he found the strength to overcome his situation and thoughts of suicide and the fact that it was coming from the man that has portrayed my absolute favorite onscreen villain of all time, Jason Vorhees, it inspired me to dig deep down and find the strength i needed to get back to being myself again to get the help i needed to beat my demons and become the best version of me possible. its gonna be a long road but if kane can do it theres no reason why i cant. thank you kane for the isnspiration i needed. you are my hero. sincerely SGT. Michael Hahn United States Marine Corps.