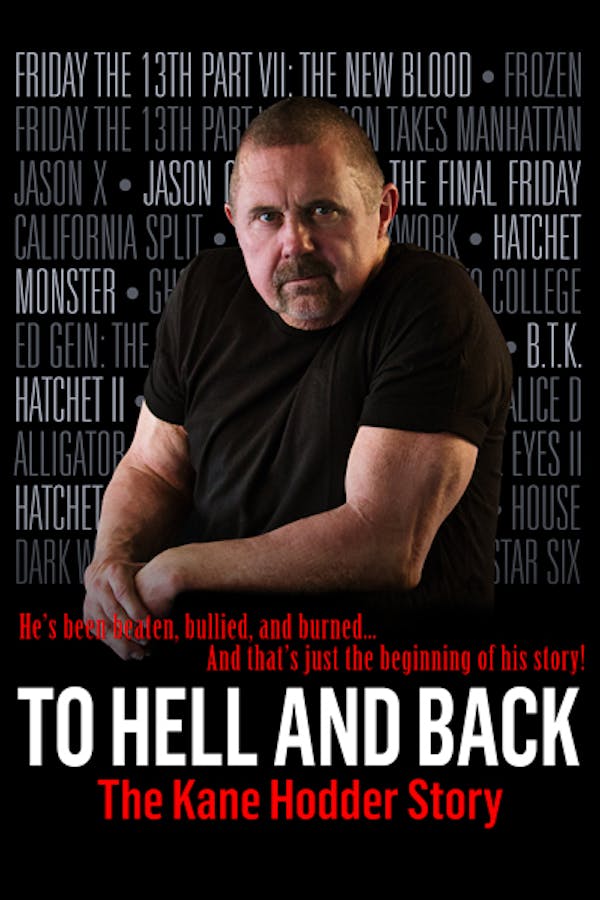 To Hell and Back: The Kane Hodder Story
Directed by Derek Dennis Herbert
The harrowing story of stuntman Kane Hodder who survived a near-death burn accident to eventually become the FRIDAY THE 13th series most celebrated Jason. An on-screen legend, Hodder has killed more people on screen than any other actor.
The gripping story of stuntman Kane Hodder who survived a near-death accident to eventually become FRIDAY THE 13th's Jason.
Cast: Kane Hodder, Cassandra Peterson (Elvira), Bruce Campbell, Robert Englund, Adam Green, Sid Haig
Member Reviews
wow!! what a great doc and a very personal story of a iconic actor in the horror world. I have to admit I teared up a few times when he was telling what happened when he got burned close to death.
Exceptional doc and the best telling of Kane's story one could possibly hope for. I've never seen any of the Hatchet films but this inspired me to check them out along with Fear Clinic and several others. I wanna see more of his work without the mask.
You discover new facts about an amazing actor and stuntperson. I have been a bullied kid myself, and resonate with Kane a hell of a lot more for it. Also, the strength he pulls to keep kicking to this day is inspiring.
Good documentary, love Kane Hodder. 3/5 because it's an average sort of thing, it's not exactly some groundbreaking biopic. Sometimes, they play music at awkward times and a little too loudly. Great subject though, interesting guy.
I really enjoyed watching this