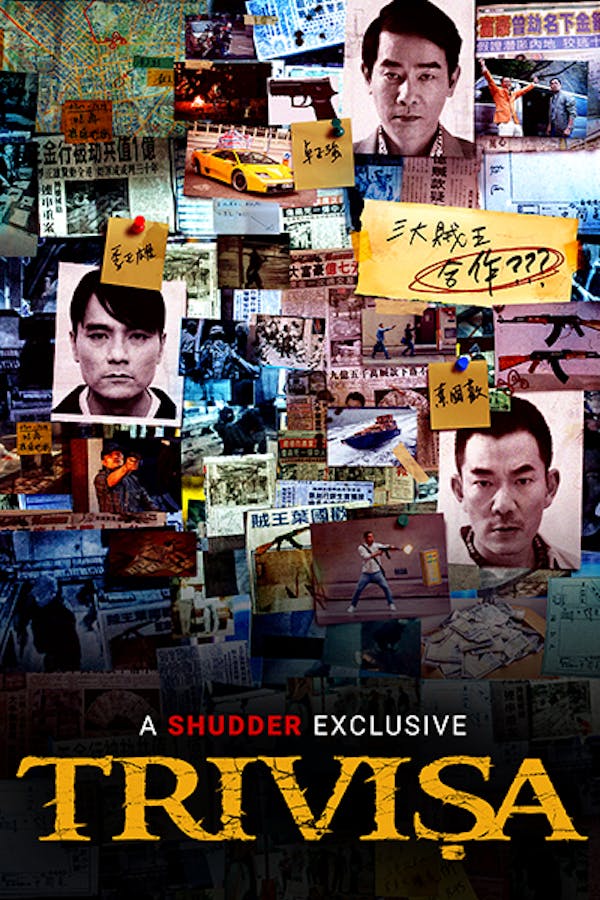 Trivisa
Directed by Jevons Au, Frank Hui, Vicky Wong
"Kings of Thieves" Cheuk Chi Keung, Yip Kwok Foon and Kwai Ching Hung never know one another even though they share the same notoriety in the underworld. But unbeknownst to them, their random presence at a restaurant in China at the same time in early 1997 is destined to change their fate forever. A SHUDDER EXCLUSIVE.
Three notorious gangsters who have never crossed paths find themselves in the same restaurant at the same time, and their fates are changed forever.
Cast: Richie Jen, Jordan Chan, Ka Tung Lam
Member Reviews
THIS IS NOT A HORROR MOVIE. I think many of the negative reviews are due to false expectations. This is actually a low-key crime drama set around 1997, when Hong Kong was on the verge of being transferred from British to Chinese rule. China was just opening its markets up to the outside. This creates a setting that feels like the Wild West or 1920's Chicago. But this not an action movie. If anything, I would call it a character study. The movie has three narratives that are more parallel than interwoven, and follows three Hong Kong gangsters who are finding their way in an era of change and uncertainty. One is a kidnapper of rich tycoons who is successful and wealthy, but is also growing bored and wants new thrills. Another is a hunted cop-killer who is trying to lay low, but finds he has a hard time surviving. The third is an one-time notorious jewelry store robber famous for his shootouts with the police, now trying to re-invent himself as a sophisticated, semi-legitimate businessman. Although there is eventually something of a connection among the characters, for the most part the movie never stops being three separate stories. I think it's worth watching if you like Hong Kong crime dramas like Triad Election, or if you enjoy Hollywood gangster movies like Goodfellas or Godfather (although this is not the exact same type of movie.)
No horror. Ok plot but no climax
Horror? Absolutely not. I kept waiting for the payoff and when it finally arrived (at the very end) I was completely underwhelmed. Didn't work for me as a "thriller", either. I genuinely have a passion for gangster films out of the Asian market, but after watching this snooze fest I felt like 90 minutes of my life was stolen from me. Yes, it has a running time of 97 minutes but it felt like 3 hours. Slow and often confusing plot that simply didn't work for me. Seek out INFERNAL AFFAIRS, OUTRAGE, BEYOND OUTRAGE for much more enjoyable viewing.