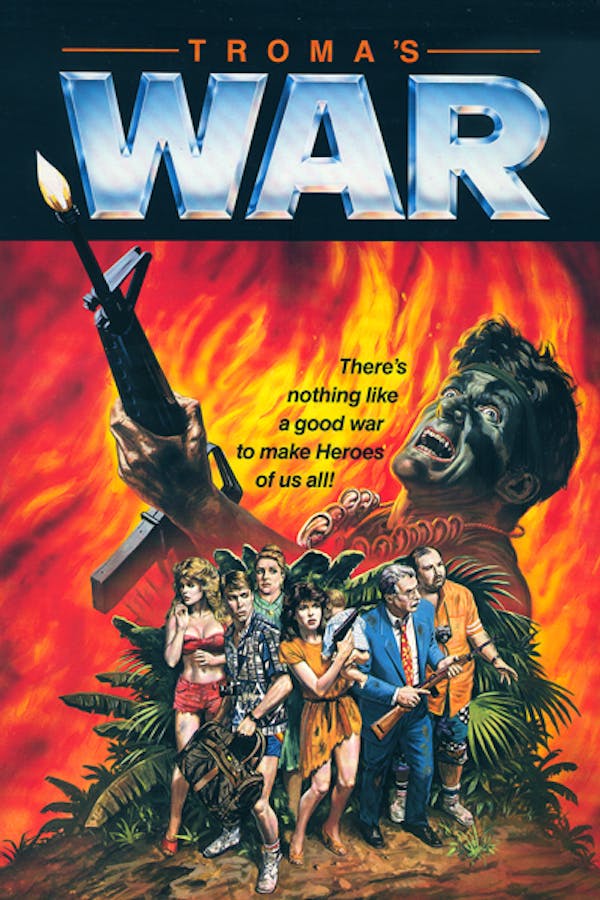 Troma's War
Directed by Lloyd Kaufman, Michael Herz
A group of assorted Americans survive a plane crash in a Caribbean island, and discover it is infested with crawling snakes and other venomous beasts. Even worse, terrorists are preparing a full out war on America with a biological weapon.
Survivors of a plane crash stumble upon a paramilitary group trying to overthrow America!
Cast: Carolyn Beauchamp, Sean Bowen, Rick Washburn
Member Reviews
Reminded me of both 'Operation Warzone' and 'Thou Shall Not Kill...Except' and if you know or better yet have seen those then you get 5 gold stickers. Absolutely ridiculous but made with purpose and although it ain't much that counts for something. More heart in this than some of the tentpole shows I've worked on.
Flip-flops form totally entertaining to utterly heinous and back again a few times, so it's, you know, a Troma film. This one kind of steps over a line a little too far I would say. 2 skulls.
Outside of the occasional boom mic and blood pack to make it into the shot, which probably wasn't on purpose (but this is Troma flick), the movie was descent. In truth Troma flicks were some of the WORST movies ever made, but that's what makes them so great. Nothing beats ol' Toxie though.
I had to watch this with the mind set of a brain dead person.I was hour and 21 minuses in and I couldn't finish it, it just became a soft core comedy and the movie some to just have way too much padding for what it was.but it was fun,gross ,crazy ,silly, but just I couldn't complete it so ITS GETTING 3 SKULLS