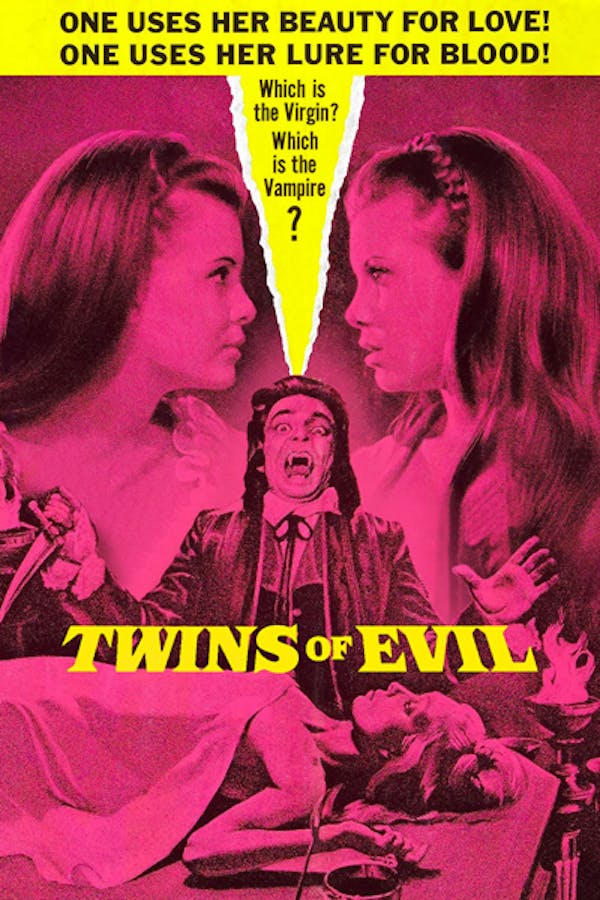 Twins of Evil
Directed by John Hough
After being orphaned, two beautiful identical twins move from Vienna to the village of Karnstein. There they are to live with their Uncle, a fanatical Puritan. Nearby, the Count of the village is performing a sacrificial rite which raises his ancestor, the vampire Countess. After she bites him, he too becomes a vampire and sets off in search of victims.
A religious sect hunts all women suspected of witchcraft, killing a number of innocent victims.
Cast: Peter Cushing, Dennis Price, Mary Collinson
Member Reviews
I used to love when I was a kid Hammer Horror Week on WLS in Chicago as I got to see most of the great Hammer films there first especially the Dracula and Curse of the Werewolf. I might have seen this too though seeing it now you can tell this was a very weak entry in the Hammer echelon as Peter Cushing almost looked bored and the Count almost was cartoonish and goofy. Mostly a bunch of Trump supporters..sorry I mean religious fanatics going around burning hot chicks cuz they must be evil...smh. The Twins were hot and yes one does show their real twins which was the highlight here and if memory serves me Playboy had a pictorial with them both that truly was more inspired than this one.
Well directed and shot, creating a nice atmosphere. Peter Cushing is solid, as usual. Everything leads to an exciting conclusion splattered with a bit of gore and fake blood.