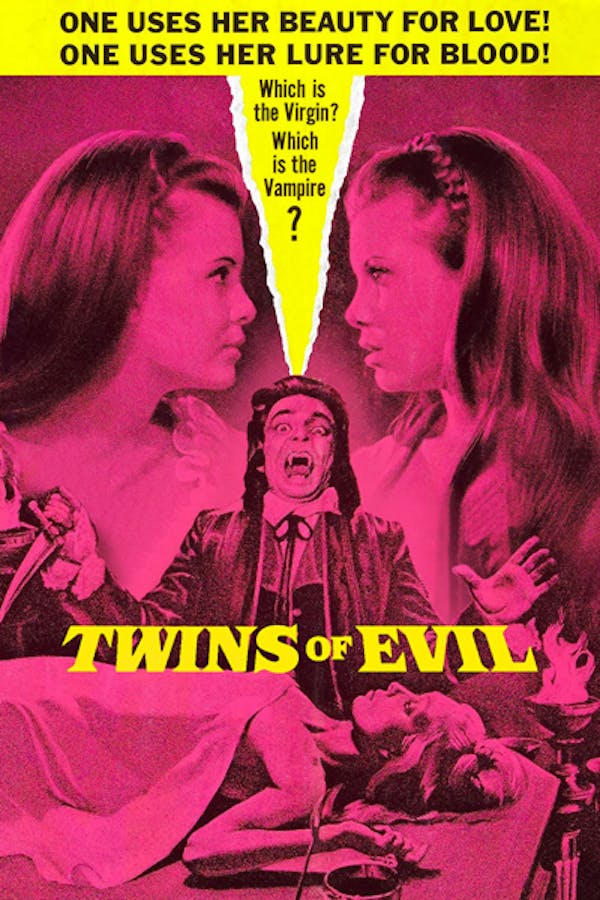 Twins of Evil
Directed by John Hough
After being orphaned, two beautiful identical twins move from Vienna to the village of Karnstein. There they are to live with their Uncle, a fanatical Puritan. Nearby, the Count of the village is performing a sacrificial rite which raises his ancestor, the vampire Countess. After she bites him, he too becomes a vampire and sets off in search of victims.
A religious sect hunts all women suspected of witchcraft, killing a number of innocent victims.
Cast: Peter Cushing, Dennis Price, Mary Collinson
Member Reviews
Classic! Peter Cushing burning witches, twins, boobs, I'm glad they never tried to remake this one
Gothic vampire riff on the good-twin/evil-twin theme: Black magic, cobwebbed corridors, diaphenous nightgowns, bewbs, Kensington gore, witch-hunting, mistaken identities, and Peter Cushing...you know you love it.
On paper, these Hammer films are not good, but I love them so much.
it was a great movie for its time. It was very well made, and kept your interest the whole movie.