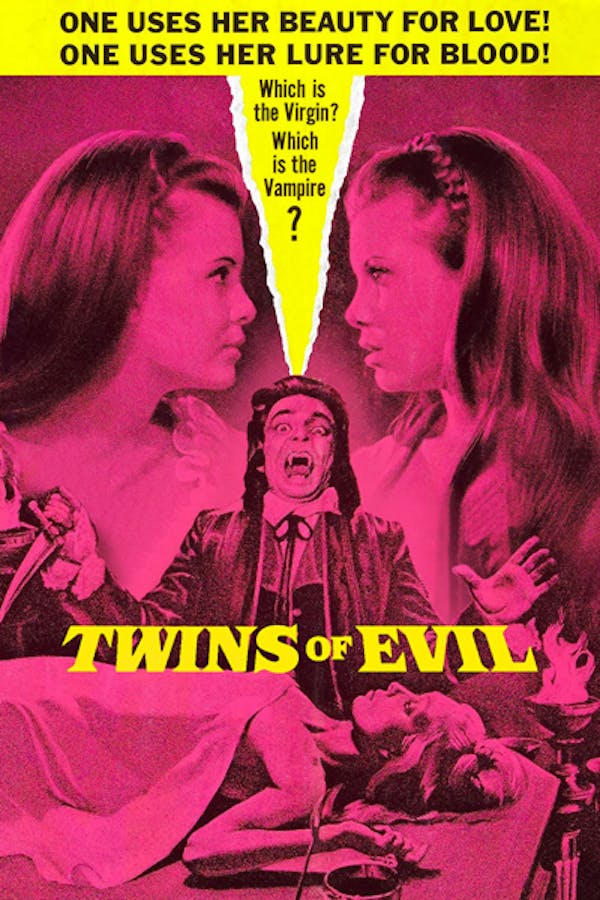 Twins of Evil
Directed by John Hough
After being orphaned, two beautiful identical twins move from Vienna to the village of Karnstein. There they are to live with their Uncle, a fanatical Puritan. Nearby, the Count of the village is performing a sacrificial rite which raises his ancestor, the vampire Countess. After she bites him, he too becomes a vampire and sets off in search of victims.
A religious sect hunts all women suspected of witchcraft, killing a number of innocent victims.
Cast: Peter Cushing, Dennis Price, Mary Collinson
Member Reviews
Solid B movie in the Hammer style of period melodrama, buxom damsels and occasional spurts of candy-red blood. If you like that style, you'll like this.
another classic performance by Peter Cushing! need I say more?
Hammer at its best! Classic gothic ambiance, vampires and occultism, good acting, well-written, fun, sexy and subversive (in an old-timey way). More Hammer flicks please!
Jimmy Fallon was great in this movie
Entertaining movie! Peter Cushing, hot twins that later pose in Playboy, vampires... nuff said!