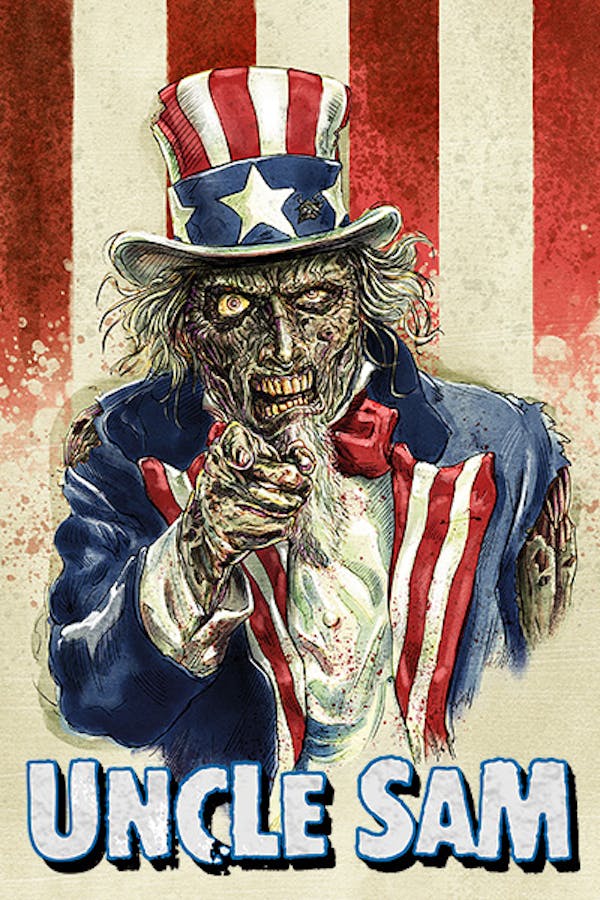 Uncle Sam
Directed by William Lustig
The corpse of a patriotic veteran comes back to life on July 4th, dons an Uncle Sam costume and goes on a killing spree in his hometown. Sam's main target? Anyone who offends his ultra-patriotic views, including corrupt congressmen, anti-war people and more! But don't think director William Lustig (MANIAC) and screenwriter Larry Cohen (GOD TOLD ME TO) are celebrating fascistic patriotism with their subversive and silly slasher. UNCLE SAM ultimately skewers the kind of rah-rah attitudes that have now come into full bloom 20 years after Lustig's film was released.
The corpse of a patriotic veteran reanimates and goes on an Independence Day killing spree.
Cast: William Smith, David 'Shark' Fralick, Christopher Ogden, Issac Hayes
Member Reviews
A blast from the past. A great cheesy horror 😁 I remember hiring this one of vhs when i was a kid. Didn't expect to see it on Shudder.
Pretty boring. Put me to sleep and the acting is terrible. And not in a charming B-movie kind of way. Just stuff and boring.
Awful film. Just awful. Terrible acting and special effects. Main antagonist is so poorly written. All we get is people saying how bad a person he was when he was young. Filmakers have never heard of show don't tell. Just seems like another preachy "writer" caring about sharing their opinion rather than making a good film.
Go into this expecting Cheese. The acting is wooden in most areas, but fun is had in certain scenes. I wouldn't place it as a Cult Classic, yet it's a niche horror movie for people looking for a oddball experience and holiday themed horror.