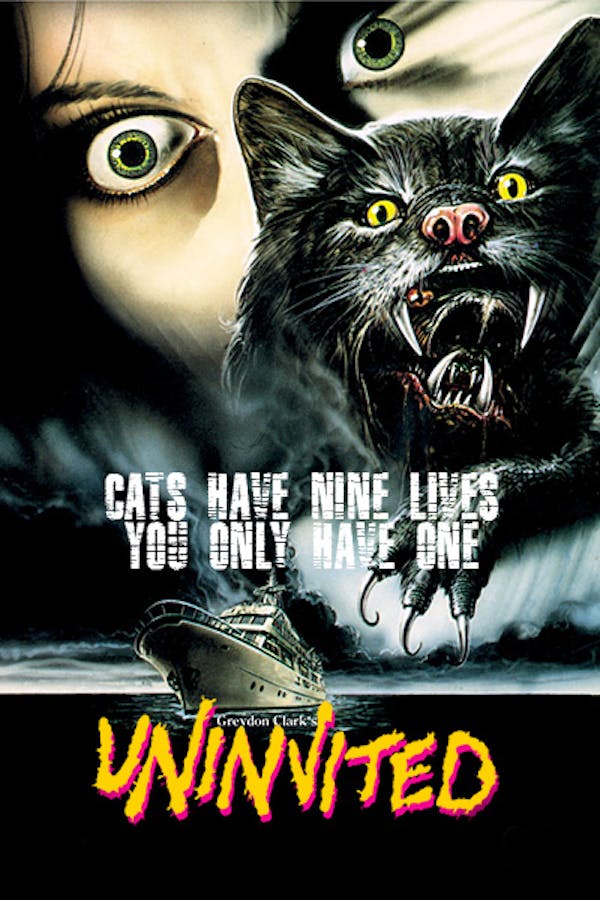 Uninvited
Directed by Greydon Clark
A ferocious mutant cat boards the getaway boat of some white collar criminals after escaping from a research lab. Once the ship has sailed, the clueless crooks think they're in the clear. Little do they know their fluffy feline can grow big and houses an even more monstrous kitty in its mouth! Schlockmeister Greydon Clark (SATAN'S CHEERLEADERS) enlisted b-movie horror favorites including Clu Gulager (RETURN OF THE LIVING DEAD) and George Kennedy (CREEPSHOW 2) to play the human cat food. You won't be picking up strays after taking this deadly journey... Contains strong language.
A ferocious mutant cat boards the getaway boat of some white collar criminals.
Cast: Toni Hudson, Eric Larson, Alex Cord
Member Reviews
The movie started off OK. There was some decent tension building up. However in the fouth and fifth acts it just took a nosedive in the little quality it had. The ending is rushed and laughable. The premise is not terrible. The execution was a joke. If you want to stream your own type of RiffTrax this is a good movie to choose.
Very gory and sometimes funny SE that made the film worth watching imo. The kitties were adorable and the stock meows they were using over and over made me laugh a few times. A bit long with a lot of forced sexuality but that's par for the course with this type of B horror movie. A good rainy day film :)
Just a terrible movie. The premise is idiotic, but from the reviews I was hoping it would be one of those "so bad it's good" movies, that might be trash, but are at least entertaining to watch for how terrible they are. But no, this movie is just straight up awful. A truly idiotic monster, that makes no sense, stupid conveniences, idiotic characters, and just terrible effects (even for the time). Do yourself a favor and give this one a pass.
Not bad. the cat effects were decent and the kills were decently gorey. fun time
Okay this movie. I almost want to grab another drink before settling in to write about it. First I'll say I don't like animal abuse in films and it's obvious this cat was freaked out, then I will say I've never seen anything as funny as the fake cat they use for the attacks. And that it all ends up on a luxury yacht just takes the absurdity to the highest level. George Kennedy overreacts his heart out and in one scene crawl around in too-tight polyester slacks. It's a movie that doesn't have a clue or a conscience but its got a fuzzy cat prop on a stick.