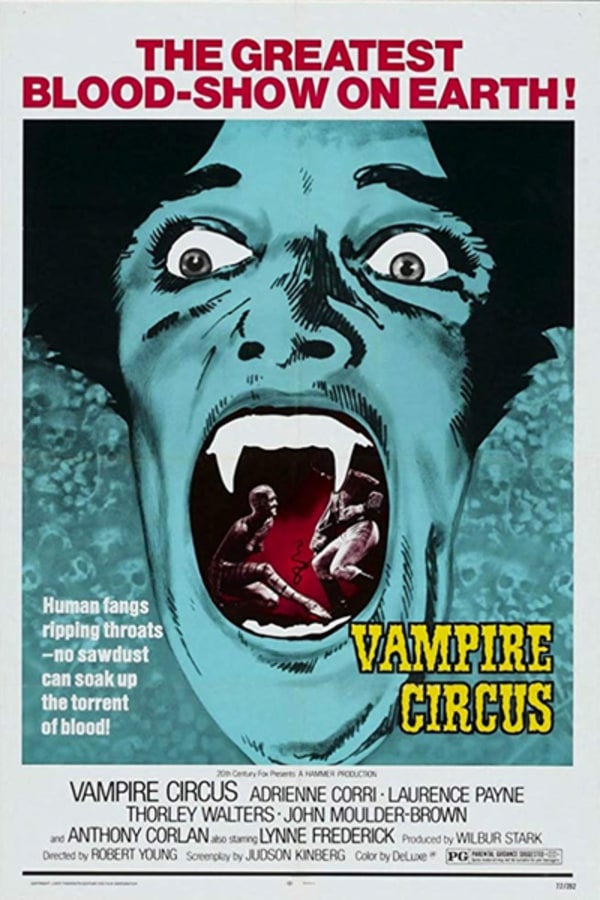 Vampire Circus
Directed by Robert Young
A circus arrives at a Serbian village where it will perform a show for the local inhabitants. Many of them believe that the plague that has gripped their village is the result of a curse inflicted on them years before by Count Mitterhouse, a vampire. Unbeknown to them, the leader of the circus is the Count's cousin intent on reviving his relative and having his revenge.
As the plague sweeps the countryside, a quarantined village is visited by a mysterious traveling circus. Soon, young children begin to disappear, and the locals suspect the circus troupe might be hiding a horrifying secret.
Cast: Adrienne Corri, Thorley Walters, Anthony Higgins
Member Reviews
great movie.. great storyline.. great boobs!! 😀
Love this movie but this copy was piss poor
I don't know exactly why I loved this movie so much, but damn it was amazing! Good looking cast, good story, special effects weren't that great, but it didn't detract. After seeing it here for the first time, I immediately went to Amazon to order it on Blu-ray! More Hammer please!!
Total CLASS-ic! Dear Shudder, It would be awesome to see Joe Bob do a Hammer marathon one day!! As a kid I usually overlooked horror movies with that "renaissance festival" vibe. But these entertaining Hammer films sure have charm... I feel Vampire Circus gets better as it goes and with repeated viewings. These old school film makers sure knew how to stage and perform home-run climax scenes, from set design to character direction... it's like: Forget the dialog and press the gas peddle for pure non-stop action till the credits roll! Must have been a formulated film rule cause its brings to remembrance of 007 pictures, the Dirty Dozen, Vera Cruz... and countless others. That's why the classics are classics and will remain classics forever... They got CLASS!
A classic Hammer film with sexy, gypsy vampires. Not to mention a rad promotional poster (Monster Squad approved).