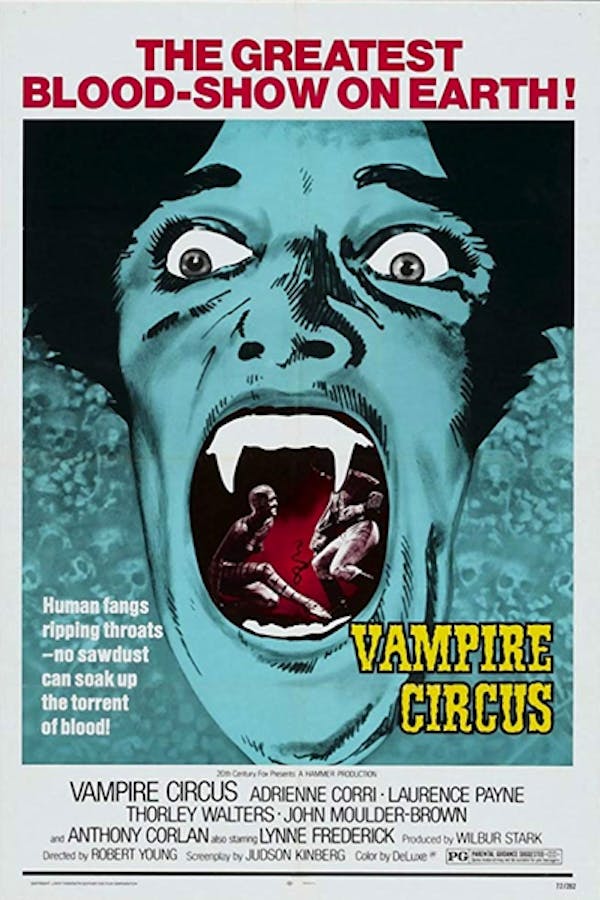 Vampire Circus
Directed by Robert Young
A circus arrives at a Serbian village where it will perform a show for the local inhabitants. Many of them believe that the plague that has gripped their village is the result of a curse inflicted on them years before by Count Mitterhouse, a vampire. Unbeknown to them, the leader of the circus is the Count's cousin intent on reviving his relative and having his revenge.
As the plague sweeps the countryside, a quarantined village is visited by a mysterious traveling circus. Soon, young children begin to disappear, and the locals suspect the circus troupe might be hiding a horrifying secret.
Cast: Adrienne Corri, Thorley Walters, Anthony Higgins
Member Reviews
I love this movie. What the hell is wrong with this movie. 5 skulls for the feature film and five skulls for the other movie that they crammed into the first ten minutes of this movie. Also stoked they finally answered the age old question of what happens when you roll three nat 20s with no ammunition left in your crossbow.
Not the greatest gothic hammer movie, but still has some good stuff going for it. And it's just a wild enough premise to keep you entertained.
I liked it for something retro 👍🏻
That rating has to be wrong, no way this is PG
Enjoyable, vintage horror. The make-up effects, though, were a bit rough. Ahead of its time, I expect (I would have been 3 and watching Banana Splits, so....)