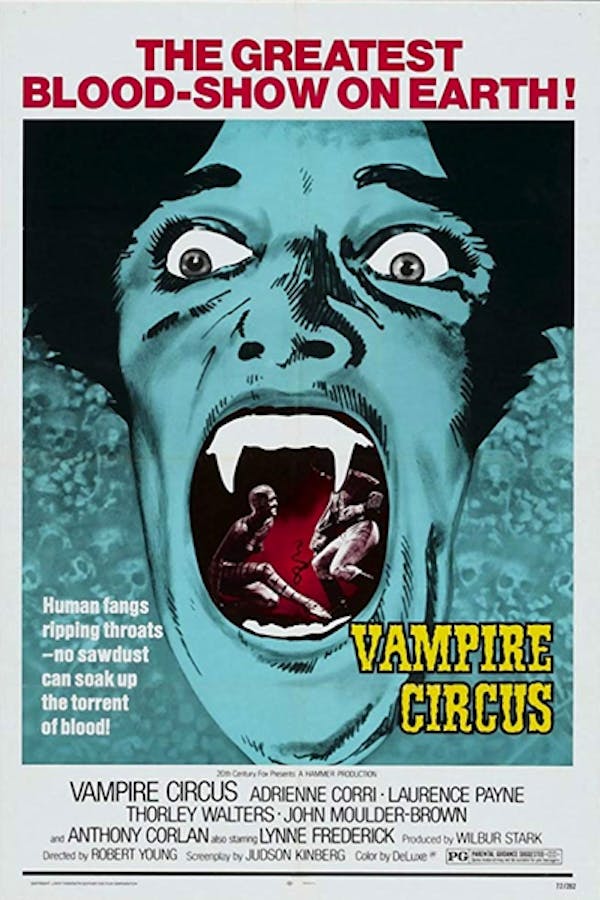 Vampire Circus
Directed by Robert Young
A circus arrives at a Serbian village where it will perform a show for the local inhabitants. Many of them believe that the plague that has gripped their village is the result of a curse inflicted on them years before by Count Mitterhouse, a vampire. Unbeknown to them, the leader of the circus is the Count's cousin intent on reviving his relative and having his revenge.
As the plague sweeps the countryside, a quarantined village is visited by a mysterious traveling circus. Soon, young children begin to disappear, and the locals suspect the circus troupe might be hiding a horrifying secret.
Cast: Adrienne Corri, Thorley Walters, Anthony Higgins
Member Reviews
A middling Hammer film perhaps most notable for the weird erotic tiger dance. Not bad, but not nearly as good as Twins of Evil.
Alright, but I wouldn't watch it again.
Legit stuff. First Hammer horror film I sat down and watched here on Shudder and boy was it good. Simple story. Very violent. Very sexual. I like how they take the vampire eroticism and sexual undertones and just run with it. I like how they kinda combine the classic golden age of horror and combine it with the horror movies of that period which the film was made. It gives it this great balance of sophistication and grit. Looking forward to some more Hammer horror🤘🏽
A solid vampire flick. Great atmosphere, and I was surprised to see Romana!
I remember seeing the vhs cover for this in my local video store when I was a kid and always thought it looked so creepy. I didn't end up watching it until recently and I was pleasantly surprised. I liked the plot and visuals in this and thought it was a great vampire movie. Definitely check it out if you like 60/70's vampire movies.