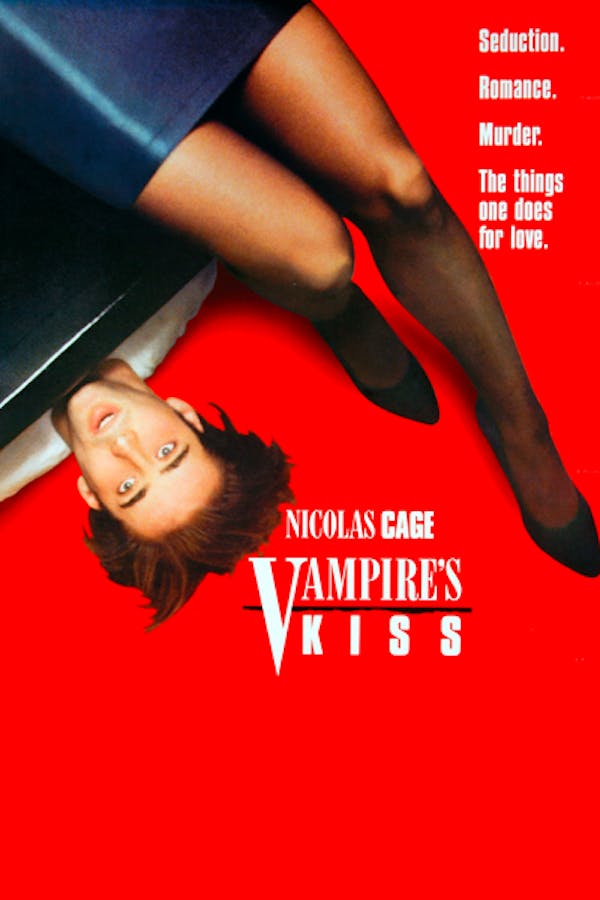 Vampire's Kiss
Directed by Robert Bierman
Teetering on the edge of sanity, volatile literary agent Peter Loew tries to find purpose in his life through a cutthroat work ethic and a hedonistic night life. But when an encounter with a mysterious beauty leaves Loew convinced that he is turning into a vampire, his behavior turns positively outrageous.
Nicolas Cage stars as an uptight literary agent who thinks he is a vampire in this bombastic cult favorite.
Cast: Nicolas Cage, Bob Lujan, Elizabeth Ashley, Jennifer Beals, Kasi Lemmons
Member Reviews
Fascinating and entertaining. For those who like pre-Disney/Giuliani NYC, also a big treat.
I don't mind weird, but this is dumb.
Cult classic super enjoyable
Loved it. Nicholas Cage is a madman.
Genuinely awful and cringeworthy for a number of reasons. I don't even mind Cage's over the top performance, but as a whole, the film didn't seem to have much point. There was never a point where his character shifted from sanity to insanity. It was pretty much insane to more insane. It is such a ridiculous thing, yet the film doesn't seem to want to have any fun with it. If I want to watch Cage be over the top, there are so many better, more fun examples of this (more recent example is Mandy). If I want to watch characters teetering on the edge of insanity ... again, there are far better examples (Naked Lunch, or Fear and Loathing in Vegas... ). I like Nicholas Cage, but this thing was truly painful to watch and I can't even blame Cage for it. He delivered the crazy. The script and the direction failed to do anything good with that.