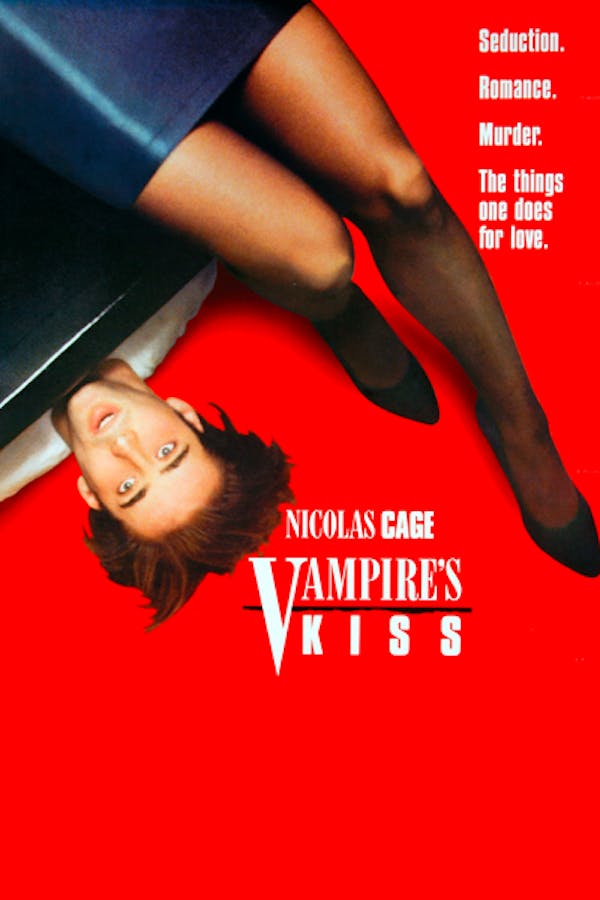 Vampire's Kiss
Directed by Robert Bierman
Teetering on the edge of sanity, volatile literary agent Peter Loew tries to find purpose in his life through a cutthroat work ethic and a hedonistic night life. But when an encounter with a mysterious beauty leaves Loew convinced that he is turning into a vampire, his behavior turns positively outrageous.
Nicolas Cage stars as an uptight literary agent who thinks he is a vampire in this bombastic cult favorite.
Cast: Nicolas Cage, Bob Lujan, Elizabeth Ashley, Jennifer Beals, Kasi Lemmons
Member Reviews
Nick Cage at his insane best. Worth a watch for the misfiling scene alone. Love this flick.
it was okay. i thought it was funny when Nicklaus cage was freaking out at one point. wasnt scary though.
This movie rules, it's hilarious
LMFAO!! this freaking movie right here!! this film truly defines Nick Cage, it was a mixture of confusion, surprise and complete laugh out loud moments the entire movie! If Cage wants to lose his marbles completely he can! and oh boy does he ever!! I dont think I could recommend this film more, I really really enjoyed it, definitely all because of Cage in this one, he truly topped himself, 👏👏.
If you do not enjoy Nic Cage, you probably won't enjoy this movie. The true joy of Vampire's Kiss is watching Nicolas Cage continue to outdo himself throughout this film with example after glorious example of ludicrous overacting. Did you ever find yourself needing to watch someone prance around with plastic vampire teeth while making their eyes as big as humanly possible? If the answer is 'yes!' don't delay any longer reading this review and just push play already.