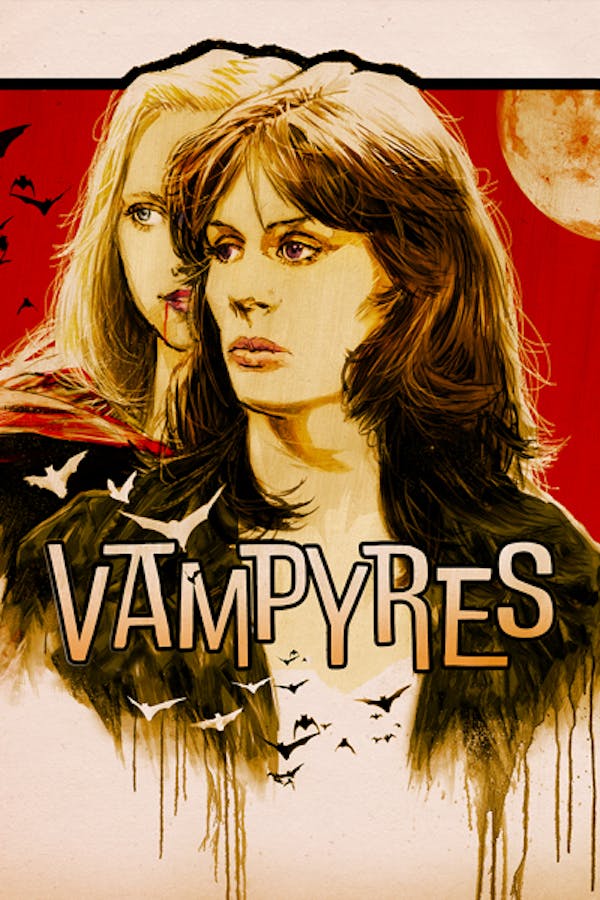 Vampyres
Directed by Jose Ramon Larraz
A lesbian vampire couple abduct victims in this eerie European erotic horror classic. Marianne Morris and Anulka Dziubinska play Fran and Miriam, two of the most devastatingly gorgeous femme fatales in horror history. Though the lesbian vampire subgenre had already been well established by 1974, VAMPYRES' unprecedented levels of graphic sex and violence infuriated British censors and caused a notoriety that – along with the leads' performances and THE WICKER MAN DP Harry Waxman's spooky cinematography – regularly land it on the list of the greatest vampire films of all time.
A lesbian vampire couple abduct victims in this eerie European erotic horror classic.
Cast: Marianne Morris, Anulka Dziubinska, Murray Brown
Member Reviews
@trailer treasure thanks for that " review " smh anyway classic horror movie
I was so excited to finally watch a lesbian vampire film but was honestly disappointed. The audience is definitely not lesbians; there was a lot of heterosexual sex. I wish there was more lesbian and vampire behavior!! Also spoiler so don't read the next part but... are they vampires or ghosts??
Only one other person on here noticed the fact that vampires and British people apparently "kiss" like they don't know how human mouths work. All I see is men posting about how "erotic" the sex scenes are, while I'm like "why is he licking her face and back like a teenager who has never touched a women before?" The biggest proponents of this "erotic" style of "kissing" seem to be the main dude with love handles (James Bond in a suit,Edith Massey naked) and the main actress who looks like she might be stoned on opium the whole time. My favorite scenes are when the two vampyre women are skulking through the graveyard in broad daylight like cartoon villians. Another rule of the undead, you can no longer walk normally, or wear any gown that doesn't also have a matching cape or a bit of ostrich feathers around the collar. I actually love the clothing, especially that of Velma, I mean Harriet. The look she gives her husband at breakfast when he tells her she's imagining things was the best bit of acting in the entire movie. She looked like she wanted to twist his head off like the top of a shampoo bottle.The main theme of this film should be "all British men are severe alcoholics." Main dude drinks so much he thinks he "fell" on a broken glass while shit-faced, then goes back for more! The best part is when he finds his way to the camper and Harriet is like,"he looks really sick!" John's like,"Here," and pulls down a bottle of whiskey! My God! These people drink like they don't want to live any more! It's no wonder the local cops don't bat an eyelash at the fact that naked drunk men keep running themselves off the road. "Who amongst us hasn't had a bit of a tipple and driven our car into a fence after taking off all of our clothing!?" Never mind the stab wounds, perhaps the cops are just too drunk to care, or to put the bodies into any type of body bag,"I say, just wrap it in a blanket, that's good enough for us!" Absolutely no call back to the fact that main dude checks into a hotel without any luggage. WTF? We also get zero resolution about the weird encounter between Harriet and Fran, which by the way, is the worst vampyre name in the history of vampyre names. Camp factor is pretty good, the costumes are great, even Velma's...I mean Harriet's little 70's investigating outfit was stylish. The scariest part of this movie is how "erotic" people seem to find it. It explains a lot about why so many men are terrible kissers. "Isn't it sexier if I just put my whole tongue into your mouth immediately while never ever closing my mouth or having my lips actually touch yours?" It makes me very sad for the director's wife or girlfriend or paid escort situation. Despite all that, it's a fun movie to watch with a friend and make fun of while ogling the beautiful scenery and costumes. Good to see full bush too, yay the 70's! Only in the 70s could that actor be considered leading man material, I mean, Paul Williams was the romantic lead in a movie in the 70s as well as good ole "butter teeth" Charlton Heston. The people in Soylent Green could have lived off the butter his teeth produced instead of eating people...but I digress. Worth watching if you have a sense of humor or you're twelve and scared to watch actual porn.
A solid portrayal of feminine vampires. I love an old school horror flick, and this one does not disappoint. A grim atmosphere is created with the looming, old house and a stormy, black cloud sky. Litttle hints that the two strange women hitch hiking on the same road everyday are not just se