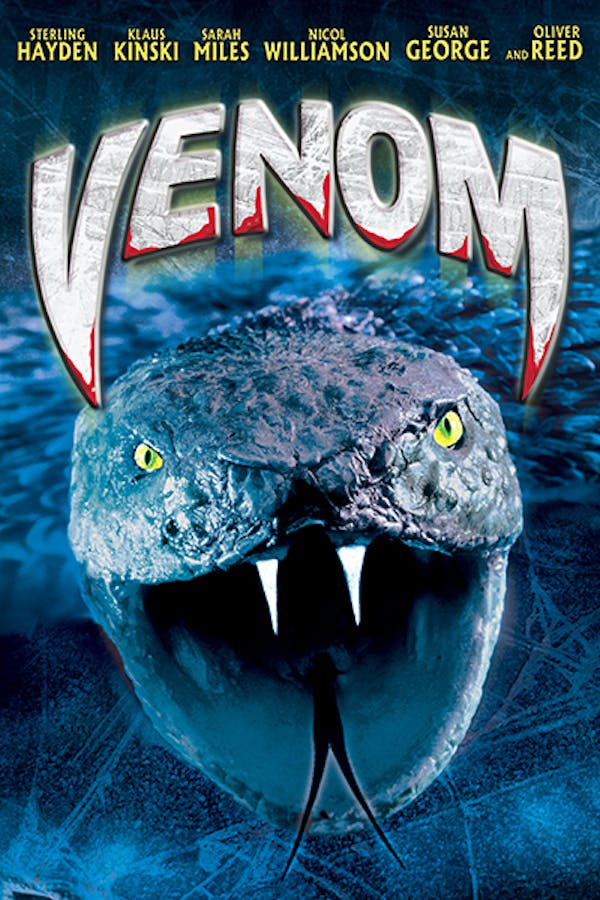 Venom
Directed by Piers Haggard
Three kidnappers find out crime really doesn't pay when their young victim accidentally becomes owner of a furious Black Mamba, the deadliest snake on Earth! Now the clueless criminals (Euro-cult cinema legends Klaus Kinski, Oliver Reed and Susan George) are trapped in a house surrounded by police, while on the inside, the slithering serpent is plotting where to sink its poisonous fangs. VENOM was intended to be Tobe Hooper's follow-up to EATEN ALIVE. But when he was suddenly fired, Piers Haggard (BLOOD ON SATAN'S CLAW) stepped in to see the scary story through.
Klaus Kinski, Oliver Reed and Susan George face off against a vicious snake in this cult favorite.
Cast: Klaus Kinski, Oliver Reed, Nicol Williamson, Susan George
Member Reviews
This just makes me laugh the snake effects were just so silly I couldn't help myself
I want to point out that my review is based purely on a fear of snakes. I hated that Black Mamba. When I would see that thing slither on the floor it made my skin crawl. When I would see that thing on the screen I would say: "I hate you snake". After the movie standing next to my bed made me uncomfortable because it felt like something may come out of the unknown space between the floor and my bed and strike my achilles like the pencil from Evil Dead.
Great film! Suspenseful til the very end! Sorry to see it go, Shudder!
Really kind of a comical thriller. The last snake death was hilariously over the top.