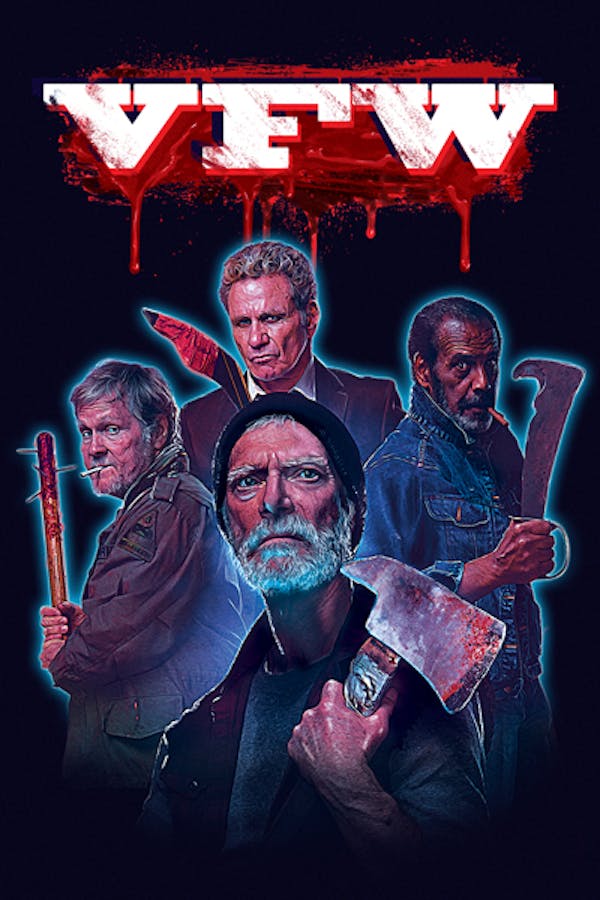 VFW
Directed by Joe Begos
A typical night for veterans at a VFW turns into an all-out battle for survival when a desperate teen runs into the bar with a bag of stolen drugs. When a gang of violent punks come looking for her, the vets use every weapon at their disposal to protect the girl and themselves from an unrelenting attack.
A battle for survival erupts between a group of veterans and a gang of violent punks.
Cast: Stephen Lang, William Sadler, Sierra McCormick, Dora Madison, Fred Williamson, David Patrick Kelly
Member Reviews
Haha, i like the description of "a geriatric version of Assault On Precinct 13," but really it's not. Plot maybe, but none of the tension of that film--so predicable. I guess that can be fun, but for me, booooring. Lang is good, and I will watch anything with Williamson in it. Didn't really buy Kove as the guy who would lose it, tbh Kelly would have been better in that role (although he was good also in the one he played). Why did no one pick up or have a phone? Dora Madison was awesome, although she didn't have much of a part--I would have liked to have seen her character more. Anyway, lots of gore, toxic masculinity, totally predictable plot. Norm from Cheers bites it early.
Fun take a classic, much used plot✌🏽
Well obviously wished more characters lived. Especially Abe and walter, but saw many deaths coming. Reminds me a lot of the movie badass. Real enjoyable movie with a story that flowed well. Lots of action and comedy. 👍
Good Movie thanks to John Kreese 👍🔥
Outstanding!! If you thought the movie was bad and/or the writing was horrible, I'm going to go out on a limb and say you've never been around a bunch of old school badasses or played in the sandbox. As someone who has played in the sandbox and knows a lot of old school badasses, I enjoyed the dark comedy and thought the VFW characters were authentic. Loved it!