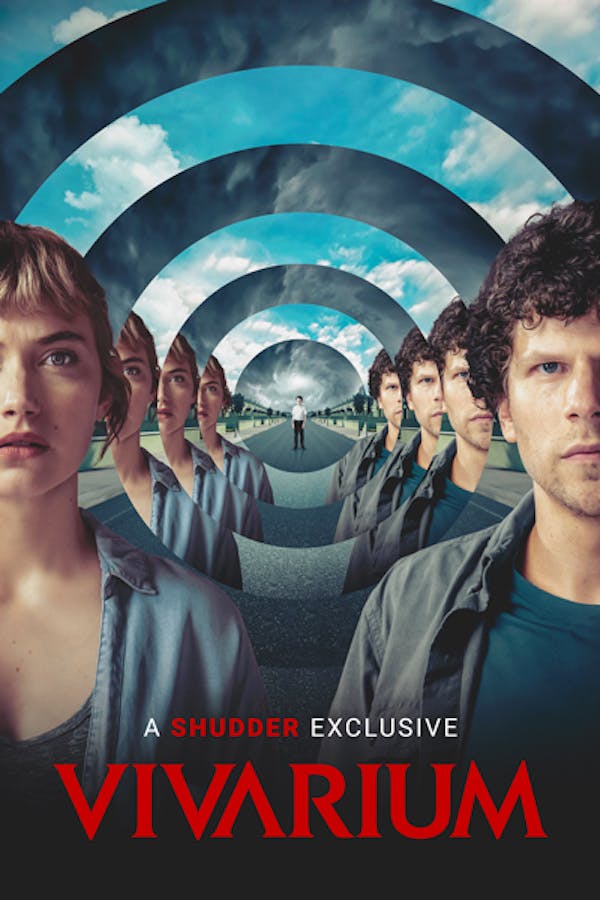 Vivarium
Directed by Lorcan Finnegan
On their search for the perfect home, Gemma and Tom visit a new house in a labyrinthine suburban neighbourhood. When they attempt to leave, each road mysteriously takes them back to where they started, leading them on a mind-bending trip, trapped in a surreal nightmare. A SHUDDER EXCLUSIVE.
Young couple Gemma and Tom find themselves trapped in a surreal suburban neighbourhood, where each road leads them back to where they began.
Cast: Jesse Eisenberg, Imogen Poots, Jonathan Aris
Member Reviews
Just interesting enough to keep you guessing through to the end. Of course, no explanation is given for the weird happenings, but that stops the mystery being ruined. Wouldn't rewatch but enjoyed nonetheless.
Oops, I somehow hit publish before finishing my review! Needless to say, Vivarium is a superb piece of cinema. Full of witty direction and cinematography. Profound,Motorola.
Stunning, existential horror. A no holds sucker punch this looks at how we find ourselves trapped in lives we didn't expect. Eerie, with sharp with and stunning and visually stunning. The opening sequence conveys the idea brilliantly. It
takes the bones of half an hour to really set itself up, but then it's non stop surreal tension.
Very good. Worth watching.