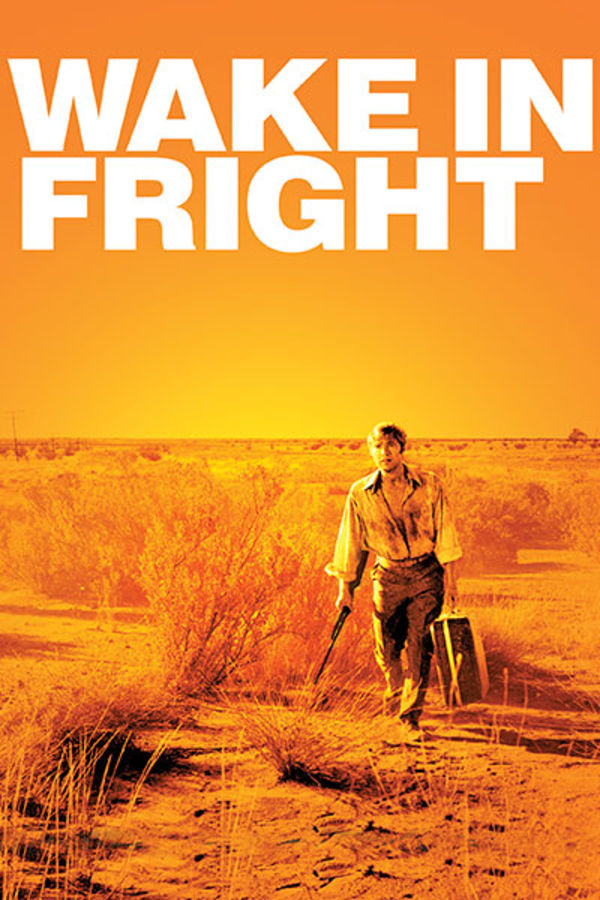 Wake in Fright
Directed by Ted Kotcheff
When Australian teacher John Grant stops off in the rural town of Yabba, he quickly gets pulled into the dark world of strange, ultra-macho townies who spend their days binge drinking, gambling and hunting kangaroos. For the timid Grant, this starts out as a thrilling release of his id. But after he loses his shirt gambling, Grant struggles to escape the bad luck – or perhaps a conspiracy – that keeps preventing him from leaving Yabba. Long unavailable on home video, Ted Kotcheff's superb thriller is a deeply unsettling study of the horror of the unchecked male psyche. NOTE: Wake in Fright is presented in its entirety, featuring animal hunting scenes, which viewers may find offensive. Discretion is advised.
A man on vacation stops off in a rural town filled with strange characters and becomes unable to leave.
Cast: Gary Bond, Donald Pleasence
Member Reviews
Tremendous movie. Very atmospheric and surreal. Although the hunting scene is gratuitous and very cruel... no idea why they'd include real kangaroo hunting. Pretty fucked up... my review is premised on being in an alternate universe where that scene does not occur.
Honestly a fucking great movie. The plot doesn't make much sense and the kangaroo scene is terrible (and real). But, the overall setting, ambiance, and theme is really unique and interesting.
Nothing scary about this movie. It is NOT a horror. It's about a guy that goes on vacation and ends up being an alcoholic with a town of alcoholics which in turn kill Kangaroo when they get really drunk. There is no real point to the story. I am sure the people that made this movie see this as some deep meaning movie. I don't see it unless it is about alcoholism. The only reason I gave this two stars is because the main character was good and Donald Pleasance was in it.
I didn't even know this was considered a "horror" movie, but it IS the best movie on Shudder. It's a literary trip, you dig? It is a trip into suffocating Hell, and it definitely has something to do with the id, but saying it's about out of control machismo isn't right. That's just one part of the Hell. Actually, there's barely any women in the Yabba. I grew up in a little backwaters place like this, except in the U.S. I know how things begin to rot and stink where there is no light and no movement. People mutate into states we don't normally see. Or they drink themselves to death, or they put a gun in their mouth. Anyway, when this movie was made or who's in it is beside the point (although thank the living Christ for Donald Pleasance). This is a descent into the heart of darkness, and it's a little out of place on a horror site. Give it a try but know what you're getting into. By the way, the kangaroo hunt scenes were not filmed for this movie--the movie used them by permission.