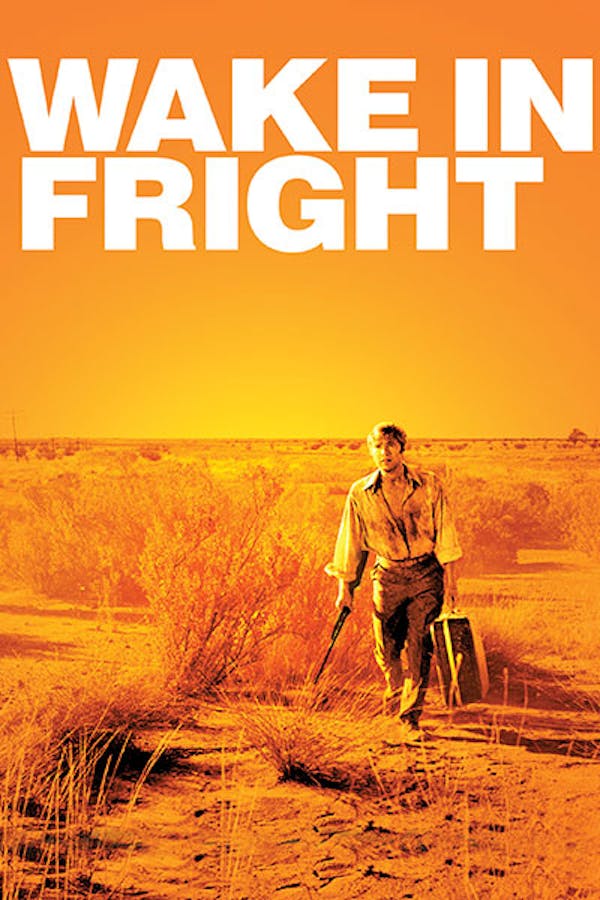 Wake in Fright
Directed by Ted Kotcheff
When Australian teacher John Grant stops off in the rural town of Yabba, he quickly gets pulled into the dark world of strange, ultra-macho townies who spend their days binge drinking, gambling and hunting kangaroos. For the timid Grant, this starts out as a thrilling release of his id. But after he loses his shirt gambling, Grant struggles to escape the bad luck – or perhaps a conspiracy – that keeps preventing him from leaving Yabba. Long unavailable on home video, Ted Kotcheff's superb thriller is a deeply unsettling study of the horror of the unchecked male psyche. NOTE: Wake in Fright is presented in its entirety, featuring animal hunting scenes, which viewers may find offensive. Discretion is advised.
A man on vacation stops off in a rural town filled with strange characters and becomes unable to leave.
Cast: Gary Bond, Donald Pleasence
Member Reviews
This Aussie movie is a wild and fantastic thriller. I wouldn't call it a straight up horror, but I don't really care after watching it. The outback is gorgeous in its wasteland aesthetic, I love how gritty it is, and I'm always a sucker for realer than real action; including the kangaroos. There is a producers note explaining the kangaroos were killed during a professional hunt. Everyone's acting is on point, Donald Pleasence is madder than he is in the Halloween franchise (which is saying something), and his Aussie accent is terrific too. I was expecting this to be a slow burn atmospheric piece with a few sharp moments, but it's a terrific gut punch of a movie that doesn't let up once it goes.
Schoolteacher vs. Australia. It is a superb tourist thriller where everything is a macho struggle of epic proportions and primacy. I first saw this film when I was a little kid, just after I fell in love with "Walkabout" and it is unbelievable and oh so real and gritty and horrific in its own mad way.
Enough with the crying about cruelty to the animals. This is how people live in the Outback so seeing that reality is authentic. I did not enjoy watching the deaths but can appreciate their role in the film. Otherwise.... the movie is very sweaty.
Disgusting display of animal cruelty