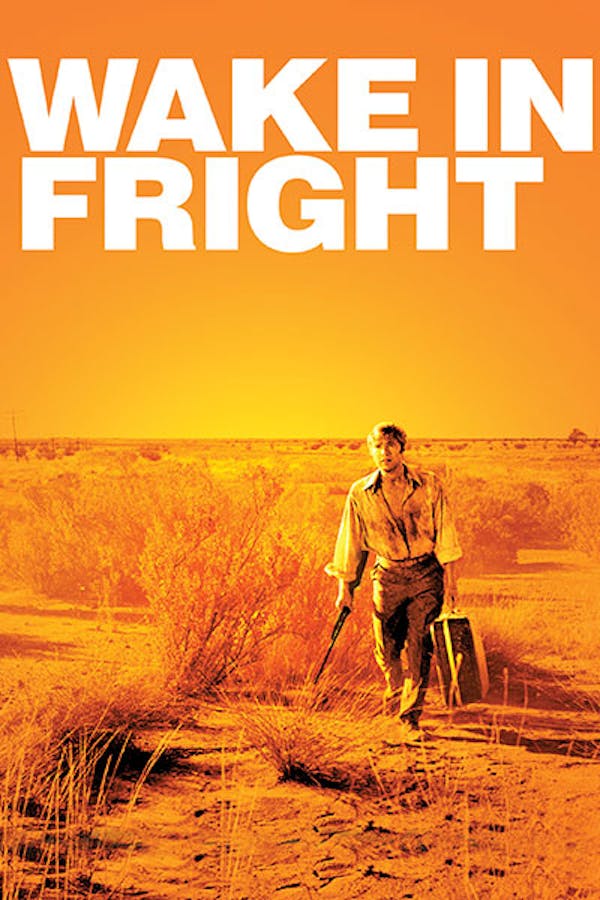 Wake in Fright
Directed by Ted Kotcheff
When Australian teacher John Grant stops off in the rural town of Yabba, he quickly gets pulled into the dark world of strange, ultra-macho townies who spend their days binge drinking, gambling and hunting kangaroos. For the timid Grant, this starts out as a thrilling release of his id. But after he loses his shirt gambling, Grant struggles to escape the bad luck – or perhaps a conspiracy – that keeps preventing him from leaving Yabba. Long unavailable on home video, Ted Kotcheff's superb thriller is a deeply unsettling study of the horror of the unchecked male psyche. NOTE: Wake in Fright is presented in its entirety, featuring animal hunting scenes, which viewers may find offensive. Discretion is advised.
A man on vacation stops off in a rural town filled with strange characters and becomes unable to leave.
Cast: Gary Bond, Donald Pleasence
Member Reviews
A very interesting and engaging film where you watch a man's ideas and dreams slowly descend into his own madness. While not a horror film, it does have elements of being a very good thriller.
Slow slow movie11 No good.
This film is not without merit. Well filmed and acted but pretty depressing-not scary. If I'd read the disclaimer about the kangaroo hunting I would have skipped this entirely.
Perfect movie. The horror of being trapped in our bored predator biology. Every act of hospitality is bait, every mind altering distraction from baseness is a snare. Each of us is tranquillized and slowly consumed by those with slightly more power in a long chain of horror systematized economically: the monsters learn to like it - take pleasure in all the small acts of domination: nationalism, patriarchy, cliques. Depression is the one moral reaction to the white suprematist, capitalist, redneck, genocidal industrial engines with which we've destroyed the world. The weak, privileged boy in Wake in Fright learns what he is. And round
Amazing movie.... however if you're one of the 21st centuries' toxic brand of pansies labeling this "toxic masculinity".... good Christ there's no hope for your embarrassing ass. This movie is about alcoholism and the difficulty of saying no. It is also about the danger of being a fish out of water in unfamiliar territory... a motif that anyone with two eyes to see in the modern world ought to identify with all too well if you live in the western hemisphere and deal with the chronic alienation that natives are trapped into feeling as they watch the foreign powers and traditions surge through and destroy everything holy in their wake, leaving nothing but loneliness and fear behind.