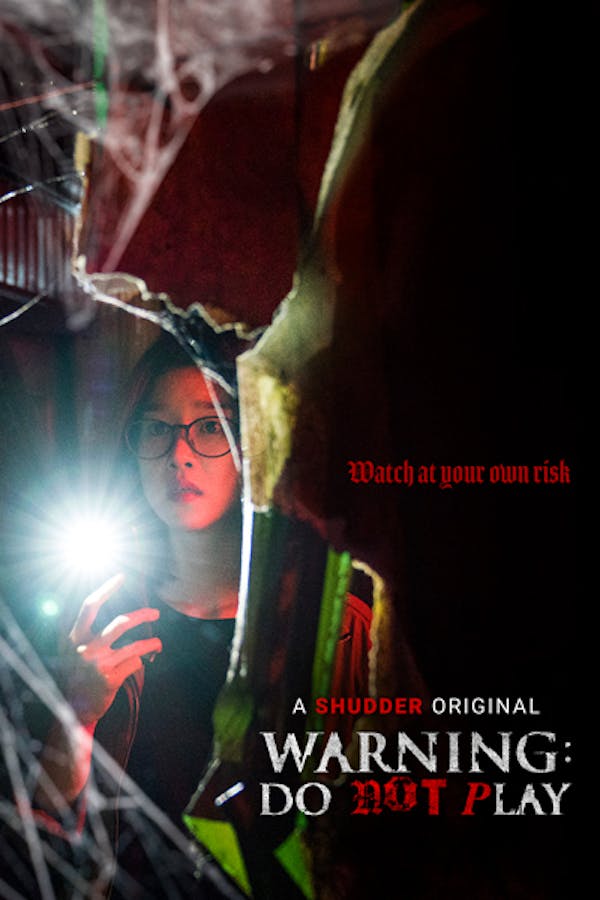 Warning: Do Not Play
Directed by Kim Jin-won
Aspiring director Mi-jung is struggling with ideas for a new horror film, until she hears about a mysterious film. One that's rumored to be shot by a ghost. The hunt begins, but as Mi-jung gets closer to the truth, the line between her film and her life begins to blur. A SHUDDER ORIGINAL.
An aspiring director hunts down a film said to be shot... by a ghost.
Cast: Narendra Singh Dhami, Ye-ji Seo, Seon-kyu Jin, Bo-ra Kim, Cha Yub, Yoon-ho Ji
Member Reviews
REALLY good honestly. I don't wanna take points off for effects, but sometimes the blood splatter is so bad it's funny. Otherwise, I was absolutely hooked the whole way through.
Very unsettling and frightening movie! It didn't have an over-reliance on jumpscare, and instead, built the world up to explain the horrors that were happening.
Good movie, definitely not great though. Cinematography and videography was absolutely on point. The first half of the movie was a lot better than the second one in my opinion. Although I get where they were going with the ending, I think the execution of it all was a bit rushed and sort of crumbled the main plot as we were getting to the final act to reveal the ''big twist'' of the movie. Could of been done a tad smoother maybe or even simply take it to another direction as there were a lot of other open possibilities unexplored that would of felt more satisfying to close the movie with. Still a cool concept though. Good overall tension build-up and some creepy scenes. 3.5 skulls if decimals were allowed!
Enjoyed the movie. Reminds me of an Indonesian horror game called Dreadout.
Very good and scary. I was gooing into this not expecting much, but I really did enjoy it.