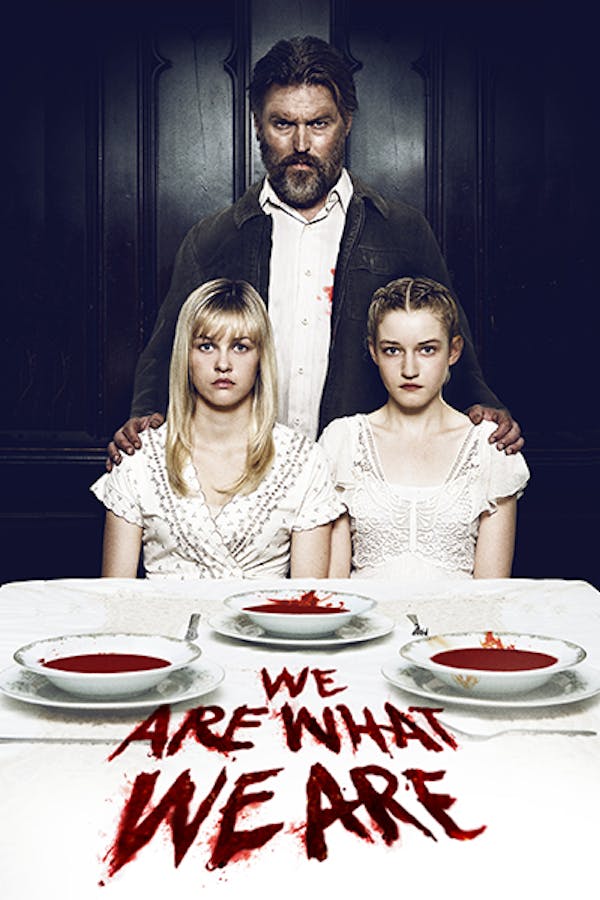 We Are What We Are
Directed by Jim Mickle
The Parkers are a seemingly wholesome family, but patriarch Frank rules over them with a rigorous fervour. When tragedy strikes and his daughters Iris and Rose are forced to assume terrifying responsibilities that extend beyond those of a typical family, the local authorities begin to uncover clues to a horrible truth that the Parkers have hidden for so many years. Directed by Jim Mickle (Stakeland) WE ARE WHAT WE ARE, is a chilling tale of a family with a dark, dark secret. Contains strong language, sexual scenes, violence and gore.
The Parker sisters struggle with their family's annual cannibalistic tradition.
Cast: Bill Sage, Ambyr Childers, Julia Garner, Wyatt Russell, Nick Damici, Kelly McGillis, Michael Parks
Member Reviews
I thought it was very clever and the story well told considering all the characters and all the history they were layering in. Not a fan of the ending; I could almost get behind the first daughter's action because it was the weapon she had available. But then the rest ... made it hard to root for anybody. But I guess that's ok; it left me feeling pretty disturbed and I guess that's the point.
Really didnt appreciate the ending. Seemed kinda out of character
yes its slow but its not a boring slow. it was wwll made and good
Pretty decent but the last half hour it got weird and corny and kind of ruined it. Did not care for the ending.
This movie wasn't scary-- but not all horror movies have to be scary. However, this movie wasn't very good either. I ended up turning it off 45 minutes from the end and finishing it the next day as it was just so... boring.