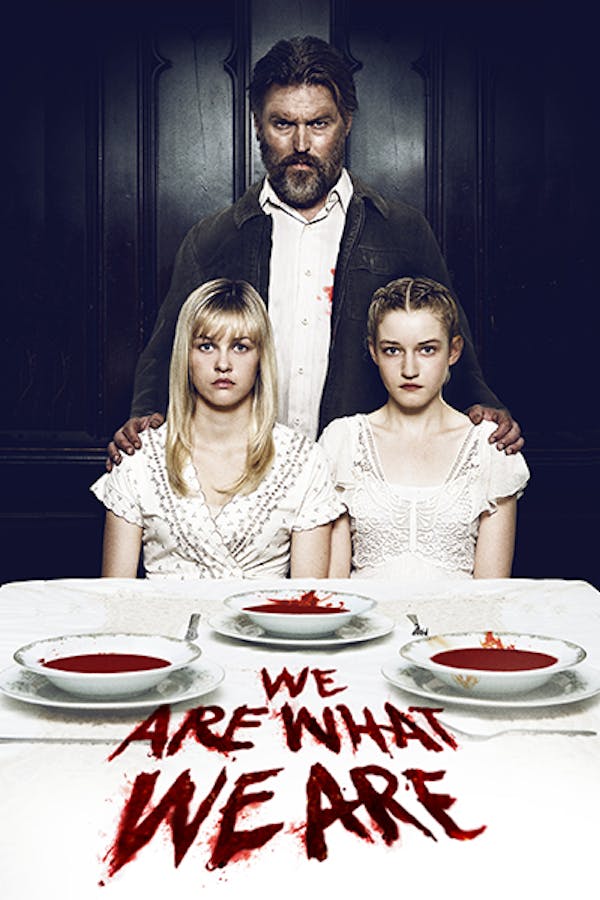 We Are What We Are
Directed by Jim Mickle
The Parkers are a seemingly wholesome family, but patriarch Frank rules over them with a rigorous fervour. When tragedy strikes and his daughters Iris and Rose are forced to assume terrifying responsibilities that extend beyond those of a typical family, the local authorities begin to uncover clues to a horrible truth that the Parkers have hidden for so many years. Directed by Jim Mickle (Stakeland) WE ARE WHAT WE ARE, is a chilling tale of a family with a dark, dark secret. Contains strong language, sexual scenes, violence and gore.
The Parker sisters struggle with their family's annual cannibalistic tradition.
Cast: Bill Sage, Ambyr Childers, Julia Garner, Wyatt Russell, Nick Damici, Kelly McGillis, Michael Parks
Member Reviews
this is good. a different take thrn I've ever seen ❤
in comparison to the original, Somos Lo Que Hay i.e. the one set in Mexico, this one is a lot slower and not as captivating. not a bad movie, but just very slow. i would definitely recommend watching the 2010 original. there's a lot more layers and context involved that really helps push the movie along
good story but it did dragged a bit and was predicable... unclear of the ending sent the wrong message
An amazing story that will not disappoint. I did not see this coming. This is one to watch with your buds (if ya got em) or your bud...if ya got it. Wow.