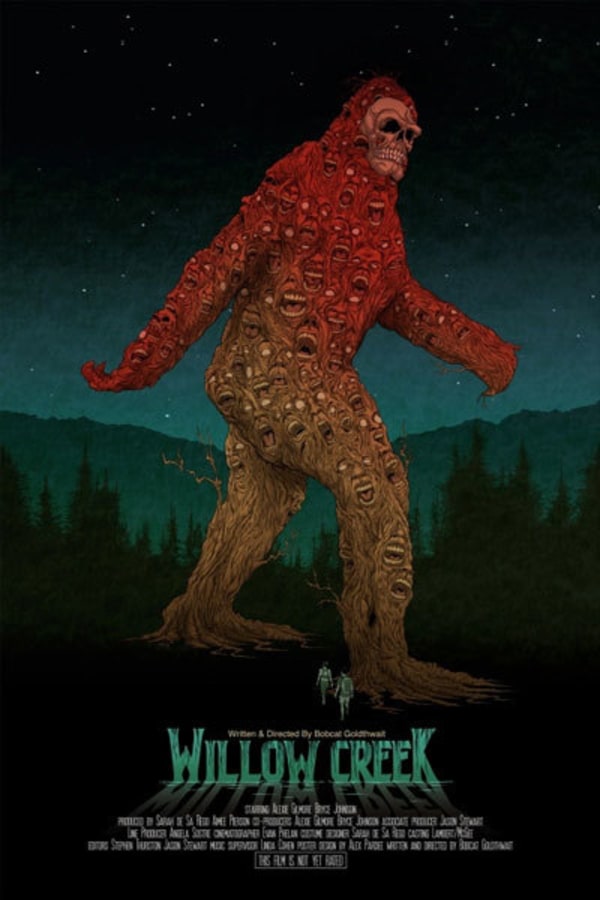 Willow Creek
Directed by Bobcat Goldthwait
A Bigfoot enthusiast gets into hairy trouble when he goes searching for Sasquatch in comedy director Bobcat Goldthwait's first foray into found-footage horror. PRETTY LITTLE LIARS' Bryce Johnson is Jim, a Bigfoot believer who decides to head deep into the forest, girlfriend in tow, hoping to uncover evidence at the site of a notorious fragment of Sasquatch footage. But this ain't HARRY AND THE HENDERSONS. As with any trip to the woods in a horror movie, the couple soon find themselves in big, BIG trouble - and every attempt to escape leads to more terror... Contains strong language, violence and gore.
A Bigfoot enthusiast gets into hairy trouble when he goes searching for Sasquatch.
Cast: Alexie Gilmore, Bryce Johnson, Laura Montagna
Member Reviews
The best Bigfoot movie ever
This footage film by Bobcat Golthwat is incredibly done and I wanna absolutely chilling out and effective do not listen to the other reviews take it in pretend it's real turn the lights off and get chilled. Great acting
I can understand why some people do not like this movie, it is really, really slow. However the acting is ok and it has a decent payoff at the end. If you want a Bigfoot movie I'd go with Exist, it's my favorite (unless you count Harry and The Henderson's).
Spoilers/Warnings on watching this one: First 30 minutes is the interview/town footage ripoffs from Blair Witch. Really this whole movie is pretty much the poor man's Blair Witch, especially the part where they "double back" on the same place...basically every aspect of this movie was done better in BW, and the "reveal" at the end sorta pissed me off. The chick was a good actress but the dude was a tool, only stuck around in the hopes of seeing his face get shredded off, and yeah, the extended tent scene wasn't a tension builder, it was just quiet and boring. There was another " man and woman in the woods when bad stuff happens" movie on here, had a terrific mauling scene, think it was called "Back country" or something like that. Go watch that instead, much better pay off.
Pretty decent. Phenomenal scene towards the climax.