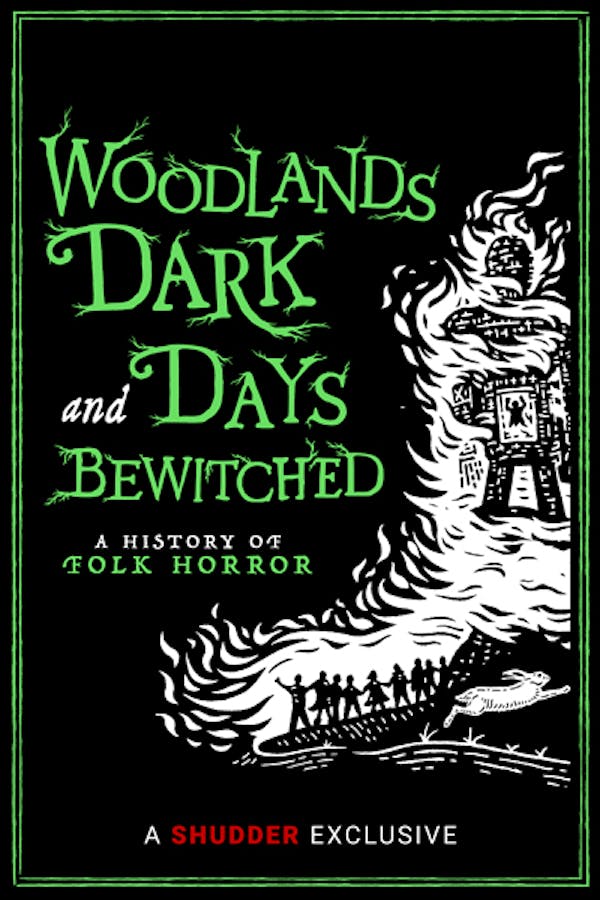 Woodlands Dark and Days Bewitched: A History of Folk Horror
Directed by Kier-La Janisse
Explore the rural roots, occult creeds and cultural lore that continue to shape international cinema. From writer/director/co-producer Kier-La Janisse comes "a seductive mega-text" (Indiewire) through the history of folk horror, featuring clips from over 200 films and interviews with more than 50 filmmakers, authors and scholars. Severin Films presents this "astounding achievement" (Screen Anarchy) that Rue Morgue calls "an unprecedented journey into where folk horror has been, where it's going and ultimately what it says about humanity." A SHUDDER EXCLUSIVE
This acclaimed documentary is a mega text through the history of folk horror, exploring the rural roots, occult creeds and cultural lore that continue to shape international cinema.
Cast: Kevin Kölsch, Dennis Widmyer, Piers Haggard, Abraham Castillo Flores, Adam Scovell
Member Reviews
A super comprehensive look at folk horror - a must if you dig the genre
An absolute joy. Thank you, Shudder!
If you want to learn about this sub genre of horror it is all here! Great variety of films and clips to be seen. Loved it.
It's okay but pretty unfocused. I love folk horror and love expanding a genre, but a lot of the movies mentioned either don't fit or were just kinda perplexing to bring up. Just because a movie has a cult, or is a period piece, or is set in Britain (so much time is spent on British movies????) doesn't automatically make it folk horror. Like...Lake Mungo is folk horror? Because the real lake is sacred to Aboriginal people? What? Allison's Birthday is folk horror even though the vast majority of that movie is actually kind of a detective movie? As soon as they brought up Midsommar but didn't mention that it deals very heavily with white supremacy (Ari Aster has said so, look it up), and a British guy was talking about Japanese folklore I knew we weren't getting real worthwhile analysis. It seems like if a movie involved any kind of customs foreign to white Christians it got labeled folk horror. On the technical side, the director appears briefly as one of the presumed experts or whatever, then is offscreen for the rest of the movie just occasionally throwing very casual/seemingly-candid narration in at random times, which made for a weird effect that I can't really describe. And it really didn't need to be three hours long. If nothing else, it makes a good list of other movies to watch.
Mostly handy for a list of b-movies to rent. I found it pretty boring.