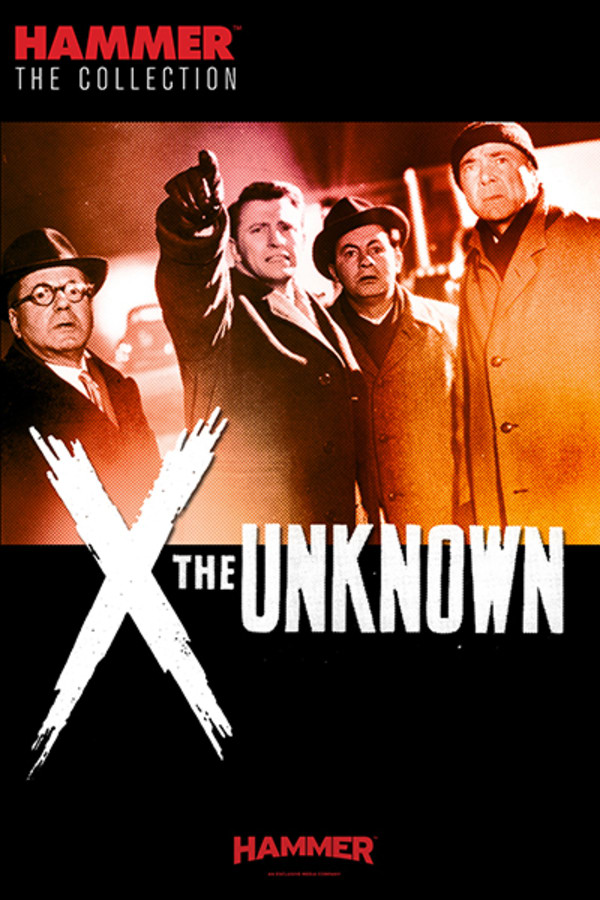 X The Unknown
Directed by Leslie Norman, Joseph Losey
In this British science fiction horror film by Hammer studios, the British army inadvertently awaken a radioactive mud monster during a routine drilling exercise. Feeding off of radiation, the monster terrorises a local Scottish village in its search for radioactive energy as the army, headed up by a American nuclear scientist Dr Adam Royston (Dean Jagger), do their best to stop it. Inspired by the Quatermass films and THE BLOB in equal measure, X THE UNKNOWN is an engaging monster movie that contains an important social message about the implications of a nuclear society.
The British army awaken a radioactive monster in this sci-fi horror from Hammer.
Cast: Dean Jagger, Edward Chapman, Leo McKern
Member Reviews
Good vintage sci-fi horror. Well acted and good effects for the era.
With the coffers still overflowing from the unexpected hit that was The Quatermass Xperiment, Hammer were quick off the mark to abandon several projects and go straight to fasttracking a sequel. With the soon-to-be legendary Jimmy Sangster writing his first script for the studio and public interest at a high, it wasn't long before the wheels came off when author Nigel Kneale refused permission to use his character and a swift re-think was in order. A Quatermass film in all but name, X The Unknown is an oft-underlooked but worthwhile early entry in the Hammer horror vaults. An army unit training in the wilds of rural Scotland with buried uranium material discovers something much more dangerous has been disturbed from the depths of the earth - a living, growing mud that feeds on radioactivity, hideously burning or even melting anyone in its vicinity. Standing in for the morally ambiguous Quatermass and having to deal with the monster that he's partly responsible for is atomic scientist Dr Royston, played by no small amount of warmth by Dean Jagger. With the nature of the initial deaths a mystery to begin with, its Royston who first puts the pieces together and it's a credit to how likeable Jagger pitches him that what is, let's be honest, a ludicrous idea even for a sci-fi horror, he makes it almost plausible. Add in Leo McKern on brilliant form as a friendly military policeman who forms a sort of double act with Jagger's scientist as well as a delightful cameo from Doctor Who's Jamie MacCrimmon himself, then-child actor Frazer Hines and you have a strong cast to unleash hellish mud upon. The plot moves as slow and steady as it's eponymous blob, involving a lot of talking and investigation while keeping the revelation of the creature back as long as possible. It's more than acceptable when it does appear, but the real effects highlights are on what it does to people. As the mud creature grows in size, the victims are less slowly killed by radiation burns and more melted to nothing in seconds. Flesh melts off the skull of a doctor, a security guard's hand swells and blisters before we see his smoking carcass slumped on the floor. This is a film you can be glad is in black and white as there's no way such graphically-realised death would ever have made it past the censor's scissors. Released a full two years before The Blob, X The Unknown is a smart take on the old atomic monster trope, with the solution to its defeat coming from Royston's own research into removing the threat of atomic weapons forever. It's not a classic, but it's thoroughly entertaining all the same. You could have forgiven Hammer for sticking to the formula for a few more films, but they had other ideas, as they were already eyeing up a much older idea than atomic horror. Instead, they had an appointment at Castle Frankenstein... 3/5
Cut-price Quatermass without the Big Q himself.