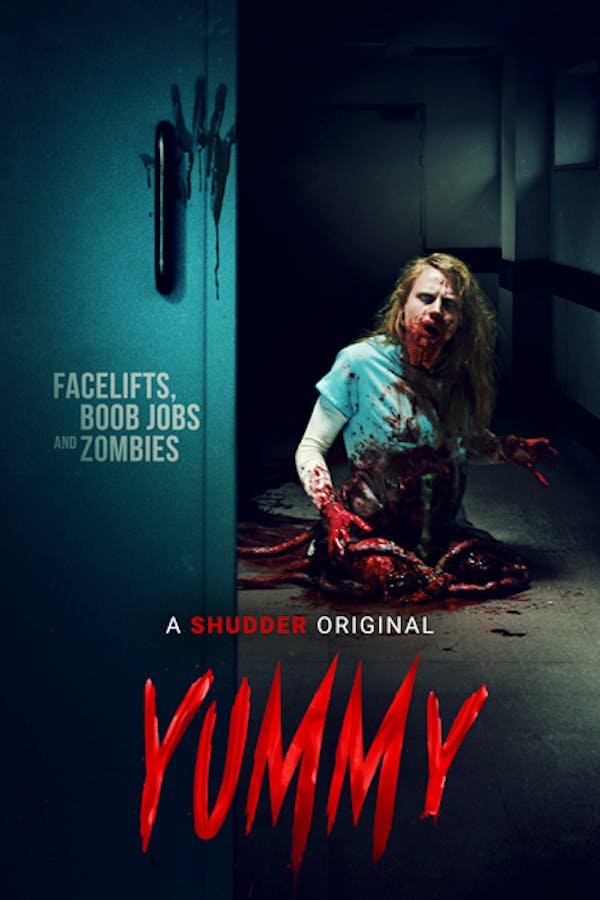 Yummy
Directed by Lars Damoiseaux
When a young couple travels to a shady hospital for cosmetic surgery, the boyfriend stumbles upon a patient suffering from an experimental rejuvenation treatment. He frees her, but doesn't realize she's ground zero for an outbreak which will change the doctors, patients, and his mother-in-law into bloodthirsty, utterly outrageous zombies. A SHUDDER ORIGINAL.
In a shady clinic, a young couple unleash hordes of splattery undead.
Cast: Maaike Neuville, Bart Hollanders, Benjamin Ramon
Member Reviews
Wow that was retarded. Complete trash. Amazingly good gore effects but such an aggressively stupid and puerile movie. It would have been so much better and more enjoyable if they'd played it straight and only a little bit silly like Dawn 2004 or Train to Busan. Instead it's like an incredibly gory and violent Wayans Brothers movie. If that's what you enjoy then you'll love this. 4 stars but only because the gore and zombies are so well done.
I absolutely love this movie as a comedy because of how stupid the scenario and people were. As a horror film, terrible lol. Best laugh I had in a while though which gives this one a 3 for me!
Honestly, I get why it's raunchy, but for me the mixture of disgusting gore and overused nudity just kind of ruins everything. "Oh hey, look! Another terrified topless chick running away from zombies!" It's funny and entertaining enough but I had to stop watching halfway through because of how disgusting it is. If you're into that then go ahead, but if you have a weak stomach avoid this at all costs. It's honestly a subpar horror. It's just disgusting moreover than scary. Also, quick side note, the languages switching up every single scene gives a sort of whiplash effect. One minute it's Russian(?), then Bulgarian I think, and then English. It was very unnerving to listen to and made the dialogue confusing, at least for me. And I watch movies in different languages. I'm not entirely sure why they made this movie have several languages but it adds another layer of confusion on the whole thing. Then it's got this very weird almost lesson of "love your body or you'll die to zombies in a clinic". It's shaming a woman for not wanting to get cat-called anymore and make her choice for her body. Like this movie has legit sexist undertones. Maybe that's part of the point? The whole movie gave me a bad feeling. I love horror but this is just clinic gore porn. Hard pass for me. I can see the appeal though.
I thoroughly enjoyed this movie, it was perectly raunchy and the ending, well, you'll just have to see. Definitely some good scares in there! You'll laugh too