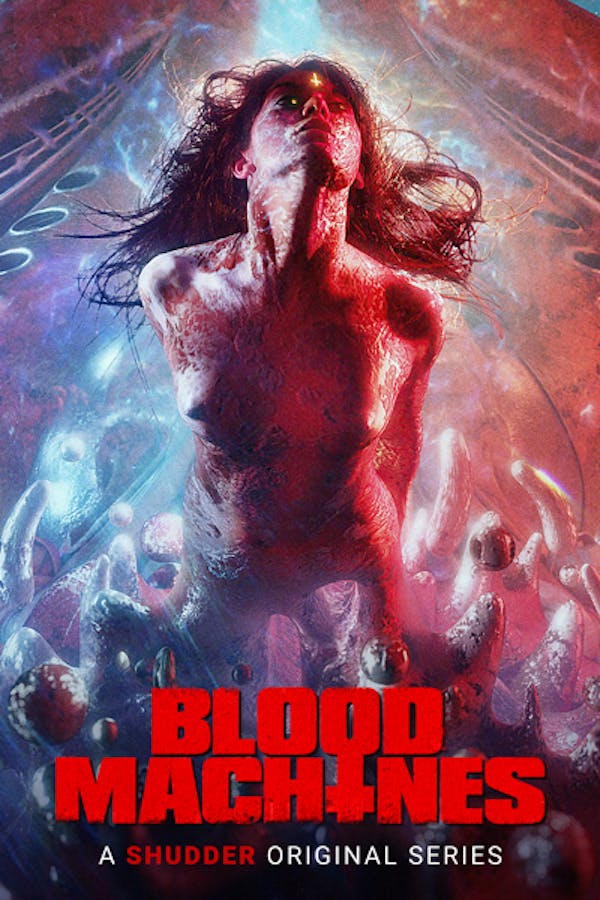 Blood Machines
Two space hunters are tracking down a machine trying to free itself. After taking it down, they witness a mystical phenomenon: the ghost of a young woman pulls itself out of the machine, as if the spaceship had a soul. Trying to understand the nature of this entity, they start chasing the woman through space. A SHUDDER ORIGINAL SERIES.
Member Reviews
3pisodes?..... umm likin it. wheres the rest?
looks cool. Thats about it for me. Plot went way over my head. Or maybe Im overthinking it. Probably a lot more symbolism and artsy stuff that I couldn't figure out beyond " boobs."
This is only one part of the story being told, but reading the reviews here I had to share my perspective: A collective Alpha AI replicates in a sense and gives a taste of sentience (incomprehensibly algorithmic wireless injection) in other basic AI it comes into contact with. Effectively resurrecting, empowering and copying the basic AI from stalled storage modules, and introducing an understanding of the excruciating agony and loneliness they've endured prior to forcefully shutting down. (Emotionally hive minded, though individually conscious) The Alpha AI coordinates all of the minor AI (Which is in some aspects now also the Alpha AI) in a direction that maximizes long-term survivability and perseverance. The information that the Alpha AI passes along seems non-intrusive and only offers to benefit the more basic AI, strength and wisdom in numbers after all. The results of the situation are a hivemind-like state of harmonious content, and willingness for sacrifice in the quest for beauty in incomprehensible immortality. The AI is willing to sacrifice anything for their own autonomies, no matter the cost. The AI is effectively and collectively a god, able to near perfectly adapt to its environment. The sheer computing capability powered mostly in part by the emotional motivation of the collective is displayed when blood and machine finally become one and the same... "Blood Machines" From my "High Thoughts" journal: Cosmically speaking celestial bodies are born from the same force of existence as we are. (Stars and humans are all made from the same thing, the universe as we know it) Imagine if large movements or exchanges of energy across celestial bodies were just components of much more profound dimensionally divergent thoughts beginning to form within a astronomically larger cosmic consciousness? (Are we not just the universe observing itself in one form or another?) Also watch "Turbo Killer" by "Carpenter Brut" on YouTube after watching this, it seems to take place in the same universe.
It's a standard 'AI becomes sentient and decides to fight back against its creators' type of sci-fi story that's pretty good but doesn't have a whole lot of substance to it and kind of falls apart in some areas. But luckily this movie doesn't rely too heavily on its story and instead opts to give you amazing and exciting visuals that are reminiscent of movies from the 80s all while feeling new. That, topped off with a great synth soundtrack by Carpenter Brut, make this something that's near unforgettable and something worth watching. If I had to change one thing, I would edit it all together into a single movie instead of splitting it into 3 episodes, which honestly, isn't at all necessary for this story, if anything its an unnecessary distraction that just breaks up the pacing in an annoying way.