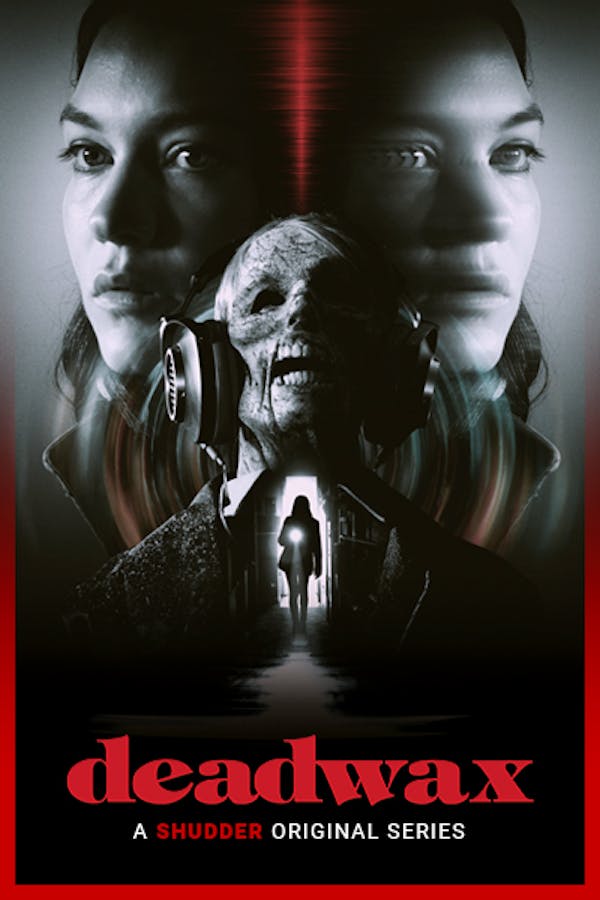 Deadwax
DEADWAX is a mindbending neo-noir set in the obsessive world of vinyl collecting. Etta Pryce, a vinyl tracker, is hired by a rich collector to hunt a legendary rare record that has driven its owners mad and killed anyone that has dared to play it. The more she learns about how impossibly dangerous, and real, this record may actually be, the more seduced she becomes by the temptation of hearing it herself - no matter what the cost. A SHUDDER ORIGINAL SERIES.
Member Reviews
Really enjoyable, had some interesting lore and the overall vibe of the show is 10/10. Left me wanting more which is imo perfect. I'd love another season but if that's all there is I'm satisfied with this ending.
eh, pretty good. a little disappointing, but it was entertaining...
Alright. I've seen people saying that the ending of this season is just fine as an overall ending if there are no more seasons or at least, one more season. I don't agree with that statement at all. I'll come back to why but for now let's focus on all the goodness in this show horror wise shall we? So the premise is amazing and yes, very few have attempted to use media mediums as a means of horror type craziness (in a meaningful and good way, otherwise I could list a ton of movies that fit the criteria of media mediums used as a method for horror film premises.) and have done so in an evocative and provocative way. Someone mentioned "Cigarette Burns" directed by John Carpenter for the Masters Of Horror series. Other mentions I would cite as the same sort of premise as this show and "Cigarette Burns" would be movies like In The Mouth Of Madness (books, Lovecraftian lore), Ringu/The Ring with it's cursed videotape, One Missed Call but the original Japanese version (telephone technology and voicemail messages), Shutter (photography based horror) and lastly (only to shorten my post), Videodrome by David Cronenberg (TV/Cable/Satellite Dish pirate channels turning people into "The New Flesh"). Overall, this show is superb in its choice of shortened runtime episodes, use of atmosphere and audio distortion, great camera work and direction in general. Some of the acting staff give great performances and others in the show are only so-so in their roles in this show. But, overall this show is worth its weight in gold in my humble opinion. Great premise and great story! As to how I started this post, saying some people feel that the end of this season is a great stopping point if no other season gets made and I'm inclined to agree mostly. I say mostly because as it is a fairly decent way to finish if there is no further content but I would have really liked to see what the end result of her decision would have been outcome wise. I won't spoiler anything but having said that, I would like to see more of this show and I think a second season would be not only appropriate but also fulfilling in the sense that there IS so much more of this to be delved into. From the lore surrounding the L. Lacquer as well as fleshing out what happens to other individuals more. Also you could tie in other "victims" and their stories in the "six degrees of..." style of thinking. I mean, there are probably many others that heard the Lacquer or one of the Key vinyl(s). Sorry for the mention of the record names. Finally, the title of the show is great in the sense that "Deadwax" is a legitimate term for the space on the record where music cannot be recorded as explained in this show. All in all, a great way to blow around 100 minutes of your time if you ask me! Shudder, get moving on making a season two if you haven't greenlit this for a second season yet! Don't get caught sleeping at the switch on this show! It has SO much more potential and I'm sure others that have seen the season already would certainly agree. Yes, the ending of season one is succinct enough as I said but given the wealth of lore, happenings and other things you could tie into other episodes is quite massive if you think about it. So I give this the 5 outta 5 for sure! Make more!!
Horror noir, I can only think of a couple examples, angel heart, masters of horrors cigarette burns, and now deadwax, and I'd say thats a pretty Kewl list. The short form episodes of this story works, small cast paired down to basic elements just seems to work so well with this story. The ending is open ended enough for a possible continuation, at the same time it works just as well as an end point to the story, rare thing to achieve. I hope if there is a second series, but if there isn't I'll still enjoy reading watching these eight episodes as is.