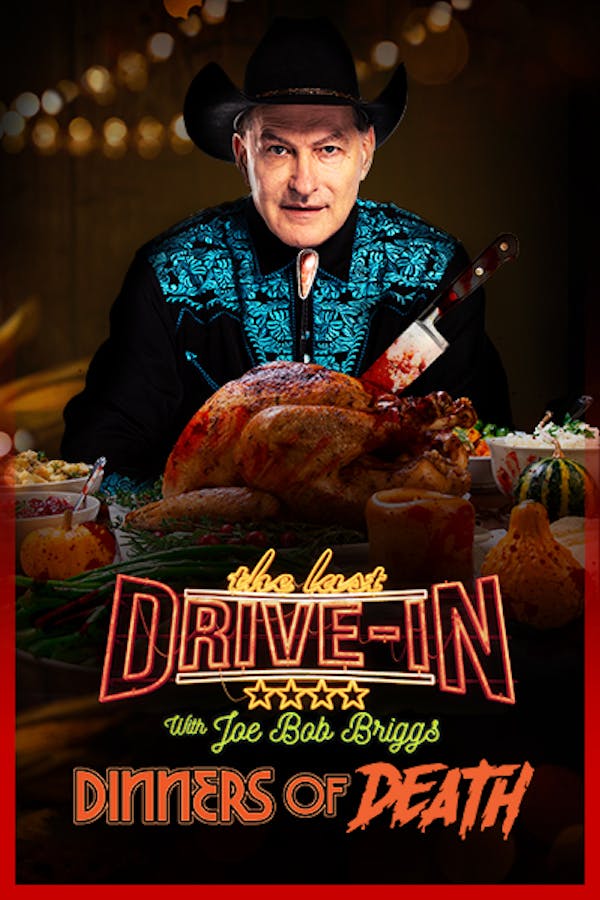 The Last Drive-In: Joe Bob's Dinners of Death
Feast on a selection of "deadly dinner" films picked by the world's foremost (and possibly only) drive-in movie critic, kicking off with Joe Bob's all-time favorite drive-in classic, which he'll be presenting for the first time in more than thirty years of TV horror hosting.
Member Reviews
motherofanarky says she didn't care for the movie choices on Dinners of Death! How can you even call yourself a horror fan and say that about two of the four movies selected for Dinners of Death? I'm referring to Texas Chainsaw Massacre and The Hills Have Eyes! mrpatricktullius if Joe Bob's comments or whatever offends you simply DO NOT WATCH HIM! Simple! Just because not everyone buys into the whole gay pride thing that's being crammed down our throats everywhere we go does not make one "homophobic".Is there a word for phobia of heterosexual white men? If so I say that would be you mrpatricktullius!
That Dead or Alive movie was shit, but I enjoyed everything else. It was my first time seeing Hills Have Eyes, which I always avoided because I thought it was going to be a lot worse, but it was actually really good! And Blood Rage was hilarious. That's not cranberry sauce! I'm glad JB got to show his favorite horror movie, and even though I've seen it a million times, it's always better with his commentary. More please!
Fantastic as always. Joe Bob and Darcy are a great team. A living legend and a legend in the making. Big love to the production crew who make this show look so nice on what is surely a small budget. Thanks to Shudder for keeping this show going.
hills have eyes was great. love all the interviews. joe bob keeps it classy.