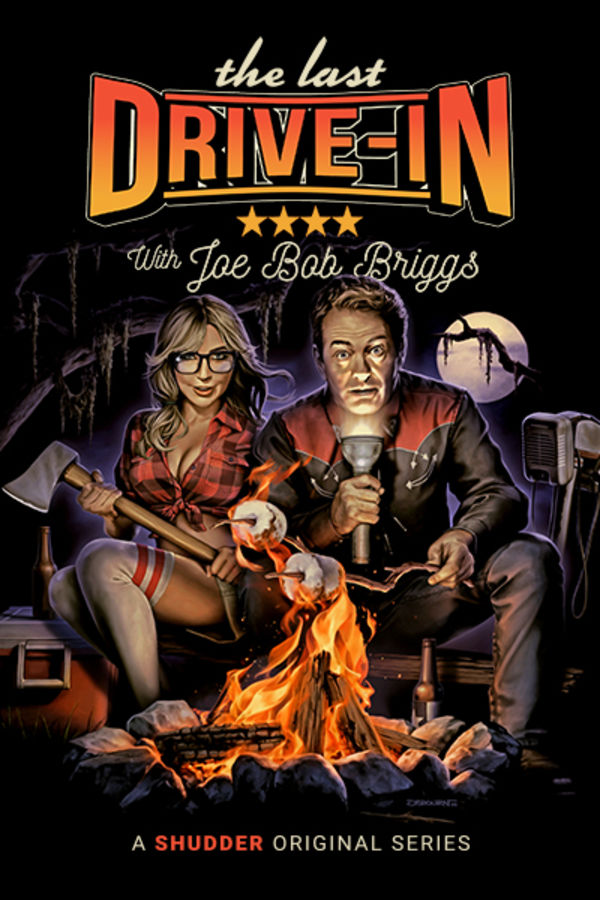 The Last Drive-in With Joe Bob Briggs
Proving once again that "the drive-in will never die," iconic horror host and exploitation movie aficionado Joe Bob Briggs is back with an all-new Shudder Original series, hosting weekly Friday night double features streaming live exclusively on Shudder. Every week, The Last Drive-In series offers an eclectic pairing of films, with selections ranging across five decades and running the gamut from horror classics to obscurities and foreign cult favorites. And from time to time, special surprise guests will drop in on Joe Bob and Darcy the Mail Girl.
Member Reviews
Love this show:) binge them all:) the info about the movie is better than the movie a lot of the time:) love it. The woman working with him is pretty. Quick tip for her, too much filler and Botox. I get filler and Botox etc. so this is coming from experience, GO LIGHT on IT! The person who does it for her is making her face like a plastic doll. Face barely moves and expressions are really hard to make. It's like a thick plastic mask. Don't get any more filler is my advice. Filler does not disappear. It's shifts location a bit but remains. The Botox when it wears off fully, have her get half of what she normally used and it will be so much better. Everyone I know or I meet that watches this says her face not moving is scary than the movie. She is very pretty and seems like a very sweet wrson. A true friend will say something. You want to look younger etc but you want it to look and act as natural as possible:) the person doing her face could end up causing her permanent damage. The person doing it loves getting the money and obvioudkt doesn't care about the client.
I'm just starting This series, and if you close your eyes joe sounds like dr. Phil
Shudder you have accomplished something that no other streaming platform dared to even attempt. You brought back the legend himself and revived The Last Drive In. You gave the horror family what they needed by creating a show that not only brought back memories of a great childhood for many, but you also allowed us to create memories with our children now by continuing the love of horror films. Thank you for giving us The Last Drive In and bringing JoeBob and Darcy into our homes. You have a fan for life.
I love Joe Bob's commentaries on movies that are new to me as well as ones that I've never seen before. Love this man and what he does on this show. Thank you Shudder for keeping his show going.
I used to watch Joe Bob when I was a kid and I loved his commentaries. I'm so happy that he's back to do more for Shudder. Keep on being awesome, Joe Bob. 😃😃😃