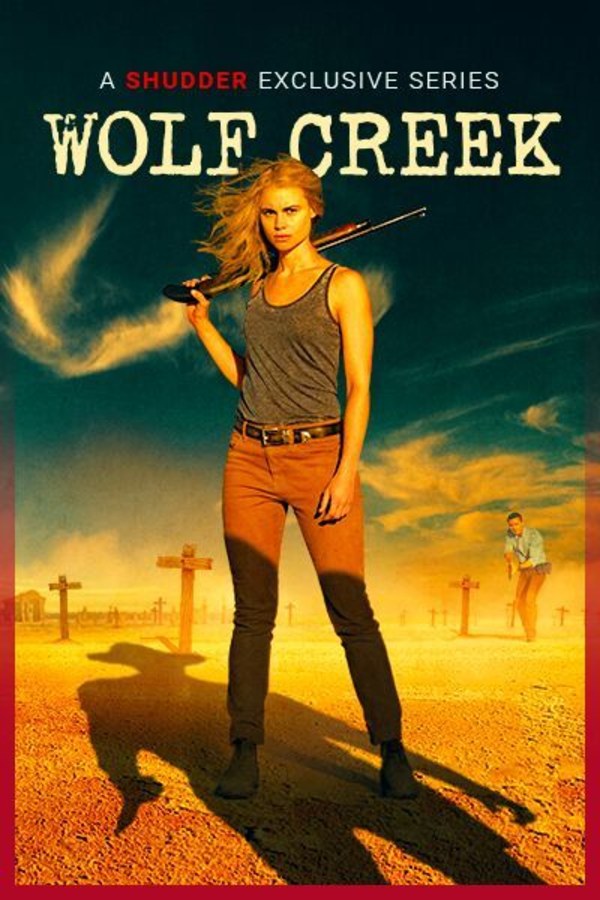 Wolf Creek
19-year-old American tourist Eve Thorogood (Lucy Fry) seeks to avenge her family's murders at the hands of notorious Outback psychopath, Mick Taylor (John Jarratt). Directors Greg McLean and Tony Tilse bring a thrilling scope to the acclaimed series adaptation of McLean's WOLF CREEK films. A SHUDDER EXCLUSIVE.
Member Reviews
Great from the beginning to the end A must watch
Great continuation of the Wolf Creek story; in short the tribulations of many unfortunates in the land down under who encounter a rugged individual of the worst sort. The OG clueless tourist's worst nightmate, John Jarratt. The mini-series version is essentially WC 3.0, lower budget in execution and production design but still carefully composed. Drastic shift is slowing the pace and re-orientation of the narrative, focusing and dissembling on traumatized survivors and casual encounters that lead to grisly and often very abrupt ends. The ruthless indifference of the demonic, chatty Mick, murdering the female lead's family, annoying tween brother included, quick and casual, cracking corny jokes and spines at a fireside hangout in the first 5 minutes of the series. Jarratt's role is always terrifying stuff. His seeming friendliness and sudden casual violence is unlike much we see in narrative film besides Vengeance is Mine or Henry Portrait of a Serial Killer. The Dutch Borgman. Lately S. Craig Zahler. Wolf Creek is always aa b-movie, but it's also always played straight. It's a good choice. Even Mick's social butterfly phoniness, which can be read as a bit Peter Falk School of ACK-Ting, is a complex psychological trojan horse. Love John Jarratt in everything. Really enjoyed seeing more Native Australians in this story. Stakes are high on a low budget, the actors, even the bumbling hunk detective's character development is out of the box but believable, quiet domestic drama in miniature, unfolding in contrast to the longer narrative in a few brief scenes, is well drawn and messes well with audience expectation. The real horror of Wolf Creek is always the remoteness of the surroundings, the lawlessness of rural life. Even in the various populated zones the story winds thru, everyone is on their own. In a crowded bar you are not safer than on the wild expanse. The heroine cannot depend on anyone else, her relentless survivor shadowing the monster-in-person-skin who casually annhilates almost everyone we meet in this epic length story. Eventually someone is gonna notice all these disappearances right? Yo, Shudder, where is season 2?
it has a little bit of everything you could want and satisfying from start to finish
That was a thrilling rollercoaster ride that left me wanting more!